There are a few important tasks to do upon arrival. Every time my mom and I travel to Germany we have a priority of things to do. First is hugging my uncle who picks us up at the airport. We go to his home and unpack. Next order of business is to head out to the bakery and get bread. It isn't just any bread. It is a big loaf of dense, hearty bread filled with nuts. It seems like it weighs five pounds. We eat slices of it for breakfast with butter and jam. That bread is our all-time favorite. Thinking of it for my upcoming trip is what inspired me to bake Walnut Wheat Bread.
There is also a new bread group. My friend Stacy and I have started Bread Bakers because both of us enjoy baking bread so much. I have been a part of other bread groups that were wonderful. Yet something inside kept nagging to branch out and take the lead on something else. We are excited to launch Bread Bakers with a dozen recipes for favorite breads:
Walnut Wheat Bread is now one of my favorites. It also is excellent toasted and served with butter and jam. It makes a mighty fine peanut butter and jelly sandwich too. The walnuts and peanut butter do not compete and actually complement each other. I have two loaves to experiment with. I'm thinking it would be the right bread for a sandwich filled with turkey salad with pesto-mayo. Oh, and before you click on the link to the turkey salad note the photos do not represent how wonderful it tastes. It's one of those I look back on and cringe. At least I've improved since then.
Many thanks to those participating in the Bread Bakers launch. It means the world to us. We also invite any bloggers who enjoy baking bread to join in the fun. Look below my recipe for more information on the group and how to be a part of it. Meanwhile, be sure to take a look at all those wonderful recipes in the list above. I would also like to know your favorite bread. Perhaps it will inspire me to tackle a new recipe too.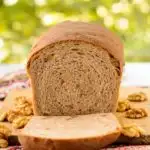 Walnut Wheat Bread
A recipe for Walnut Wheat Bread, a yeast bread made with whole wheat flour, lightly sweetened with brown sugar, and filled with chopped walnuts.
Prep Time
2
hours
20
minutes
Ingredients
3

to 3 1/2 cups all-purpose flour

2

cups

whole wheat flour

2

packages active-dry yeast

1/4 ounce each

1/2

cup

firmly packed light brown sugar

1

tablespoon

salt

2

cups

water

2

tablespoons

shortening

1

cup

chopped walnuts
Instructions
In the bowl of a stand mixer, combine 1 cup all-purpose flour, whole wheat flour, yeast, sugar, and salt. Whisk to combine.

In a small saucepan, heat water and shortening until 120 to 130 degrees F. (Shortening will not melt)

Add warm liquid to the bowl and stir to combine. Place bowl on stand mixer with the flat beater. Mix on medium-low speed for 2 minutes.

Switch flat beater to dough hook. Turn mixer to speed recommended for using the dough hook. Gradually add walnuts and enough remaining flour to make a firm dough.

Knead with the dough hook for 4 to 5 minutes. While dough is kneading, grease a large bowl.

Turn dough out on a lightly floured surface and hand knead a few times until the surface is smooth and elastic.

Place dough in the greased bowl and turn to coat surface. Loosely cover with plastic wrap or tea towel.

Let rise in a warm place (72 - 75 degrees F) until doubled, about 1 hour.

While the dough is rising, grease two loaf pans (9- X 5- or 8- X 4-inch).

Punch down dough and divide in half.

Roll or pat each half to a 14- X 7-inch rectangle. Start with the shorter side and roll up tightly while pressing dough into roll with each turn. Pinch edge and ends to seal.

Place rolled dough in bread pans. Cover with a tea towel and let rise until double, about 1 hour.

Pre-heat oven to 375 degrees F while bread is on the second rise.

Bake loaves for 35 to 40 minutes, until loaves sound hollow when tapped. Rotate loaves half way through baking for even browning.

Remove loaves from pans and cool completely on a wire rack.
Recipe Notes
A recipe for Walnut Wheat Bread, a yeast bread made with whole wheat flour, lightly sweetened with brown sugar, and filled with chopped walnuts.
Recipe adapted from one in the Red Star Centennial Bread Sampler cookbook published in 1981 (no longer in print).
What is Bread Bakers? It's a group of bread loving bakers who get together once a month to bake bread with a common ingredient or theme. You can see all our of lovely bread by following our Bread Bakers Pinterest Board. Links are also updated after each event on the Bread Bakers home page.
How is the monthly theme determined? We take turns hosting each month and choosing the theme/ingredient.
Would you like to join in the fun? If you are a food blogger, send an email with your blog name and url to Stacy at [email protected].