A stir-fry is the answer. The question is what to make when you have little time and need a meal in a hurry. I wish I had realized that answer years ago. I can vividly remember those days of driving across town, working long hours, and coming home hungry. There were always those old reliable quick meals which were good and yet lacking in a way. The beauty of stir-fry is how easy it is to change it up. Use different vegetables or tweak the sauce. It is what I did for this steak and asparagus stir-fry.
Stir-frys can also be very healthy meals. You use little oil and can control the amount of sodium or sugar. I am sometimes quite surprised by the amount of sugar (or some form of it) is in savory foods found in restaurants and convenience foods. Beef has many essential nutrients you need. Thinly sliced cuts like sirloin or flat-iron are great choices for stir-frying. There is also minimal loss of vegetable nutrients and flavor when cooked to crisp-tender.
Steak and asparagus stir-fry is a quick and easy meal too. It can be done in about 20 minutes (or less if you are a speedy at chopping vegetables and slicing meat). Serving it with fast-cooking rice or noodles is a good option and makes a complete meal. One hint is to get it all ready before you start cooking. Line it all up on the counter in order of when you add it to the skillet. Stir-frying goes quick and there is no time to chop up the bell pepper once you get the stir-fry started.
Are you ready to cook beef for your next dinner? Be sure to scroll down to find more Weekday Supper recipes. Also take a look at the Beef – Let's Celebrate Pinterest board and check out these Volcano Buffalo Burgers if you like hot and spicy food.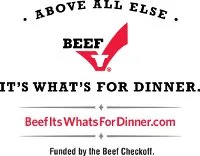 More on The Beef Checkoff: You can follow them on Facebook, Pinterest, Twitter, and their website.
Steak and Asparagus Stir-Fry
Steak and Asparagus Stir-Fry is a quick and easy meal for a busy day. It is made with sirloin steak, fresh asparagus, bell pepper and a homemade sauce.
Ingredients
1/4

cup

beef stock

1 1/2

tablespoons

oyster sauce

1 1/2

tablespoons

low-sodium soy sauce

2

teaspoons

ginger paste*

1/2

teaspoon

chili pepper paste*

2

garlic cloves

minced

1

teaspoon

cornstarch

2

tablespoons

canola oil

divided

12

ounces

boneless sirloin or strip steak

trimmed and cut into 1/4-inch strips

1

pound

medium asparagus

trimmed and cut into 2-inch pieces

1

red bell pepper

seeded and cut into strips

1/3

cup

chopped green onions
Instructions
Whisk together stock, oyster sauce, soy sauce, ginger paste, pepper paste, garlic, and cornstarch in a small bowl.

Heat a large skillet over high heat. Add 1 tablespoon oil and shake or swirl the skillet to coat bottom with oil.

Add beef and stir-fry until just browned but not cooked through. Transfer beef to a plate and discard liquid and oil from the skillet.

Return the skillet to high heat. Add remaining 1 tablespoon of oil and shake or swirl the skillet to coat the bottom with oil.

Add asparagus and bell pepper. Stir-fry for 1 to 2 minutes. Add green onions and stir-fry for 30 seconds.

Add stock mixture and stir to coat vegetables. Cook until sauce is slightly thickened, about 1 minute.

Add beef and any beef juices back to the skillet. Toss and cook for 1 minute. Serve immediately.
Recipe Notes
*Ginger and chili pepper pastes can be found in the refrigerated produce section near fresh herbs. You can substitute fresh grated ginger and red pepper flakes if the pastes are not available.
Recipe adapted from one in Cooking Light Magazine May 2014 Issue with inspiration from Asian Beef & Vegetable Stir-Fry on the Beef It's Whats For Dinner website.
Would you like more Weekday Supper recipes? Take a look at these delicious ones made with beef and great for a busy day:
Disclosure: This post is sponsored by The Beef Checkoff. All opinions are my own.