Inspired by Italy's Lake District, Terralina Crafted Italian uses many locally sourced ingredients to create hearty, flavorful Italian cuisine.
A big thank you goes out to the restaurant for providing our dining experience.
Terralina Crafted Italian is the newly re-imagined Italian restaurant located on the water at Disney Springs. Previously known as Portobello Italian Trattoria (and Portobello Yacht Club), this restaurant is themed around the cuisine and ambience of Italy's famous Lake District.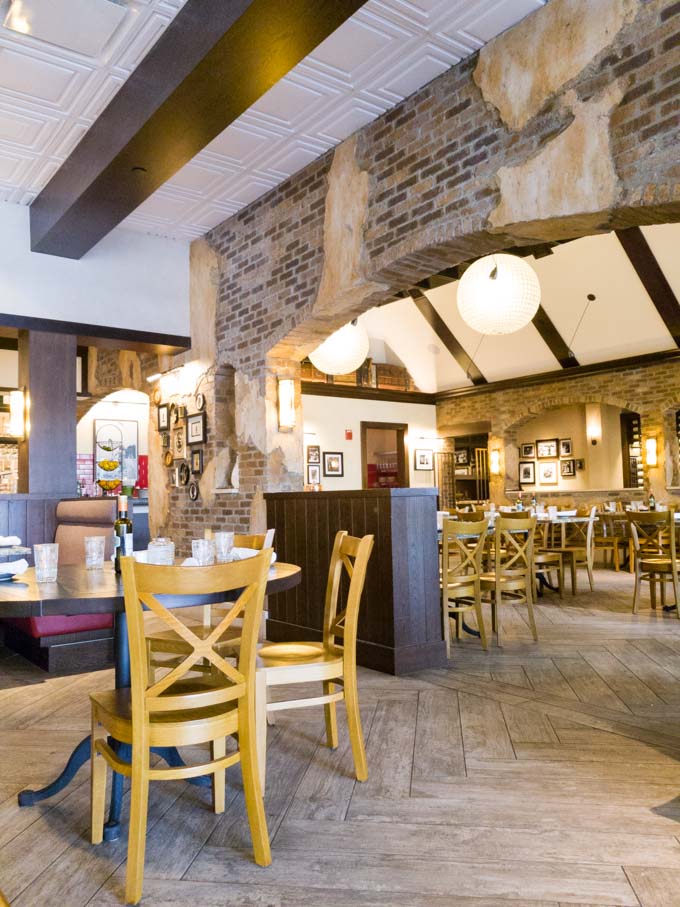 My husband and I have visited this restaurant, in one form or another, for about 20 years. It has a special place in our hearts. Several years ago, I requested the recipe for one of our favorite menu items, the Rigatoni Calabrese, which they generously shared with me and also allowed me to share with my readers. It's allowed us to enjoy the Rigatoni Calabrese at home when we haven't been able to get over to Disney to partake of the original.
Restaurant dining changed for me when I was diagnosed last year with gluten intolerance. Suddenly, my options felt a lot more limited. Over time, however, I learned that the best restaurants will be flexible to accommodate those with food intolerances or allergies. Such was the case at Terralina Crafted Italian. Although the pizzas, breaded items, and fried items were not available to me, Chef Justin Plank helped me navigate through the menu to find quite a few suitable options.
On that day, I could have chosen from most of the pasta dishes (which can be made with gluten free pasta), the catch of the day, or the swordfish. For appetizers I could pick from caprese salad, or burrata served without crostini. I made a special point to inquire about desserts ahead of time; sure enough, there was a flourless chocolate cake and a lemon panna cotta available, both gluten free. I like to plan ahead.
Each table receives thick, crusty bread served with olive oil. I was also offered gluten free bread, but I declined because I didn't want to fill up on bread. I'm a save-room-for-dessert kind of gal.
Many of the ingredients used in the restaurant are grown or made locally. Much of the produce, cheese, and honey comes from the locally famous Winter Park Farmer's Market. Vegetable pickling and dough making is done in-house. The appeal of fresh cheese and vegetables made it easy to select my first course, the caprese salad.
My daughters happily ordered from the kids' menu. Daughter the eldest chose mac and cheese with a side of parmesan fries, while daughter the youngest selected a mushroom pizza. Our excellent server, Yarielly, scored massive points with the kids by correctly recognizing my eldest daughter's depiction of the television show World of Dance drawn on the back of her menu. Yarielly was so patient and kind; she dealt handily with my questions all while refilling drinks, checking our progress, and keeping up a running banter with the kids.
I chose my old favorite, Rigatoni Calabrese, as my entree. The chef made it gluten free by swapping in gluten free rotini pasta. Perhaps I should call this Rotini Calabrese?
For dessert, the kids chose gelato sundaes, while I went for broke with both the Flourless Chocolate Cake and the Lemon Panna Cotta. The cake was delicious. The creamy mascarpone filling contrasted nicely with the rich, dense chocolate cake. I declared the panna cotta, however, to be the dessert of the summer. It was perfectly tart, balanced by a slightly sweeter blackberry sauce and the brilliant garnish of candied thyme.
The kids' gelato sundaes were adorable. I was mildly jealous, but I comforted myself by having a few more bites of panna cotta and cake.
I look forward to returning to Terralina Crafted Italian. I'm especially looking forward to trying the burrata and ordering as many gluten free desserts as will fit on the table. Terralina Crafted Italian is a great spot for a romantic date or dinner with the family.
Visiting Disney? Check out my review of Paddlefish, located next door.