The first hint of growth comes early in the year. Small green plants begin sending out runners. White flowers burst open and invite bees to visit. Petals fade and are replaced with tiny green berries. They grow with the help of sunshine, water, and soil. Soon those berries transform to bright red. The right conditions make the fruit sweet and juicy. They are picked at the peak of ripeness. That is when strawberries are ready to be eaten. It is also when they are ready to be baked in a Strawberry Almond Quick Bread.
The recipe is inspired by a favorite flavor combo. To experience it all you need to do is get some fresh picked strawberries, put a dollop of sour cream on top, and sprinkle it with brown sugar. I took a basic quick bread recipe and incorporated those ingredients to showcase their flavors. Thanks once again to the best recipe development book ever, The Flavor Bible
, for confirming cardamom is the right spice to use for the bread. You can substitute cinnamon if you do not have cardamom.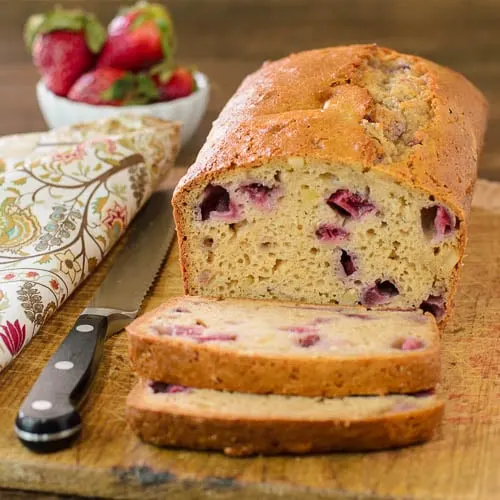 How is the Strawberry Almond Quick Bread? It is moist, as in super moist. All three of my flavor trio ingredients (strawberries, sour cream, and brown sugar) contribute to the moistness. It is a dense bread with pockets of air created as the berries reduce in size during baking. It is mildly sweet and has a crunch from almonds.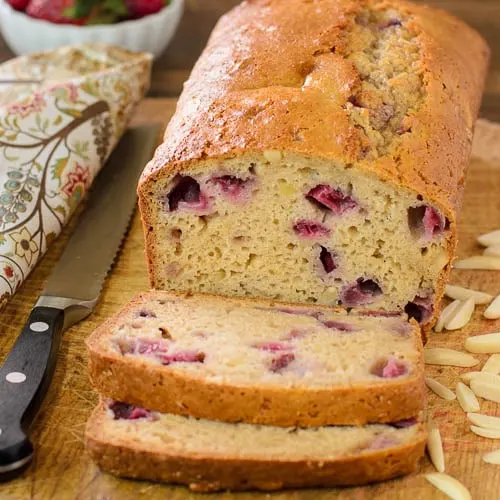 Are you ready for strawberry season? I sure am! I'm looking forward to making strawberry sorbet with fresh-picked local berries. Do you know who else is ready? Some talented bread Twelve Loaves bakers are and take a look at the breads baked for March's strawberry challenge: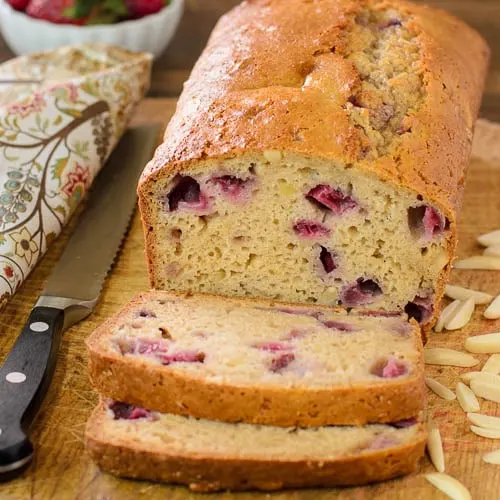 Strawberry Almond Quick Bread
A recipe for Strawberry Almond Quick Bread made with fresh strawberries, strawberry jam, and almonds. It is a moist bread great for breakfast or a snack.
Total Time
1
hour
15
minutes
Ingredients
1 1/2

cups

all-purpose flour

1/2

cup

granulated sugar

1/4

cup

firmly packed light brown suar

1/2

teaspoon

baking soda

1/2

teaspoon

salt

1/4

teaspoon

ground cardamom

2

eggs

at room temperature

2/3

cup

sour cream

at room temperature

1/4

cup

strawberry jam

1/2

teaspoon

vanilla extract

1/4

teaspoon

almond extract

1

cup

chopped strawberries

1/3

cup

slivered blanched almonds

lightly toasted and roughly chopped
Instructions
Preheat oven to 350 degrees F. Grease and flour a 4- X 8-inch or 5- X 9-inch loaf pan.

Whisk together flour, sugar, brown sugar, baking soda, salt, and cardamom in a large bowl.

Whisk together eggs, sour cream, jam, vanilla, and almond extract in a medium bowl until smooth.

Add wet ingredients to dry ingredients and stir together until dry ingredients are moistened.

Stir in strawberries and almonds.

Spread mixture evenly into prepared pan.

Bake for 1 hour, or until a toothpick or cake tester inserted in the center comes out clean.

Cool bread in the pan for 10 minutes.

Remove bread from pan and cool completely on a wire rack.
Recipe Notes
A recipe for Strawberry Almond Quick Bread made with fresh strawberries, strawberry jam, and almonds. It is a moist bread great for breakfast or a snack.
Disclosure: This post contains an affiliate link to Amazon.
#TwelveLoaves March: Strawberries. February was a delicious month of Chocolate breads. We are ready for spring and chose Strawberries for our March theme. Choose a recipe featuring strawberries. (Your bread of choice could be accented with fresh or dried strawberries, strawberry preserves) Whatever you bake, (yeasted, quick bread, crackers, muffins, braids, flatbreads, etc) have fun and let's have a delicious month of bread with strawberries. Let's get baking!
Want to add your bread to the collection with the Linky Tool this month? Here is what you need to do:
When you post your Twelve Loaves bread on your blog, make sure that you mention the Twelve Loaves challenge in your blog post; this helps us to get more members as well as share everyone's posts. Please make sure that your bread is inspired by the theme.
Please link your post to the linky tool at the bottom of my blog. It must be bread baked to the Twelve Loaves theme.
Have your Twelve Loaves bread that you baked this March, 2014, and posted on your blog by March 31, 2014.
#TwelveLoaves is a monthly bread baking party. It was created by Lora from Cake Duchess and runs so smoothly thanks to the help of the lovely Renee from Magnolia Days and this month the fabulous Alice of Hip Foodie Mom.