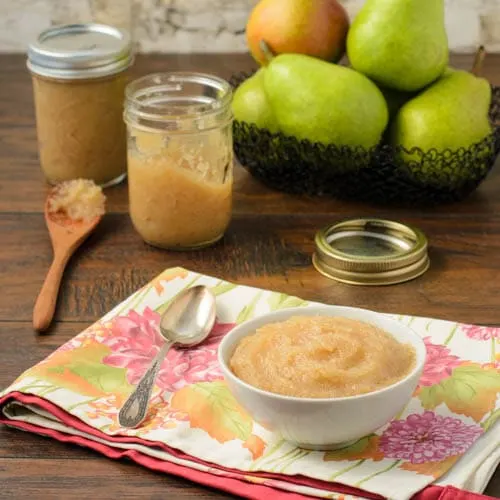 Fallen leaves lined the side of the driveway. The first signs of summer ending were already hinting of the season to come. Soon the deep greens of the landscape will transform to yellows, reds, and oranges. The colorful display nature gives in the fall accompanies as coolness in the air. Summer fruits and vegetables cease producing. It is already almost the case at my local farmers market. Tomatoes are few and peaches are gone. Fall brings a new set of produce and some are already making an appearance. It took spotting pears at the market to lead me to make spiced pear sauce.
Actually, it took more than spotting pears. It's also because of a little bug put in my ear by my friend Michael. Well, more than a little bug. It was a clear and brilliant suggestion. We were discussing fruit trees and the upcoming harvest. He said "You need to make pear sauce". First I was a little hesitant because I've not been a big fan of applesauce. It's a texture thing. Plus all I've had is the stuff from a jar and that could be the issue. So I took on the task and I am now a big fan.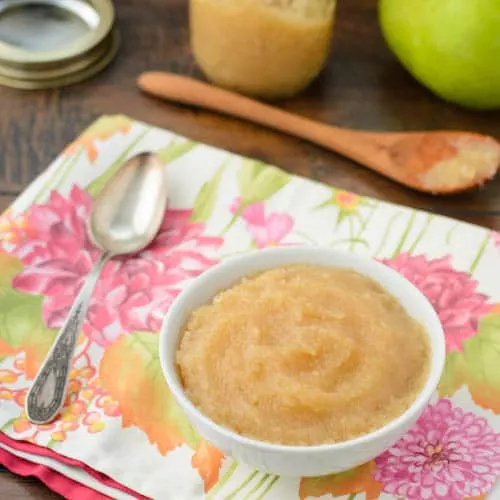 Homemade pear sauce texture is up to you. It will depend on how you process it and how much you process it. You can use a potato masher, food mill, or food processor. Each will give a different texture from chunky to smooth. My version is with the food processor and on the smoother end. It is quite thick which could be easily thinned down with a little water or pear juice. A touch of spice from cinnamon, ginger, and vanilla (the real stuff from vanilla seeds) adds warmth and an extra layer of flavor.
Are you ready for fall to begin? I'm not totally ready yet. Officially there are still a few more weeks of summer to go. The wet, cooler weather this year made it seem like it never really happened. At least there are wonderful fall foods to come. It will soon be time for baked acorn squash and butternut squash soup. My how time flies…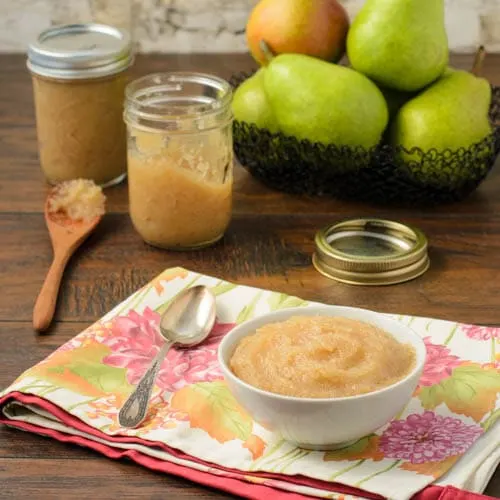 Spiced Pear Sauce
A recipe for spiced pear sauce. It is similar to applesauce but made with fresh pears and spiced with vanilla, cinnamon, and ginger. Enjoy as a side or snack.
Ingredients
4

to 5 large Bartlett pears; peeled

cored, and thinly sliced

2

tablespoons

honey

2

teaspoons

fresh lemon juice

1/2

teaspoon

ground cinnamon

1/2

teaspoon

ground ginger

Seeds from 1/2 vanilla bean
Instructions
Combine all ingredients in a medium saucepan. Bring to a boil over high heat. Loosely cover and reduce heat to medium-low.

Simmer until pears have softened, about 30 to 40 minutes. Stir occasionally.

Add 1 tablespoon of water if pears seem too try during cooking.

Transfer cooked pear mixture to a food processor fitted with a knife blade. Process until smooth or desired texture. Stop and scrap down sides of processor bowl as needed.

Spoon into 8-ounce canning jars and wipe rims clean. Seal jars and cool on a wire rack to room temperature. Store in refrigerator and use within 3 weeks.

Alternatively, spoon into a non-reactive plastic or glass storage container. Cool to room temperature, cover, and store in the refrigerator. Use within 5 days.
Recipe Notes
A recipe for spiced pear sauce. It is similar to applesauce but made with fresh pears and spiced with vanilla, cinnamon, and ginger. Enjoy as a side or snack.