My rosemary bush is on the curve of a flower bed. It is next to the walkway that leads to my front door.  Each time I pass by it, my hand is drawn down to brush against it. I'll bring my hand up to my face to breathe in the delightful scent. The same happens when I'm tending to my other fresh herbs. The fragrances are better than anything from a hand lotion. Even better are the flavors from those lovely plants. As summer ends, I wanted to celebrate those herbs and the season with making grilled herb shrimp with chimichurri sauce.
The recipe is a multi-step process. First there is a garlic and herb infused olive oil to make. I recommend making it a few days in advance. Store it in a dark place, like a cabinet or your pantry, and let the oil really soak up the herb flavors. Which herbs to use? It's really up to you. I used thyme, rosemary, basil, and tarragon. Pick your favorites and use them.
Chimichurri sauce is the next step. You can make this a day in advance. It's one of those things that gets better after an overnight stay in the fridge. Basically it's a bunch of fresh herbs and garlic chopped up by hand or in a food processor (I used the food processor) and then mixed with vinegar and oil. I used parsley, cilantro, oregano, thyme, and rosemary.
Marinate shrimp in the infused oil and more fresh herbs. It only takes 20 minutes. You could probably go longer although not necessary. While they are marinating you can prepare the rosemary branches. Strip off the needles except for the top few inches. Cut the end to a point so you can easily skewer the shrimp.
Skewer the shrimp on the rosemary branches. You can use other types of skewers if you don't have rosemary branches. Be sure to soak wood or bamboo skewers in water for about 30 minutes first.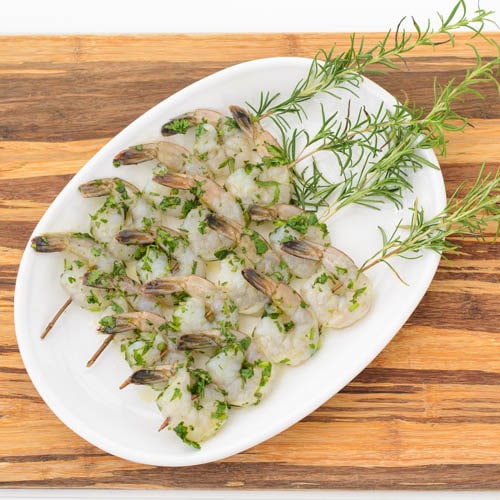 Grill the shrimp until they are just cooked through. Be careful not to over-cook them or they will be tough and rubbery. Serve them with chimichurri sauce and you will have a platter of summer goodness.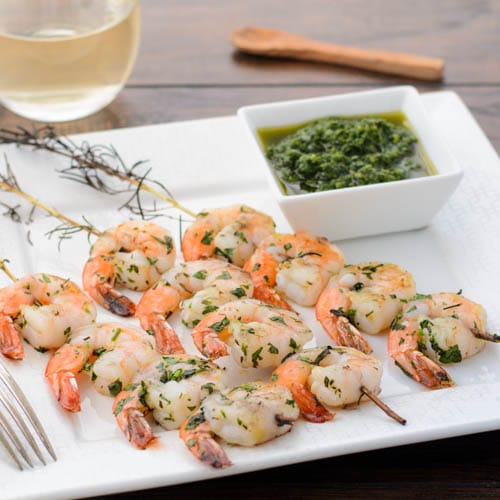 Which is your favorite fresh herb? It's hard for me to pick because it depends on what I'm making. There's rosemary focaccia or lemon parsley cocktail or, well, the list goes on and on. Speaking of lists, be sure to scroll down to see links to recipes for the Sunday Supper Labor Day event. There is so much good stuff being shared. I can't wait to check out each one.
Grilled Herb Shrimp With Chimichurri Sauce
For the herb garlic infused olive oil:

1 cup packed assorted fresh herbs
2 garlic cloves, peeled and smashed
1 cup olive oil
For the chimichurri sauce:

3/4 bunch fresh flat-leaf parsley (about 2 cups)
3/4 bunch fresh cilantro (about 1 cup)
1/4 cup packed fresh oregano leaves
2 teaspoons fresh thyme leaves
1 teaspoon chopped fresh rosemary leaves
2 tablespoons red wine vinegar
1/2 teaspoon red pepper flakes
1/2 teaspoon salt
1/4 teaspoon fresh ground pepper
1/2 cup olive oil, plus more if needed
For the grilled herb shrimp:

1/4 bunch fresh flat-leaf parsley (about 1/2 cup)
1/4 bunch fresh cilantro (about 1/4 cup)
Handful fresh oregano leaves (about 2 tablespoons)
1 teaspoon fresh thyme leaves
1 teaspoon chopped fresh rosemary
1/2 cup herb garlic infused olive oil
1 pound medium shrimp, peeled and deveined
8 to 10 thick rosemary branches
Salt and pepper
For the herb garlic infused olive oil:
Rinse and dry the fresh herbs. Squeeze or bruise them to release oils. Place them in a jar along with the garlic.
Heat the oil to warm (no more than 160 degrees F) and pour into the jar.
Let cool to room temperature. Cover and set in a dark place (cabinet or pantry). Remove garlic after 2 days. Use within 3 weeks.
For the chimichurri sauce:
Make sure all the fresh herbs have been rinsed and dried (I use a salad spinner to spin-dry).
Cut the stems from the parsley and cilantro below the leaves (to have mostly only leaves left).
Place the parsley, cilantro, oregano, thyme, rosemary, vinegar, red pepper flakes, salt, and pepper in the bowl of a food processor fitted with a knife blade.
Pulse a few times to chop the herbs. Scrape down the sides of the bowl. Pulse while drizzling in the olive oil. Do not over-process or it will become a paste.
Transfer the chimichurri sauce to a small bowl. Stir in additional olive oil for desired consistency. Adjust seasoning with salt and pepper to taste.
Serve immediately or cover and refrigerate overnight. Recommended to make a day ahead for flavors to develop.
For the grilled her shrimp:
Cut the bottom stems from the parsely and cilantro. Finely chop the parsley, cilantro, and oregano.
Place all the herbs and the garlic infused olive oil in a bowl. Stir to combine. Add the shrimp and toss to coat. Marinate for 20 minutes.
Heat a grill to medium-high heat.
Strip all but the top 2 to 4 inches of needles from the rosemary branches. Whittle or cut the end to make a point.
Skewer the shrimp on the rosemary branches. Season with salt and pepper.
Grill the shrimp until they are just cooked through, about 2 minutes per side.
Serve the shrimp skewers with chimichurri sauce.
Notes
Total time does not include time for infused oil to set and overnight refrigeration for sauce.
https://magnoliadays.com/grilled-herb-shrimp-chimichurri-sauce/
Copyright Magnolia Days - http://magnoliadays.com/
Are you ready for a Labor Day feast? Here are recipes by Sunday Supper bloggers that are great for the celebrating the holiday or any time of the year:
Refreshing Drinks
Amazing Appetizers and Sides
Enviously Good Entreés
Delicious Desserts
Join the #SundaySupper conversation on twitter each Sunday. We tweet throughout the day and share recipes from all over the world. Our weekly chat starts at 7:00 pm ET and you do not want to miss out on the fun. Follow the #SundaySupper hashtag and remember to include it in your tweets to join in the chat. Check out our #SundaySupper Pinterest board for more fabulous recipes and food photos.
Would you like to join the Sunday Supper Movement? It's easy. You can sign up by clicking here → Sunday Supper Movement