Sauce and crab are two things I adore. Separately or together, they are high on my list of food favorites. How high? Well, I celebrate the end of each year with king crab legs and lemon clarified butter for New Year's Eve. I can't think of a better meal to have while remembering all the wonderful times of the year. As the new year progresses, I treat myself to more crab and sauce from time to time. Another combination I enjoy is crab cakes with remoulade sauce.
Don't skimp on the sauce with me. Pile it on! I'm one of those who could almost swim in sauce, almost. You should see my ratio of spaghetti to sauce, it's at least half and half. A few fries with my ketchup? Maybe (no judging, please). Remoulade sauce, the oh so good Cajun version, is a terrific match for seafood. My husband prefers it for shrimp instead of cocktail sauce. I'll use it for salads, sandwiches, burgers, and best of all – crab cakes.
I'm very picky about crab cakes. Sometimes I wonder why I order them in a restaurant. The majority of the time it is a big disappointment. What most places call crab cakes are nothing but stuffing cakes with a hint of crab. You know what I mean? You taste more of the breading and seasoning than crab. Awful. Every now and then I get a good one though. Once in a blue moon I get an incredible one and that happened recently.
Where did I get the incredible crab cake? It came from Angelina's of Maryland. Actually, it was more than one, four to be exact. Four of the best looking jumbo lump patties I've seen. At first glance they look like mounds of only crab. I handled them delicately so they would not fall apart. I used two spatulas to flip them while cooking. I devoured them when they were done. Well, I did share with my husband. We had a fantastic meal with them and the remoulade sauce plus a simple salad. If you love crab and crab cakes the way I do, I highly recommend getting some from Angelina's.
How often do you have crab? Do you enjoy it with sauces like cocktail, dill, butter, remoulade, or simply the juice a lemon? Perhaps a sprinkling of Old Bay seasoning too? The are so many great combinations. Which one will I pick the next time? Stay tuned…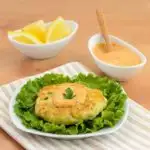 Remoulade Sauce
A recipe for remoulade sauce, a spicy Cajun-style sauce for seafood, sandwiches, salads, and so much more.
Ingredients
1/2

cup

mayonnaise

Juice of 1 lemon

1/4

cup

olive oil or light oil

1/2

cup

chopped onion

1/4

cup

chopped celery

2

garlic cloves

chopped

2

tablespoons

whole-grain mustard

3

tablespoons

prepared yellow mustard

1/4

cup

chili sauce

1

teaspoon

salt

1/4

teaspoon

cayenne pepper

1/4

teaspoon

freshly ground black pepper
Instructions
Place all ingredients in the bowl of a food processor fitted with a knife blade. Process for 30 seconds. Scrape down sides of bowl. Process for 20 to 30 seconds. Transfer to serving container. Serve immediately. Store leftovers in a sealed container in the refrigerator for up to 7 days.
Recipe Notes
A recipe for remoulade sauce, a spicy Cajun-style sauce for seafood, sandwiches, salads, and so much more.
Recipe adapted from one by Emeril Lagasse on the Food Network website.
Disclosure: I received four 4-ounce crab cakes from Angelina's of Maryland at no charge. I was under no obligation to give a positive review. All opinions are my own unless otherwise stated or contained within a guest post.