A whole month to celebrate taters. Yes, February is both National Potato Lover's and Sweet Potato Month. You have to know I'm celebrating spuds big time. Why? It's because they are my top choice of starch. They are nutritious, comforting, satisfying, and I simply adore the way they taste. Throw in vibrant color and I'm all over it. Just like I am with these Purple Sweet Potato Grits. Mighty colorful indeed.
Purple Sweet Potatoes have challenged me. I had to find something other than baking them when the kind folks at Frieda's sent some to me recently. I tried before and failed. Well, not a total failure. It tasted incredible. It looked beyond awful. I knew no one would look at a photo and think "oh yea, I really need to make that grey bowl of slop".
Then I remembered a cooking demonstration. It was by Virginia Willis and she made sweet potato grits. Virginia was promoting her new book at the time, Basic to Brilliant, Y'all
(Amazon Affiliate link). I got out the book and checked the ingredients. Milk had to go. I did not need a repeat of grey matter. I knew grits are fine cooked with water and potatoes would make it creamier. A little adaptation and I was in the kitchen shredding potatoes.
How are Purple Sweet Potato Grits? They are savory and with a unique texture and flavor. Think of cross between traditional southern-style grits and mashed potatoes. They would be fine to eat with simply with stirring in a big pat of butter. If you are expecting them to be sweet, note they are not. You would need to add sugar for sweetness. Purple sweet potatoes are not as sweet after cooking with the grits as the dish would be when made with regular orange ones.
Possibilities with these grits: Mardi Gras is coming up. They would make the most flamboyant shrimp and grits ever. Imagine purple grits topped with pink shrimp, green onions, and perhaps red tomatoes. All the colors of Mardi Gras in one bowl. You could also top the grits with a fried or poached egg, bacon, and fresh herbs. Another suggestion is topping them with pork barbeque or sweet tea brined pork tenderloin (another one of Virginia's recipes).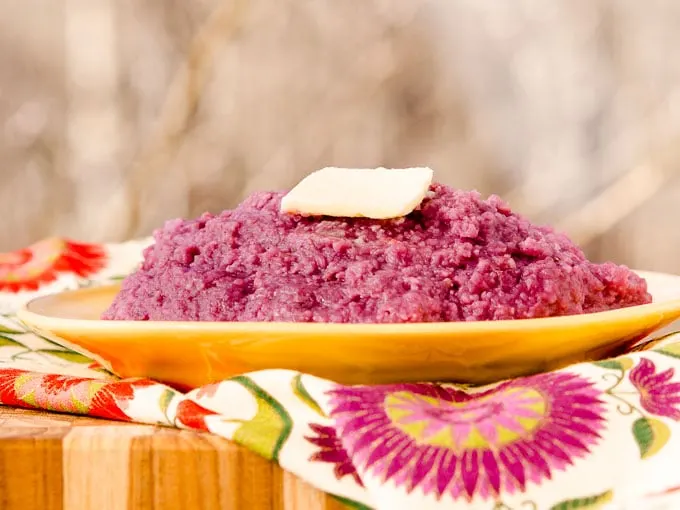 Want to know more about these purple spuds? Visit Frieda's information page on Stokes Purple® Sweet Potatoes. Take a look at my Maple Baked Purple Sweet Potatoes recipe too.
Purple Sweet Potato Grits
Purple Sweet Potato Grits are savory southern-style grits with added color, creaminess, and flavor from purple sweet potatoes.
Ingredients
4

cups

water

1

teaspoon

salt

1

cup

white stone ground grits

see note

2

medium purple sweet potatoes

3 to 4 cups, peeled and grated

1/2

teaspoon

ground cinnamon

1/8

teaspoon

ground ginger

Dash of ground nutmeg
Instructions
Bring water and salt to a boil in a large heavy saucepan. Slowly add grits, whisking constantly while adding. Stir in sweet potatoes.

Cover and reduce heat to low. Simmer, stirring often, until grits are creamy and thick and potatoes have "melted" into the grits, about 40 to 50 minutes.

Stir in cinnamon, ginger, and nutmeg.
Recipe Notes
Do not use yellow grits. The colors will blend and the end result will not be purple.
Disclosure: I received a box of assorted produce from Frieda's at no charge. I was under no obligation to post a recipe or review.