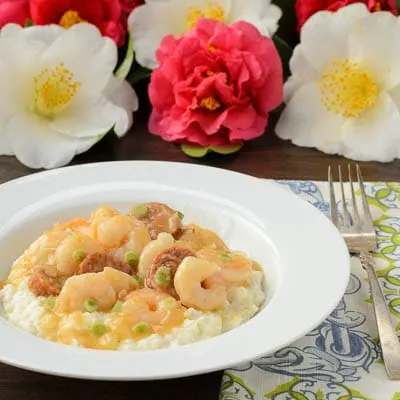 Shrimp and grits is a very Southern dish. What's interesting is that I never had it until several years ago. Why? Well, it has to do with my history of grits. I thought of grits as breakfast. Even more, the grits I had growing up were sweet. My dad would mix in sugar and cream. The thought of sweet grits with shrimp wasn't appealing to me. It took my tastes changing to open up a whole new savory world of grits.
My tastes in food changed right before I hit 40. It was quite drastic. Almost overnight I began eating foods I completely disliked before. My husband would look at me and ask "who are you and what did you do with my wife?" (jokingly of course). I would smile and shrug my shoulders. Now we laugh every time he notices me going for something different.
A few words about grits. Authentic Southern grits are stone-ground and either white or yellow. I use white for this recipe. They take a long time to cook. I've seen some recipes for up to 2 hours. I feel they are done in about 40 minutes. If you cannot find stone-ground, you can substitute with the type you find in the store and cook according to the package instructions. I would avoid instant or quick cooking ones as they are not quite as good as the long cooking ones.
Shrimp and grits are a bit spicy. The spice and heat comes from the andouille sausage, cayenne pepper, and Tabasco sauce. The spice is balanced with the shrimp and creaminess of the grits. This is a hearty meal and I consider it a comfort food. It is a meal I have to make a few times throughout the year. I think it stands on its own with a nice crusty bread or biscuits. You can serve it with a salad or a vegetable on the side.
How much do you enjoy shrimp? I love it. You have to check out some of my other recipes: Shrimp fra Diavolo, Shrimp Salad, and Shrimp Arnean. As spring and summer get into full swing I'm sure I'll throw some on the grill too. When I do, I'll be sure to share that recipe too. Stay tuned…
Shrimp and Grits
A recipe for southern-style shrimp and grits - a meal made with stone-ground grits, fresh shrimp, onion, andouille sausage, and creamy gravy.
Ingredients
For the grits:
2

cups

whole milk

2

cups

water

1

cup

white stone-ground grits

2

tablespoons

unsalted butter

Salt and Pepper
For the shrimp:
2

tablespoons

olive oil

1

medium onion

finely chopped

1

garlic clove

minced

1

pound

andouille sausage

casing removed and cut into bite-sized pieces

1/4

cup

all-purpose flour

2

cups

chicken broth

2

bay leaves

2

pounds

medium shrimp

peeled and deveined

Pinch of cayenne pepper

2

to 3 drops Tabasco sauce

Juice from 1/2 lemon

Salt and Pepper

4

green onions

thinly sliced
Instructions
For the grits:
In a 3-quart pot over medium heat, add the milk and water. Add the grits slowly, whisking constantly. Bring the grits to a simmer and reduce heat to medium-low or low to maintain a simmer. Stir frequently. Cook until the grits are creamy and thick, about 40 minutes. Thin with additional water or milk if too thick. Remove from the heat and stir in the butter. Season with salt and pepper to taste.
For the shrimp:
In a large, deep skillet or saute pan over medium heat, add the olive oil. Add the onion and cook until translucent, about 5 minutes. Add the garlic and cook until fragrant, about 1 minute. Add the sausage and cook until until the sausage has browned and rendered a fair amount of fat in the pan. Sprinkle in the flour and stir to create a roux. Cook for 1 to 2 minutes. Slowly pour in the chicken broth, stirring constantly. Add the bay leaves and bring the liquid to a simmer. Add the shrimp and cook until shrimp is just cooked through. Add the cayenne pepper, Tabasco, and lemon juice. Stir to combine. Season with salt and pepper to taste.
To serve:
Spoon grits into a bowl. Top with the shrimp mixture. Garnish with green onion slices. Serve immediately.
Recipe Notes
A recipe for southern-style shrimp and grits - a meal made with stone-ground grits, fresh shrimp, onion, andouille sausage, and creamy gravy.
Recipe adapted from one by Tyler Florence on the Food Network website.