When life gives you lemons, bake cookies. At least that's what I did. Things around here the past year haven't exactly been a complete paradise. It was stressful and sad dealing with the illnesses and loss of my dogs. Plus my mom breaking her hip and needing extra care. Yet things have a way of changing for the better too. At least that's my hope for a new chapter in my life. What does that have to do with Meyer Lemon Butter Cookies? Oh, not much except the lemons came right at this turning point.
I was out on an errand when the box arrived. The kind folks at Frieda's had sent an assortment of potatoes, shallots, and Meyer lemons. I gravitated toward the purple potatoes first and made Purple Sweet Potato Grits. Plus I had just made a homemade sour mix with lemons for Strawberry Whiskey Sour. However those Meyer lemons kept calling out to me.
Pinterest is to blame for the final push. I was perusing pins in the food category and saw one for lemon butter cookies. It led me to the recipe I wound up adapting to make these Meyer lemon ones. Why that recipe? Because it was a small batch and everything done by hand. No mixer or food processor is involved. It was therapeutic to make cookies that way.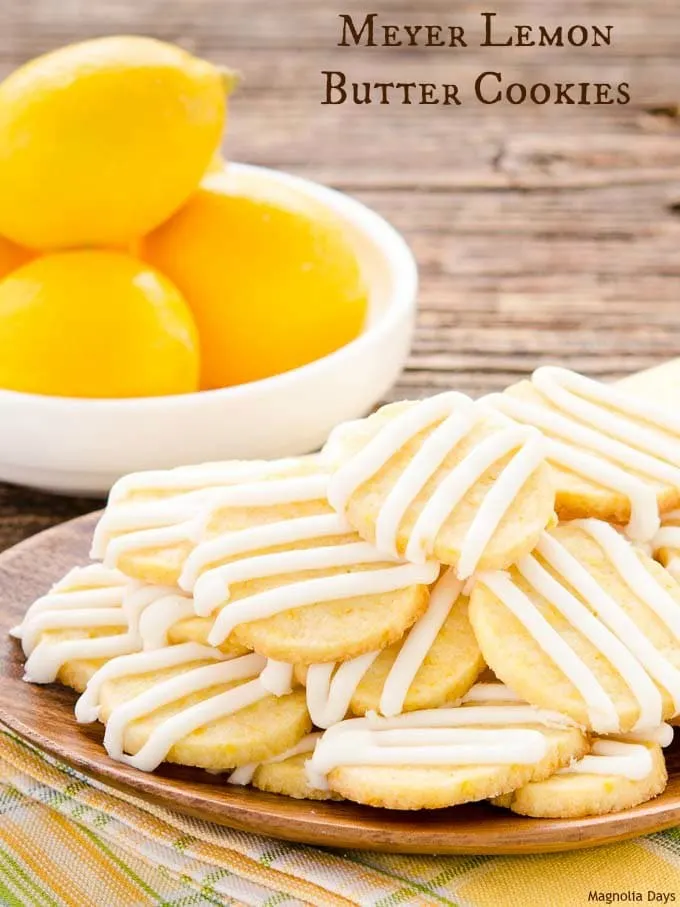 How are Meyer Lemon Butter Cookies? They are tart, sweet, rich, buttery, and topped with a drizzle of Meyer lemon glaze. A note on the dough. It is crumbly. You will need to keep pressing and kneading it until it comes together. It will eventually, just keep at it. Then shape the dough into logs and freeze. From there you only have to slice and bake. Well, plus drizzling glaze on top.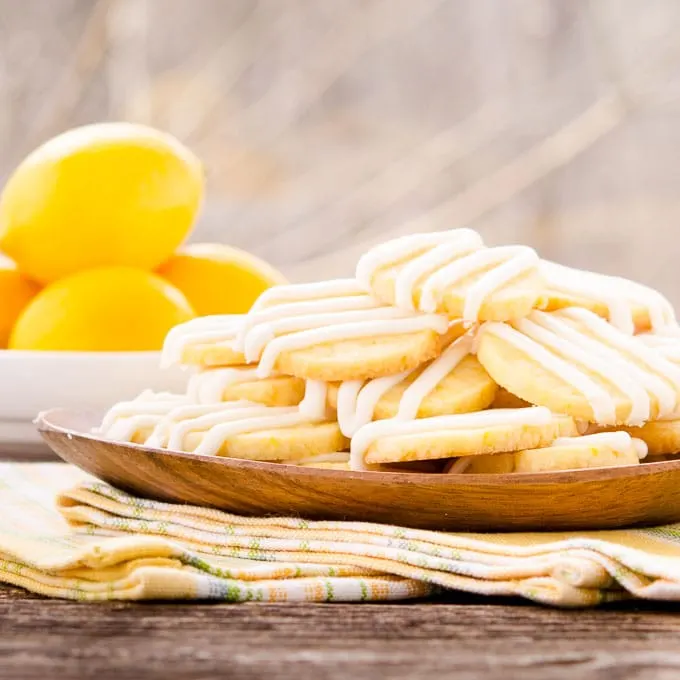 What is the new chapter in my life? We are getting a puppy. When this post publishes it will be our first full day with him. I saw a photo of a whippet who needed a home on Facebook. His sweet face captured my heart. I'll share a photo of him on this blog soon. Meanwhile I'll be posting photos on social media like crazy. Follow me on Instagram to see it all.
How about more Meyer lemon recipes? Take a look at Meyer Lemon Tahini Dressing, Meyer Lemon Fingerling Potato Salad, and Meyer Lemon Gelato.
Meyer Lemon Butter Cookies
Meyer Lemon Butter Cookies are a delightfully sweet treat. They are slice and bake cookies with a rich, buttery, and bright lemon flavor.
Ingredients
For the cookies:
1/3

cup

granulated sugar

1

heaping tablespoon grated meyer lemon zest

1

cup

plus 3 tablespoons all-purpose flour

unbleached recommended

1/8

teaspoon

salt

7

tablespoons

cold unsalted butter

diced

3

teaspoons

fresh meyer lemon juice

1

egg yolk
For the glaze:
1 1/2

cups

confectioners sugar

sifted

3

teaspoons

fresh meyer lemon juice

plus more as needed

1

tablespoon

unsalted butter

melted

1/4

teaspoon

vanilla extract

Pinch of salt
Instructions
For the cookies:
Combine sugar and lemon zest in a small bowl. Use your fingers to rub zest and sugar together. This releases lemon oil for more flavor.

Whisk together flour, salt, sugar and lemon zest in a large bowl. Add butter and cut into flour mixture using a pastry cutter until it looks like coarse crumbs.

Add lemon juice and egg yolk. Use a fork to combine. Transfer the dough to a work surface.

Knead and press the dough until it forms a ball. Keep pressing until it comes together.

Divide the dough in half. Form each half into a log 5-inches long and about 1-inch in diameter. Wrap logs in plastic wrap and freeze for at least 30 minutes or overnight.

Preheat oven to 350°F. Line baking sheets with parchment or non-stick liner.

Unwrap logs and slice into 1/4-inch thick rounds. Place cookies on baking sheet 1-inch apart.

Bake for 10 to 12 minutes, until the edges just begin to lightly brown.

Transfer cookies to a wire rack and cool completely. Drizzle glaze on cookies.
For the glaze:
Stir together all glaze ingredients in a small bowl. Add more lemon juice as needed for desired drizzling consistency.

Drizzle glaze over cookies.
Recipe Notes
Time stated does not include time for freezing dough.
Recipe adapted from Lemon Butter Cookies on the Rincón Cocina website.
Disclosure: I received a box of assorted produce from Frieda's at no charge. I was under no obligation to post a recipe or review.