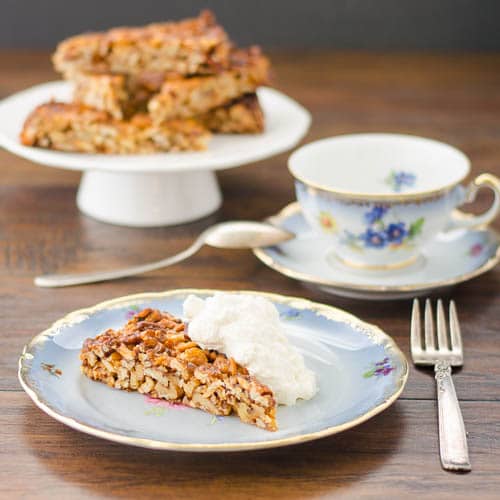 Texture brings interest to the plain and bland. A painting comes even more alive when you see the layers of paint on the canvas. It's so different than a flat image of the same piece of art. Fabrics can feel soft or rough and add a special aesthetic to a room. Texture is a major factor with food. Smooth, chewy, flaky, sticky, foamy, and tender are a few of the textures we experience on any given day. And there is crunchy, oh so wonderful crunchy. One of my favorite crunch factors comes from nuts. Making a dessert to highlight crunchy meant one thing; nutty wedges with brown sugar whipped cream.
It's all about the crunch! There are so many crunchy foods that come to mind. Chips, fried chicken, cookies, cereal, and raw veggies are just a few. However, my go-to food for adding crunch is nuts. You can use them in baking, salads, main dishes, and simply as a snack. Having a Sunday Supper "Crunchy Goodness" event called for a recipe I've been wanting to make for years. I found it long time ago in a Real Simple magazine. It only had pecans. I decided to mix it up and throw in some walnuts and almonds too.
How did the nutty wedges turn out? They magically disappeared rather quickly. Three were gone the first night. The container was empty soon afterwards. The nuts are baked with a sweet syrup which holds them together after baking. Serving the wedges with brown sugar whipped cream makes a delightful dessert. One note: make sure you line the bottom of your oven with foil to catch leaks. Spring-form pans don't always seal tightly and keep in thin syrups.
What is your favorite crunchy food? Can you think of the last day you didn't eat something with a crunch? I can't. It's a texture we enjoy at any time of the day. It's worth celebrating and the Sunday Supper bloggers are excited to share their favorites too. Be sure to scroll down to find the recipes. It's a whole lot of crunchy goodness!
PS. Take a look at some of my other recipes with a crunch: Christmas Crunchies, cream cheese and pimento stuffed celery, spiced pecans, and Asian slaw.
Nutty Wedges with Brown Sugar Whipped Cream
For the nutty wedges:

1/2 cup granulated sugar
2 tablespoons brown sugar
1/4 cup light corn syrup
1/2 cup heavy whipping cream
1 tablespoon dark rum (or vanilla extract)
Pinch of salt
1 1/2 cups walnuts, roughly chopped
1 1/2 cups pecans, roughly chopped
1/2 cup blanched slivered almonds
For the brown sugar whipped cream:

1 cup heavy whipping cream
1/2 teaspoon dark rum (or vanilla extract)
1 tablespoon brown sugar
For the nutty wedges:
Line the bottom of the oven with foil in case of leaks during baking. Preheat oven to 375 degrees F. Line the bottom of a 9-inch springform pan with parchment paper.
Combine granulated sugar, brown sugar, corn syrup, and whipping cream in a large saucepan. Bring to a boil, then lower the heat and simmer until sugar dissolves, about 2 minutes.
Remove pan from heat and stir in rum, salt, walnuts, pecans, and almonds. Stir to coat nuts with syrup.
Pour into prepared springform pan and spread evenly.
Bake until golden brown, about 40 minutes.
Cool completely on a wire rack. Remove from the pan and slice into wedges.
For the brown sugar whipped cream:
Whip cream, rum (if using), and brown sugar until stiff peaks form. Serve with nutty wedges.
https://magnoliadays.com/nutty-wedges-brown-sugar-whipped-cream/
Copyright Magnolia Days - http://magnoliadays.com/
Recipe adapted from one in the Real Simple December 2007 magazine.
Bring on the crunch! Check out these recipes by Sunday Supper bloggers:
Crispy Appetizers:
Crunchy Entrees and Sides:
Munch on Snacks:
Crisp Dessert:
Join the #SundaySupper conversation on twitter each Sunday. We tweet throughout the day and share recipes from all over the world. Our weekly chat starts at 7:00 pm ET and you do not want to miss out on the fun. Follow the #SundaySupper hashtag and remember to include it in your tweets to join in the chat. Check out our #SundaySupper Pinterest board for more fabulous recipes and food photos.
Would you like to join the Sunday Supper Movement? It's easy. You can sign up by clicking here → Sunday Supper Movement