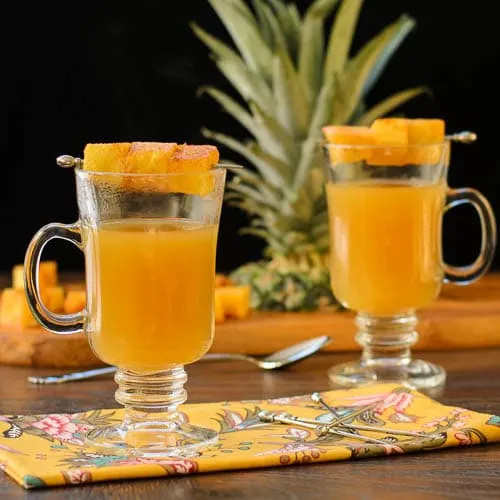 Old man winter is knocking at the door. Outside he is sending a chilly breeze and cooling down the night air. Colorful leaves are falling from trees and blanketing the ground. Landscape maintenance changes from mowing grass to gathering leaves. After a day sprucing up the yard, relaxing with a beverage is in order. Sipping a hot mulled one to warm up with hits the spot. All the better when it has a lovely color of sunshine. A Liquid Gold cocktail is one to sip on to brighten a cold winter night.
There are more beverages for the winter season. They can be found in a new book called Winter Cocktails
. It is a collection of hot toddies, mulled ciders, punches, and more. There are also recipes for snacks for serving at parties. I've already bookmarked several recipes including Cheese-Crusted Olives and Holly Jolly Punch. I think they would be a big hit for a holiday celebration.
There is more to the book than recipes. You can find lists for pantry and bar basics, kitchen tools and serveware guides, plus sources for unique ingredients. Most of the recipes feature a photo and the photography is wonderful. It's a book to enjoy from cover to cover. It would also be a nice gift for anyone who enjoys cocktails and entertaining.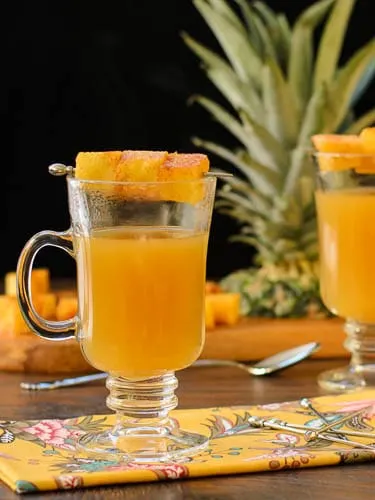 What is your favorite beverage for winter? I've always had Glühwein at the top of my list. Thanks to this book I'll have many more to try and see if they are contenders too. One that is already on my winter sipping list is Liquid Gold. It is pineapple juice mulled with spices along with dark rum and brandy. The spiced pineapple garnish is a must. I'll make extra of it next time to save for snacking on throughout the day.
Want to get Winter Cocktails for yourself of someone else? You can purchase a copy of it on Amazon by clicking on the photo (affiliate link):
Liquid Gold Cocktail
A recipe for a Liquid Gold cocktail, a hot mulled beverage made with pineapple juice, spices, rum and brandy. It is garnished with spiced pineapple cubes.
Ingredients
For the Pineapple Garnish:
12

or more cubes fresh pineapple

3/4-inch

1

tablespoon

granulated sugar

1/4

teaspoon

Aleppo pepper

1/4

teaspoon

ground cinnamon

1/8

teaspoon

salt
For the Mulled Pineapple Juice:
1

tablespoon

whole allspice berries

1

tablespoon

black peppercorns

1

tablespoon

whole cloves

2

cinnamon sticks

4

cups

pineapple juice

6

ounces

dark rum

2

ounces

brandy

1

vanilla bean pod

split in half lengthwise, seeds scraped out
Instructions
For the Pineapple Garnish:
Adjust oven rack to the middle position and preheat broiler.

Line a baking sheet with foil and arrange pineapple cubes in a single layer.

Combine sugar, Aleppo pepper, ground cinnamon, and salt in a small bowl.

Sprinkle pineapple cubes with sugar mixture and toss to coat evenly.

Rearrange pineapple in a single layer and broil until caramelized, 2 to 4 minutes.

Transfer tray to cooking rack. When cool enough to handle, skewer at least 3 pineapple cubes onto each of 4 short skewers or sturdy toothpicks.
For the Mulled Pineapple Juice:
Place allspice, peppercorns, cloves, and cinnamon stick in a medium saucepan. Stir over medium heat until fragrant, about 2 minutes.

Add pineapple juice, rum, brandy, and vanilla bean and seeds and bring to a simmer over medium heat, stirring occasionally.

Reduce heat to lowest setting and simmer for 15 minutes.

Strain mixture through a fine-mesh sieve into a bowl and discard solids.

To serve, place one pineapple skewer in eahc of 4 heat-proof cups. Ladle juice into cups.
Recipe Notes
Recipe copyright © 2013 Quirk Productions. Used with permission.
Disclosures: I received a copy of Winter Cocktails recipe book at no charge. I was under no obligation to post a positive review. All opinions are my own unless otherwise stated or contained within a guest post. This post contains affiliate links.