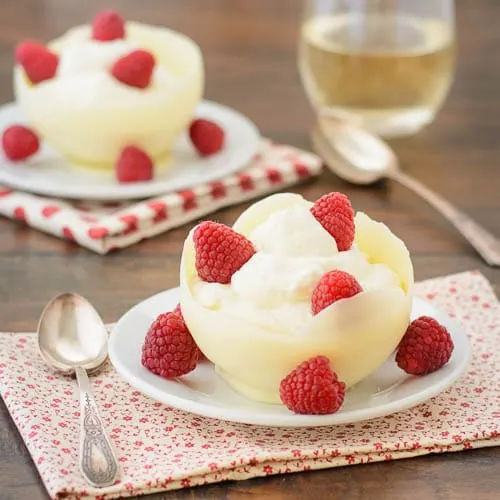 Small balloons were lined up on the counter. A bowl of melting wafers topped a pot of simmering water. Ingredients were readied and the plan went into motion. A very special treat was in the works. Anticipation and excitement increased with each step. Dipping, stirring, whipping, and folding all took place within a short period of time. Soon a special dessert of Ghirardelli® Dessert Cups with Mousse was ready to be served.
I would not consider myself a crafty person. Crafts and me do not get along. There have been too many failed attempts at homemade decorations. Making edible cups seemed a great challenge at first glance. I decided to take on the challenge and was pleasantly surprised with the experience. The cups are beautiful. They are delicate too (see tips below). I think part of the success came from using quality melting wafers such as the ones made by Ghirardelli.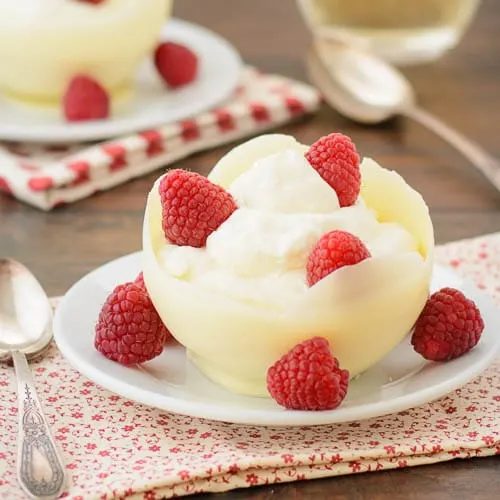 Ghirardelli has two flavors of melting wafers. White is sweet and creamy; great for creating dipped pretzels, fruit, nuts or candy. Dark is delicious and rich; ideal for dipping nuts, strawberries, pretzels and molded candies. You can use either to make the dessert cups. I used white for mine. I like the elegant look of shades of white with a pop of red from raspberries. It is quite festive. The mousse is fluffy and has a light orange flavor. Visit the Ghirardelli website for more information on their melting wafers along with other products and recipes.
A few tips:
Use thicker or heavy-duty balloons. Thin ones will tear apart when removing them from the cups.
Let the cups set out for at least 10 minutes after freezing and before attempting to remove the balloons. They will release easier when not so cold.
Be patient and work slowly to remove the balloons. The cups are delicate and will break easily.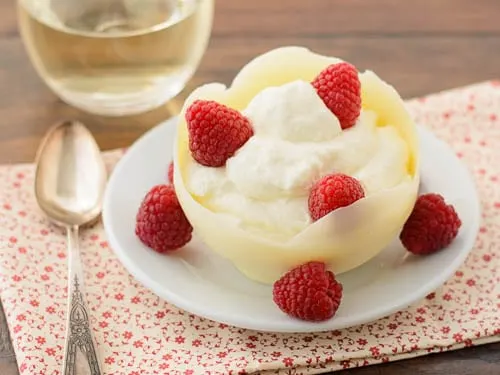 What dessert do you like to serve for special occasions? These edible cups with mousse are now on my list of ones to wow guests and loved ones. They would be a wonderful ending to holiday meals with family and friends. Have fun making them and watch the smiles happen when serving. For another dessert option, make white chocolate chip oat cookies using Ghirardelli white baking chips.
Ghirardelli® Dessert Cups With Mousse
A recipe for dessert cups with mousse. Edible cups are made with candy melts and filled with a fluffy mousse. This is a wonderful dessert for a special occasion.
Ingredients
For the dessert cups:
4

cups

Ghirardelli white or dark melting wafers

8

small round balloons
For the mousse:
8

oz

Ghirardelli classic white baking chips

4

tablespoons

orange liqueur

2

tablespoons

Water

1 1/4

cups

heavy cream

2

egg whites
Instructions
For the dessert cups:
In double boiler over hot water, melt 2 cups of wafers. Cool about 5 mins.

Inflate balloons to 4" diameter; knot. Holding balloons by knot, dip into melted product, tipping to cover balloon halfway up. Place balloon, knotted side up, on wax paper-lined baking sheet, holding balloon in place until it starts to set.

Repeat with remaining balloons to make 8 cups. Place in freezer 5 mins.

Melt remaining 2 cup of wafers and repeat dipping procedure; place in freezer for 10 mins.

Snip hole in each balloon to deflate; carefully peel away from dessert cups.

Refrigerate until needed. Use the same day. Fill cups with ice cream, sorbet, mousse or fresh fruit such as raspberries or strawberries into dessert cups.
For the mousse:
In double boiler over hot water, melt white chips with liqueur and water; stir gently to blend.

Cool until melted white chips mixture no longer feels warm to the touch.

In large bowl with electric mixer, beat cream until soft peaks form; fold cream into melted white chip mixture.

In large bowl with clean mixer, whisk egg whites until soft peaks form.

With rubber spatula, fold egg whites into white chips mixture.

Divide mousse among dessert bowls or glasses. Chill at least 1 hour.
Recipe Notes
Recipe © copyright The Ghirardelli Chocolate Company. Used with permission.
Disclosure: I received a variety pack of Ghirardelli products at no charge. I was under no obligation to give a positive review. All opinions are my own unless otherwise stated or contained within a guest post.
Note: The mousse contains raw egg whites and consuming raw eggs is done at your own risk.