I wanted a cookie. Actually I wanted a homemade cookie. I missed this month's Creative Cookie Exchange posting because of being out of town. I was stressed with all the things to do and baking is a big stress reliever for me. There was plenty of oats in my pantry. I figured I could fit in a quick batch of drop cookies. Then came the first round of disaster when making Honey Oatmeal Scotchies.
The dough was more like cake batter. That is not the typical consistency of drop cookies. Yet I went with it because sometimes I am surprised at how things turn out. My hunch was correct. The cookies spread out and the middle looked completely raw after 12 minutes of baking. The edges were dark brown. I took them out of the oven and let them sit for a couple of minutes. It didn't help. All I had was gooey discs that fell apart when I tried to lift them with a spatula.
I thought more flour might help. I stirred a half cup of flour into the remaining dough. It helped with the dough consistency. It did not help with making the cookies be anything other than blobs of dough with no chance of firming up while baking. The whole thing went into the trash. I had to wait until after my trip to tackle it again. It gave me time to figure out how what to do on the next batch.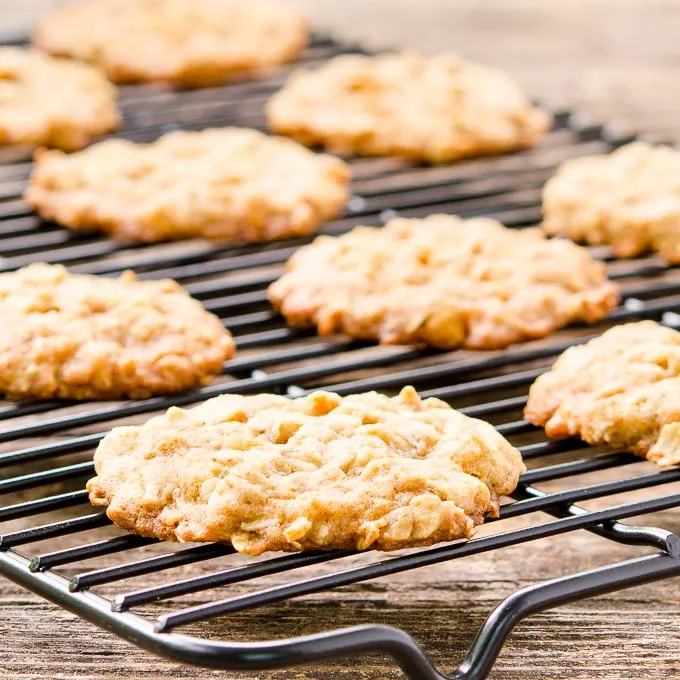 Honey is a lovely sweetener. It's natural and adds a wonderful flavor. Yet, as I discovered, does not do well when substituting it for granulated sugar in cookies. And that is exactly what whoever came up with the original recipe I was using had done. They took the classic oatmeal scotchies recipe and adjusted it with honey. Obviously they never tested it. After three rounds of testing, I finally was able to get the right ratio of ingredients for cookies to hold together after they cool.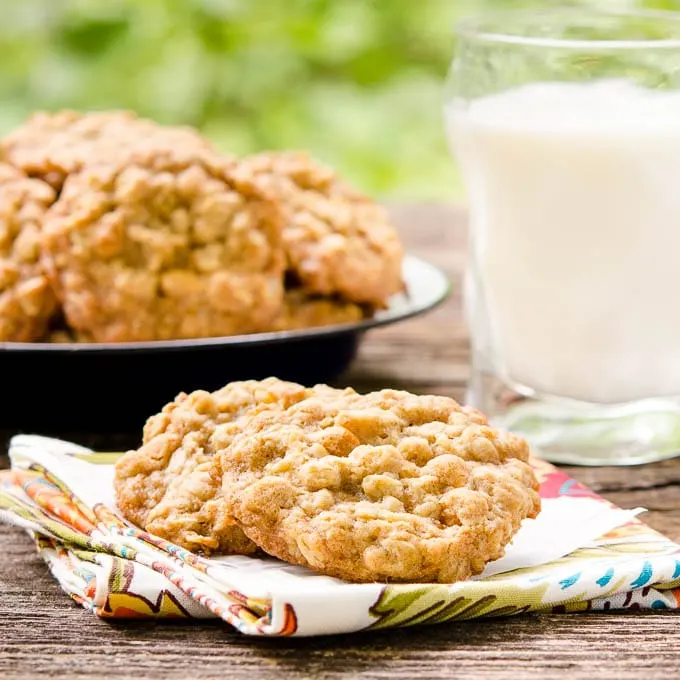 How are Honey Oatmeal Scotchies? They are super soft and chewy. I want to stress soft. Honey keeps them from getting crispy or crunchy. They are finished baking when the edges are brown and the middle still looks moist. Let them sit on the baking sheet for two minutes before carefully transferring them to racks to cool. Then enjoy a classic cookie with a twist of added honey goodness. What to make with oats? I suggest Oatmeal Chocolate Chip Muffins to start your day with a touch of chocolate.
Honey Oatmeal Scotchies
These Honey Oatmeal Scotchies are a twist on the classic cookies. They are super soft, chewy, and have added goodness of honey.
Ingredients
2

cups

all-purpose flour

1 1/4

teaspoons

baking soda

1/2

teaspoon

salt

1/2

teaspoon

cinnamon

1

cup

unsalted butter

at room temperature

3/4

cup

firmly packed light brown sugar

1/2

cup

granulated sugar

1/4

cup

honey

2

large eggs

1

teaspoon

vanilla extract

3

cups

old-fashioned oats

1

bag butterscotch chips

11 ounces
Instructions
Preheat oven to 375°F. Line baking sheets with parchment paper or non-stick liner.

Whisk together flour, baking soda, salt, and cinnamon in a medium bowl.

Beat butter, brown sugar, and granulated sugar in a large bowl until creamy. Add honey and beat to combine.

Add eggs and vanilla, one at a time, beating well after each addition.

Add flour mixture and beat until just combined.

Stir in oats and chips. Drop by tablespoons full 2-inches apart on baking sheet.

Bake 9 to 11 minutes, until edges are browned and middle is still moist looking.

Cool cookies on baking sheet for 2 minutes. Carefully transfer cookies to a wire rack. Cookies will be soft. Cool completely.
Recipe Notes
These Honey Oatmeal Scotchies are a twist on the classic cookies. They are super soft, chewy, and have added goodness of honey.
Recipe adapted from the Sue Bee Honey Cookbook (unknown publish date).