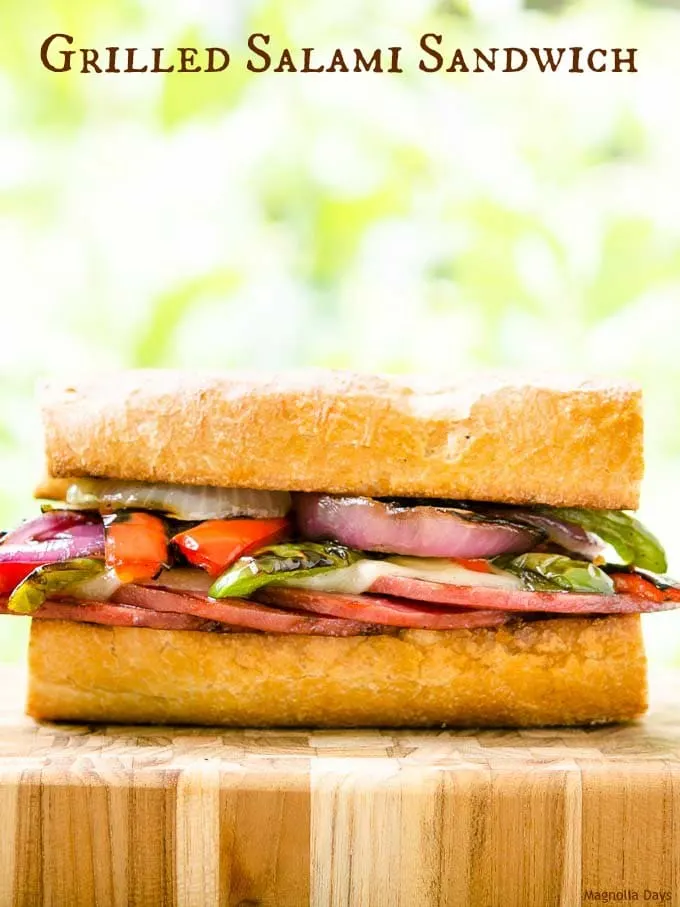 Critters are getting crazier these days. Or they are getting smarter and finding ways to get back at us. They've figured out how to disable cars. They sneak in and chew up all the hoses in the engine compartment. Perhaps they lost too much family from being run over. Nah. It's us humans fault. Some geniuses came up with hoses made of soybean composite. Critters love them. They chewed up the hoses in both my brand new car and my husband's car. Now what does this have to do with Grilled Salami Sandwich? Nothing except I was making it when my husband was replacing the hoses.
I've wanted to make the sandwiches for ages. It finally took a grilling theme for Sunday Supper to make it happen. The first time I had a grilled salami sandwich was way back in the 80's. There was a restaurant around the corner from where I worked. Theirs was a little different than mine. It was more of a griddled sandwich than grilled.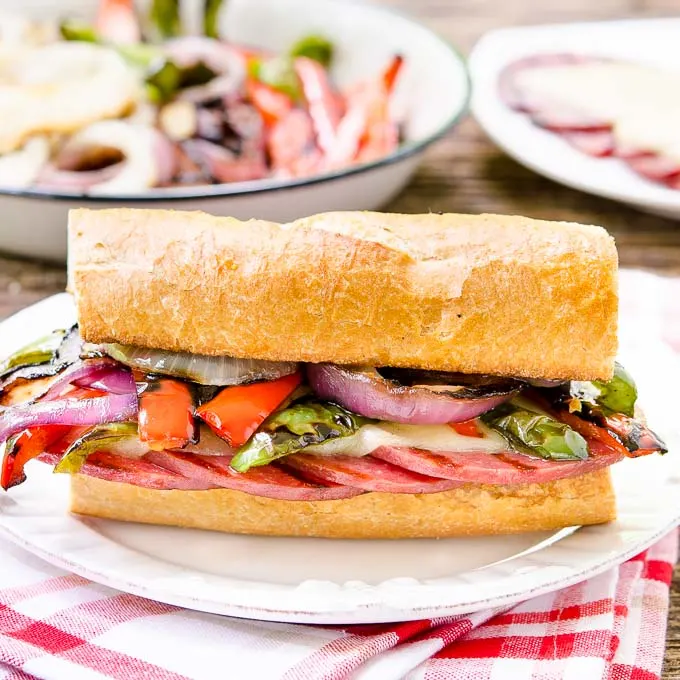 The basic parts of the sandwich are still there. It's grilled salami with melted cheese between slices of bread. Theirs was pretty much that with the bread slathered with an overabundance of garlic butter before being put on the griddle. It was a 15 napkin sandwich if you know what I mean. It was also a total and complete splurge.
My Grilled Salami Sandwich is still somewhat of a splurge. Last I checked salami isn't exactly on the light side. I balanced it out with brushing the bread with olive oil and topping it with grilled onions and peppers. There's a final drizzle of Italian dressing to give it an extra bit of flavor.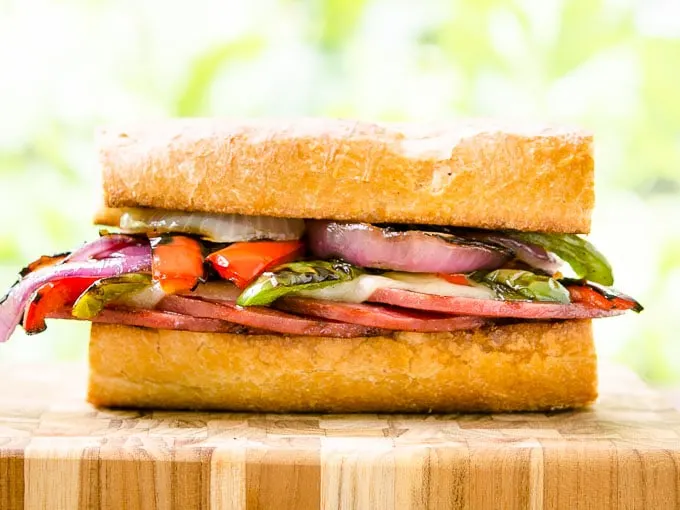 Are you ready to fire up the grill? Official grilling season starts soon on Memorial Day. Folks all over will be throwing something on the barbie instead of cooking in the kitchen. Scroll down to find a list of grilling recipes by Sunday Supper tastemakers. Check out my Grilled Corn Relish, Grilled Tuna with Mediterranean Yogurt Sauce, and Grilled Lemon Cherry Drop Martini too. Special thanks to Sue of A Palatable Pastime for hosting this tasty Sunday Supper event.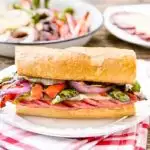 Grilled Salami Sandwich
Fire up the grill to make this Grilled Salami Sandwich with provolone cheese, onions, and peppers. It's a feast of Italian flavors.
Ingredients
2

bell peppers

2

onions

Olive oil

1

baguette

about 15 inches long

12

thick slices deli hard salami

about 1/4-inch thick

3

thick slices deli provolone cheese

cut in half

3

tablespoons

Italian dressing
Instructions
Heat grill to medium-high (about 450°F)

Seed and cut bell peppers into 1/2-inch wide strips.

Slice onion into at least 1/4-inch thick slices.

Place vegetables in a large casserole dish. Drizzle with olive oil and sprinkle with salt and pepper. Toss to coat vegetables with oil (be careful not to separate onion rings).

Place vegetables on grill in a single layer. Close lid and grill for about 3 to 5 minutes, until bottom side has grill marks.

Turn vegetables over. Close lid and grill for another 3 to 5 minutes, until bottom side has grill marks and vegetables have softened. Place grilled vegetables in a bowl or casserole dish and cover with foil to keep warm.

Slice baguette in half horizontally then into thirds (to make 3 sandwiches). Brush cut sides of bread with olive oil. Place cut side down on grill. Remove bread from grill when toasted, about 2 minutes. Watch closely so bread does not burn.

Place salami on grill in a single layer and grill for about 1 or 2 minutes (salami will cook fast). Turn salami over and arrange 4 slices into a row the length of the cut bread (you will have 3 rows of salami, 4 slices in each row). Top each with 2 half slices of cheese. Grill until cheese melts.

Place salami and cheese on bottom half of bread. Top with grilled vegetables. Drizzle Italian dressing on vegetables. Cover with top half of rolls.
Recipe Notes
Fire up the grill to make this Grilled Salami Sandwich with provolone cheese, onions, and peppers. It's a feast of Italian flavors.
It's time to fire up the grill! Take a look at these grilling recipes by Sunday Supper tastemakers:
Patio Libations
Let's Get This BBQ Started!
The Main Event
On a Side Note
Saucy Sentiments and Rebellious Rubs
Finishing Touches
Join the #SundaySupper family on twitter every Sunday! We tweet throughout the day and share recipes from all over the world. Our weekly chat starts at 7:00 pm ET. Follow the #SundaySupper hashtag and remember to include it in your tweets to join in the conversation. To get more great Sunday Supper recipes, visit the Sunday Supper Movement website or check out our Sunday Supper Pinterest board.
Would you like to join the Sunday Supper Movement? It's easy. You can sign up by clicking here: Sunday Supper Movement.