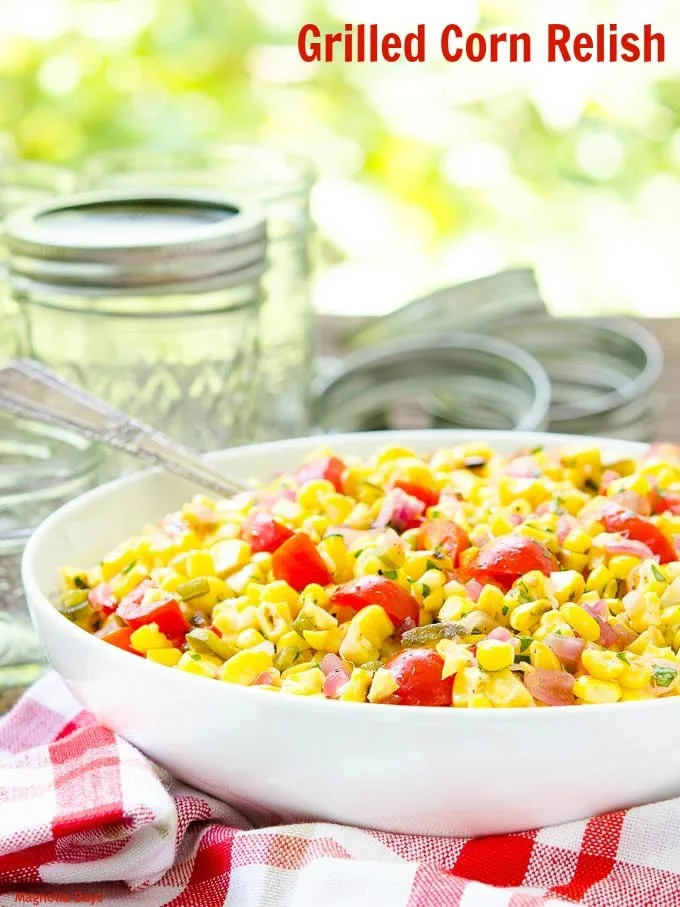 It started with grilling seafood. Or actually, it started with me wanting to grill more seafood. I needed to find recipes and inspiration to make it happen. It seemed corn was involved everywhere I looked. Even when seafood wasn't involved, grilled corn kept showing up all over the place. It is a featured or special seasonal side at restaurants, in countless magazines, and of course the internet. My focus went from seafood and the next thing I know I'm firing up the grill to make Grilled Corn Relish.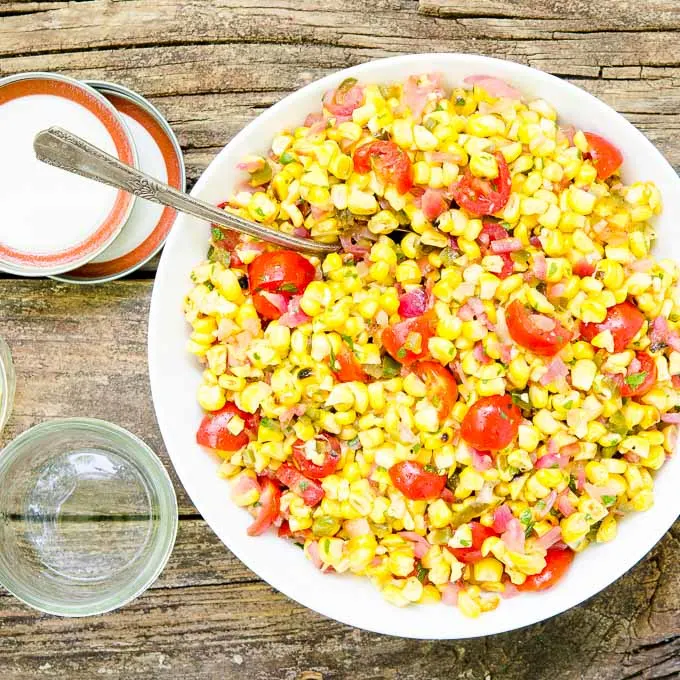 There is one tie-in with the relish regarding seafood. It is superb as either a topping or a side for grilled fish. Wait, not only grilled, it's also for baked, steamed, pan-seared, or deep-fried fish too. Did I miss anything? Oh yea, broiled. It does not stop with seafood. I'd put it in or on tacos, burgers, sandwiches, wraps, and the list goes on and on.
Why is it so versatile? It's the combination of flavors in the mix. There is smokiness from grilled sweet corn, red onion, and poblano pepper. Freshness comes from tomatoes, cilantro, and lime juice. Earthiness rounds it out with olive oil, cumin, and paprika. You have a touch of sweet, hint of heat, burst of citrus, and dash of spice.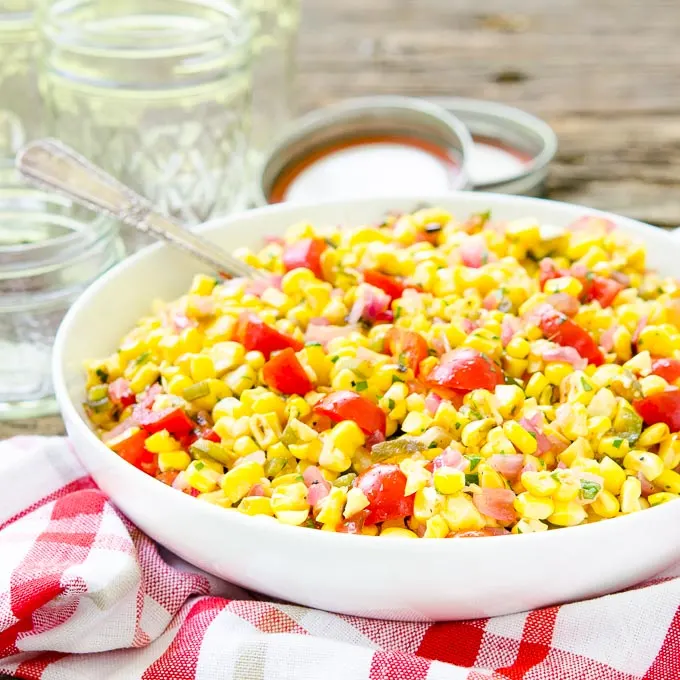 What about canning it? I have absolutely no clue. I have never canned anything in my life. Give it a try if you are a canning person and good luck with it. Let me know how it does. Meanwhile, I'll store mine in jars in the fridge for a few days. I doubt it would last longer than that anyway. I'd also share a jar or two with friends. It reminds me to make another batch of Refrigerator Pickled Jalapeños with Herbs or Zucchini Relish this summer.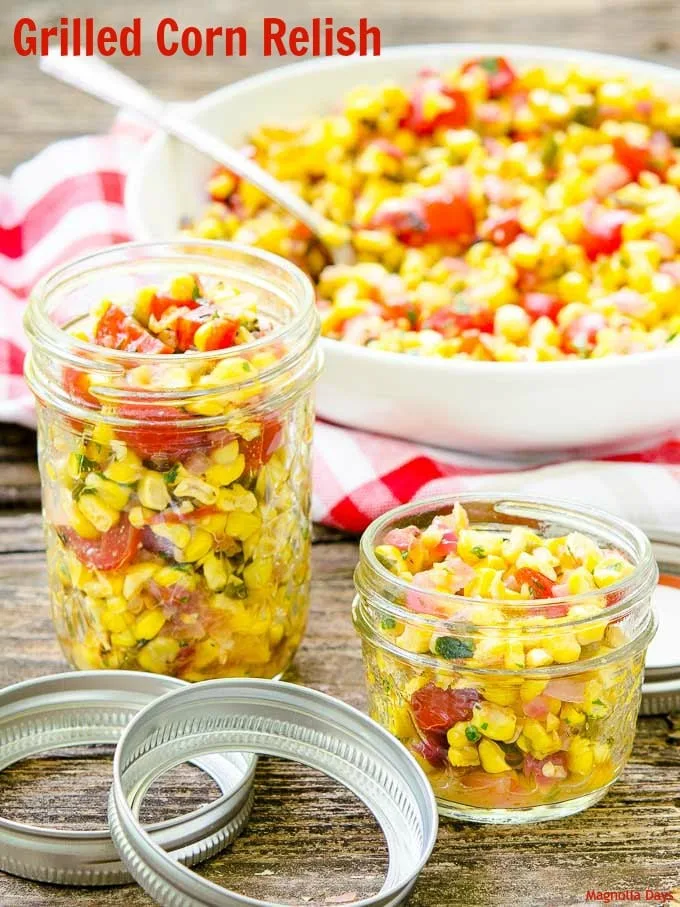 Which kind of relish is your favorite? A southern one I truly enjoy is Chow Chow. It will be the first thing on my list to tackle if I ever start canning. At least I have my parents' recipe. Perhaps next year will be the year of canning. This year, or at least this summer, is all about grilling. And corn. And more. Stay tuned…
Grilled Corn Relish
Grilled Corn Relish made with fresh corn, poblano pepper, onion, tomatoes, fresh lime juice, cilantro, and seasonings. Great topping for seafood and more.
Ingredients
4

ears corn

husk and silk removed

1

medium poblano pepper

cut in half and seeds removed.

1

small red onion

cut into 1/3-inch slices

1

cup

grape tomatoes

quartered

3

tablespoons

olive oil

plus more for coating vegetables prior to grilling

3

tablespoons

fresh lime juice

1

tablespoon

chopped fresh cilantro

1/2

teaspoon

salt

1/4

teaspoon

pepper

1/8

teaspoon

ground cumin

1/8

teaspoon

paprika
Instructions
Heat grill to medium-high heat (about 450°F).

Grill corn until tender and turning occasionally, about 20 minutes. Cut kernels off cobb and place kernels in a large bowl. Discard cobb.

Place poblano pepper and onion slices on a plate. Drizzle with olive oil. Toss to coat vegetables with oil (be careful not to separate onion rings).

Place vegetables on grill in a single layer. Close lid and grill for about 3 minutes, until bottom side has grill marks.

Turn vegetables over. Close lid and grill for another 3 minutes, until bottom side has grill marks and vegetables have softened.

Chop onion and pepper and place in bowl with corn.

Add tomatoes, 3 tablespoons olive oil, remaining ingredients, and stir to combine. Serve immediately or chill until serving.

Store relish in a sealed container in the refrigerator for up to 3 days.
Recipe Notes
Grilled Corn Relish made with fresh corn, poblano pepper, onion, tomatoes, fresh lime juice, cilantro, and seasonings. Great topping for seafood and more.
Recipe adapted from one in the Better Homes and Gardens 2015 Garden-Fresh Recipes special edition magazine.