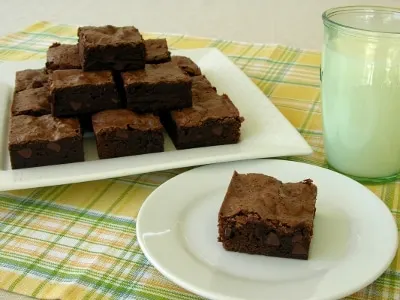 Sometimes you just want a good old-fashioned brownie. A simple one without loads of marshmallows, frosting, sprinkles, or anything else on top. Chocolate is the highlight and the texture is just right. They are moist but not fudge-y or cake-like. A homemade treat for any occasion. These are the brownies that fit the bill.
The recipe is simple and has three kinds of chocolate. What else could you need? Well, maybe some flour, eggs, sugar, and butter to hold it all together. All those ingredients together make a batch of chocolate-y goodness. These brownies are on my all-time favorite go-to list of something to bake. I make them for family and friends all throughout the year. The original recipe can be found on the Joy of Baking website. I adapted it to reflect the type of chocolate I use and the way I prepare the pan to easily lift them out for cutting into squares.
Warning! The brownies are addictive. I find them hard to resist. Sneaky little things call out my name and I find myself wandering in the kitchen for, um, "no reason". Next thing I know I am heating one up in the microwave for a few seconds and then munching on a warm bit of chocolate heaven. Yum! I am sure you would like to taste it for yourself. How about making a quick batch today?
Subscribe to Magnolia Days by Email
Triple Chocolate Brownies
The best homemade chocolate brownies made with three kinds of chocolate. They have just the right texture; not too fudge-y or cake-like.
Ingredients
5

ounces

semisweet chocolate

chopped

1/2

cup

unsalted butter

1 stick, cut into pieces

2

tablespoons

cocoa powder

1

cup

sugar

1

teaspoon

vanilla extract

3

large eggs

3/4

cup

all-purpose flour

1/4

teaspoon

salt

3/4

cup

semi-sweet chocolate chips
Instructions
Preheat oven to 350 degrees F. Grease an 8 inch square baking pan. Line the pan with parchment paper with about a 1 inch overhang. Grease the parchment paper. Set pan aside. In a small bowl, stir together the chocolate chips and 1 tablespoon of the flour and set aside. In another small bowl, whisk together the remaining flour and salt and set aside.

Melt the chocolate and butter in a large stainless steel bowl over a pan of simmering water. When the chocolate and butter has melted remove it from the heat and stir in the cocoa powder and sugar.

Whisk in the vanilla and eggs, one at a time, and mixing well after each addition.

Stir in the flour/salt mixture until combined. Stir in the chocolate chips.

Pour batter into the prepared pan and bake for 30 to 32 minutes, or until a toothpick inserted in the center comes out with a little batter and some moist clumps clinging to it. Do not over-bake. Cool brownies completely in the pan on a wire rack. Lift the brownies out of the pan using the parchment paper. Place brownies on a cutting board and slice into squares. Serve at room temperature.
Recipe Notes
The best homemade chocolate brownies made with three kinds of chocolate. They have just the right texture; not too fudge-y or cake-like.