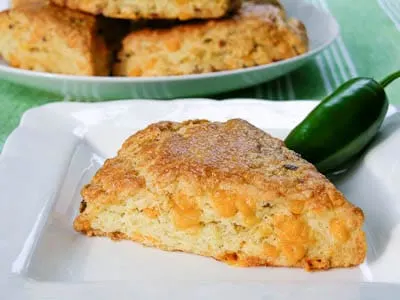 When you think of scones are they savory? Sweet is what came to my mind until recently. Whenever I have seen scones in bakeries or coffee shops I only saw or noticed the sweet ones. I have made buttermilk currant scones and a few others. Then my friend Terry suggested Cheddar-jalapeno. The gears started moving and Cheddar jalapeno bacon scones were created. I had to throw bacon into the mix, of course!
Bacon makes everything better! Well, not everything. It makes a lot of things better. The flavor combination of Cheddar cheese, jalapenos, and bacon is certainly a good one. I will have to try it with other foods besides scones too. Can you see future recipes and posts coming? Sure thing. I am adding the flavor combo to my must investigate and cook more with list.
Guess what is a by-product of these scones? Jalapeno infused bacon grease. You can discard it or perhaps use it to cook with. I can see the wheels turning in the heads of foodies who love spicy foods. Oh yes, imagine the possibilities. Consider it a bonus of this recipe.
The recipe is simple and comes together quickly. It is adapted from one on the New York Restaurants website. I decreased the amount of salt slightly because of the addition of bacon. It is also modified to reflect my method of preparation.
What are you favorite savory scones? I would like to make more varieties. Give me your suggestions and inspiration. I do enjoy when I discover something new to make. Stay tuned!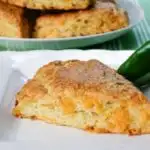 Cheddar Jalapeno Bacon Scones
A recipe for scones made with cheddar cheese, fresh jalapenos, and bacon. A savory scone to enjoy any time of the day.
Ingredients
2

cups

all-purpose flour

1

tablespoon

baking powder

3/4

teaspoon

salt

8

tablespoons

cold unsalted butter

1 stick, diced

1/2

cup

heavy cream

2

eggs

4

ounces

sharp Cheddar cheese

by weight, diced

2

slices

bacon

regular thickness

2

small jalapeno peppers

seeded and minced

Egg wash

1 egg beaten with 1 teaspoon water
Instructions
Preheat oven to 400 degrees F. Grease a baking sheet or line it with parchment or a silpat.

In a small skillet, over medium-high heat, brown the bacon until crispy. Remove the bacon from the skillet and drain on paper towels. Lower the heat to medium-low. Add the diced jalapenos to the skillet and saute until soft, about 2 minutes. Use a slotted spoon to remove the jalapenos from the pan and drain on paper towels. Chop the bacon into small pieces.

In a small bowl, add the Cheddar cheese, bacon, jalapenos, and 1 tablespoon of the flour. Stir to coat ingredients with the flour.

In a large bowl, whisk together the remaining flour, baking powder, and salt. Cut in the butter with a fork or pastry blender until the butter is pea-sized. Lightly whip eggs and cream and add it to the flour/butter mixture. Using a wooden spoon, stir mixture until it comes together. Add the cheese, bacon, and jalapeno mixture and stir until incorporated.

Turn out the dough onto a well-floured surface and knead gently a few times. Pat the dough out to a round that is 3/4 to 1-inch thick. Cut into 8 triangles. Transfer the triangles to the baking sheet. Brush tops of each with egg wash. Bake for 25 minutes or until golden brown.
Recipe Notes
A recipe for scones made with cheddar cheese, fresh jalapenos, and bacon. A savory scone to enjoy any time of the day.