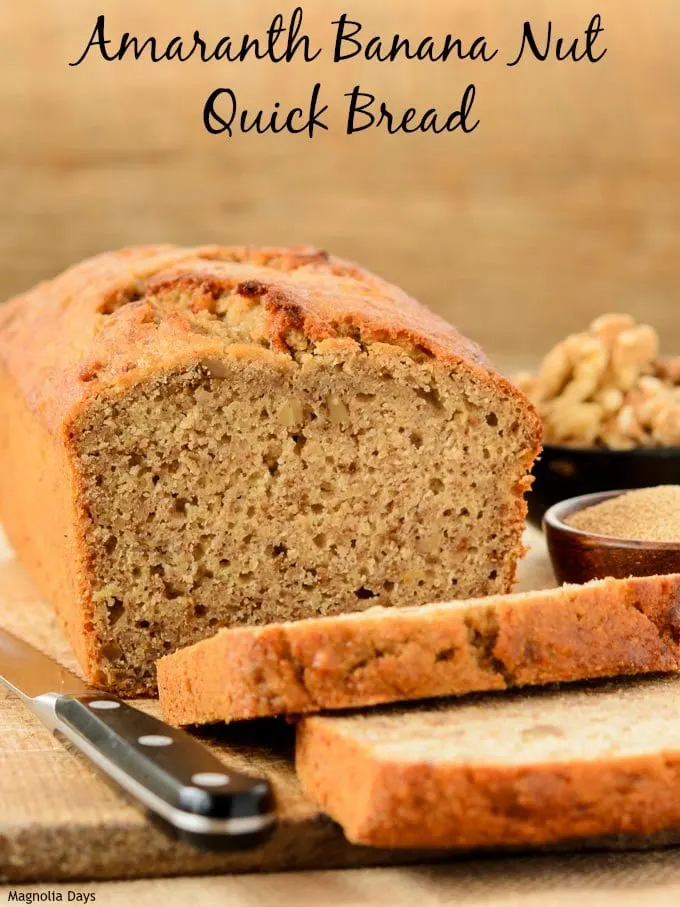 A miracle would be great right about now. The past six months have been stressful because of my hounds. It started back in September when Tiger was sick and had his spleen removed. Then Lexie collapsed and we discovered she has heart disease. Now Trixie is very sick. She has mitral valve disease plus a severe immune-mediated disease which is causing autoimmune hemolytic anemia. I've spent lots of time at the vet and waiting for tests to be done. One time while waiting on an ultrasound, I went to a store to pass the time. I spotted something I had not seen before and bought it to give it a try. It's been in my pantry until I finally got a chance to use it. Amaranth Banana Nut Bread is what I made with the package of tiny seeds.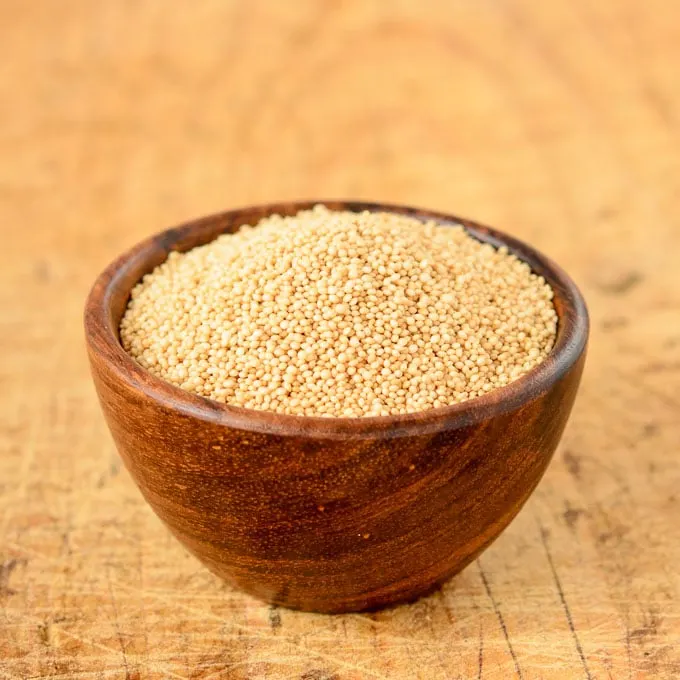 Amaranth seeds are considered a superfood. They are loaded with nutrients, protein, lysine (amino acid), rich in fiber, and gluten-free. Most of the time they are cooked by either boiling in water or popped like popcorn. The boiled type is what is used in the bread. The seeds never totally soften on the outside when boiled so they still has a bit of pop or crunch when eating them.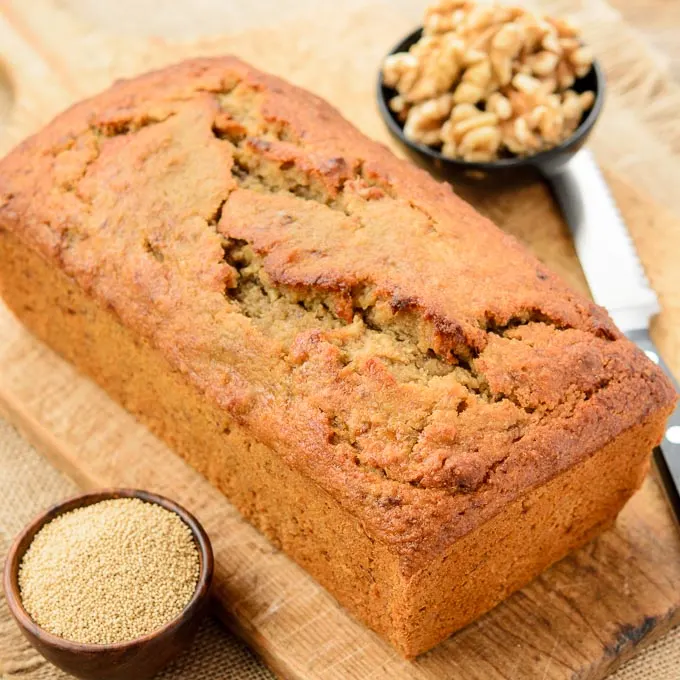 How is the bread? It's moist and dense. There are two crunch factors, one from chopped walnuts and the other from amaranth seeds. Banana flavor shines through in each bite. My favorite way to eat a slice is to warm or toast it lightly and drizzle honey on it.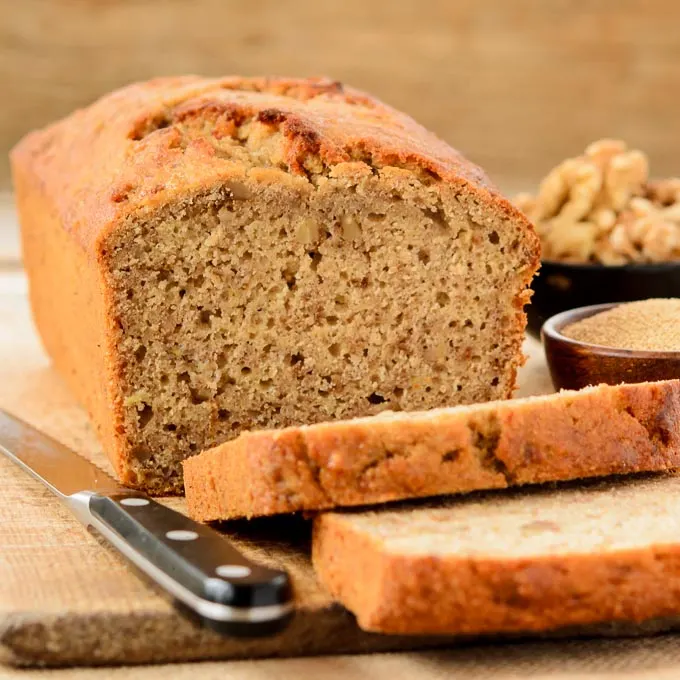 Trixie's illness has caused her to have no appetite. We try everything to get her to eat. Your probably would not believe what all we have tried. Some days we have to feed her liquid food with a syringe. Other days she eats a few bites of food on her own. She will eat a little of something then turn her nose up and won't eat it again. She did eat some of this bread. Thank goodness it has the healthy seeds, whole wheat flour, nuts, honey, eggs, and banana in it.
Each day is a fight for Trixie's life. She is very weak. We are doing everything we can to get her well. She's had a couple of blood transfusions and is on several medications. All we can do is keep at it and have plenty of hope. She's such a sweetie and I want only to see her happy, healthy, strong, and playing again. So a miracle really would be great. Send one my way if you can.
Bread Bakers theme this month is seeds. It is what gave me the opportunity to use my amaranth. Our host is Karen of Karen's Kitchen Stories. Scroll down to see the list of breads baked for the theme. Also check out Purple Snow Peas with Sunflower Seeds for a quick and easy side dish featuring seeds, and this Sorghum Flour Banana Bread for another ancient grain option.
Amaranth Banana Nut Quick Bread
Amaranth Banana Nut Quick Bread is moist, hearty, and healthy. It is made with whole wheat flour, bananas, walnuts, eggs, honey, and amaranth seeds.
Total Time
1
hour
15
minutes
Ingredients
1

cup

white whole wheat flour

1

cup

unbleached cake flour

2

teaspoons

baking powder

1/2

cup

chopped walnuts

1

cup

mashed ripe bananas

about 3 bananas

1/2

cup

honey

2

large eggs

at room temperature

3

tablespoons

unsalted butter

melted

1

teaspoon

vanilla extract

1

cup

cooked amaranth

at room temperature
Instructions
Preheat oven to 350°F. Lightly grease a 9- X 5-inch or 8- X 4-inch loaf pan.

Whisk together whole wheat flour, cake flour, baking powder and walnuts in a large bowl.

Whisk together bananas, honey, eggs, butter, and vanilla in a medium bowl. Add amaranth stir or whisk until combined.

Pour liquid ingredients into dry ingredients. Stir until dry ingredients are moistened.

Pour batter into loaf pan. Bake for 1 hour or until a toothpick or cake tester inserted in the center comes out mostly clean. It is a moist bread so there may be a little that clings to the tester.

Cool bread in pan for 10 minutes. Remove bread from pan and cool completely on a wire rack.
Recipe Notes
Amaranth Banana Nut Quick Bread is moist, hearty, and healthy. It is made with whole wheat flour, bananas, walnuts, eggs, honey, and amaranth seeds.
Recipe adapted from Amaranth Banana Walnut Bread on the Whole Grains Council website.
It's getting mighty seedy with Bread Bakers. It's because the bakers have been busy baking bread with seeds. Take a look at these wonderful recipes:
What is Bread Bakers? It's a group of bread loving bakers who get together once a month to bake bread with a common ingredient or theme. You can see all our of lovely bread by following our Bread Bakers Pinterest Board. Links are also updated after each event on the Bread Bakers home page.
How is the monthly theme determined? We take turns hosting each month and choosing the theme/ingredient.
Would you like to join in the fun? If you are a food blogger, send an email with your blog name and url to Stacy at [email protected].