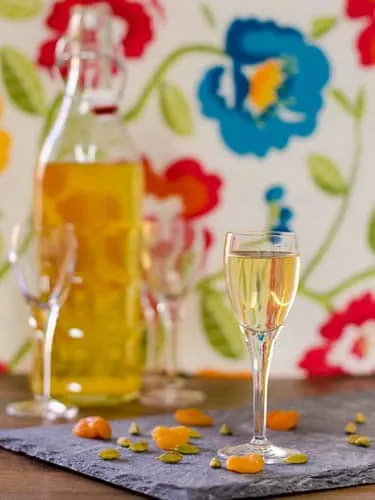 Loved ones are gathering for a celebration. They are greeted with hugs and smiles as they arrive. The bar is set with an assortment of libations. You know it's a special time when you see liqueurs line up next to the usual bottles of wine, liquor, and mixers. You glance at the flavors and see which catches your attention. You reach for the bottle without a label. What could it be? You learn it is Apricardamom, a homemade apricot cardamom liqueur.
Liqueurs come in a multitude of flavors. The spectrum includes fruity, spicy, floral, nutty, and creamy. The selection is so large it is hard to decide which one to try next. Some can be rather pricey too. However, what I discovered is many of them can be easily made and wind up less expensive than store-bought. Plus it is more fun to make your own. Imagine all the varieties and flavors.
Where to begin with making liqueur at home? A start would be getting the book Homemade Liqueurs and Infused Spirits
by Andrew Schloss. A copy arrived at my door and I could not wait to dig in and check it out. There are so many tempting recipes in the book. It was difficult to decide which one to make first. However, Apricardamom stood out because I thoroughly enjoy the flavors of apricot and cardamom. I am glad I chose it as it is now one I will sip and also serve to my family and friends.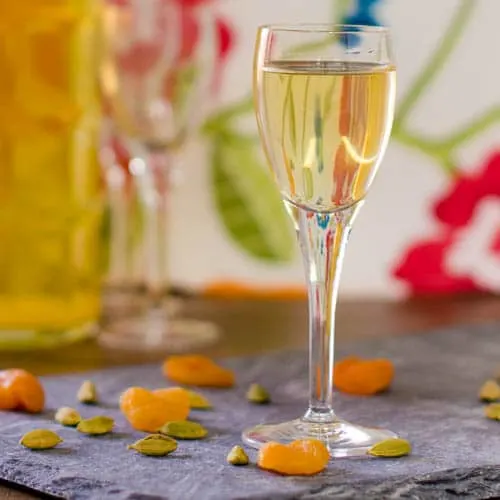 The recipe book is well designed and informative. It has all the information you need to get started concocting your own special libations. It provides a foundation on which you can expand with your own variations. The photography is excellent and the recipes are easy to read. They are divided up into chapters on the type (fruit, vegetable, herb, nut, floral, etc.). I highly recommend it to every level of cocktail enthusiast from beginner to mixologist. You can purchase a copy on Amazon by clicking on the photo of the book (affiliate link):
Have you made your own liqueur? What did you make? Oh, and take a look at my apricot nut cake (just in case you like apricots). I also have a nice fizzy drink made with Apricardamom to share soon. Stay tuned…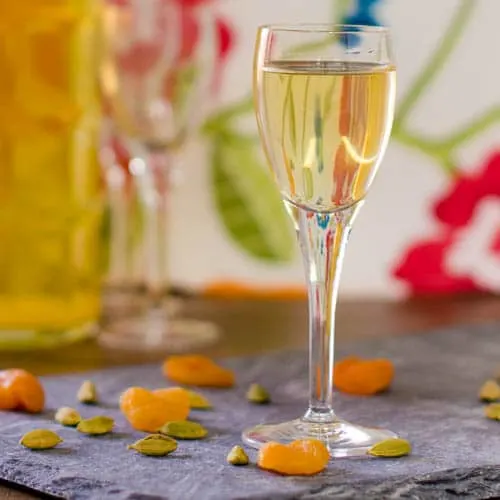 Apricardamom – Homemade Apricot Cardamom Liqueur
A recipe for Apricardamom, a homemade apricot cardamom liqueur made with dried apricots, cardamom pods, and vodka. It is a great cordial or cocktail ingredient.
Ingredients
1

fifth vodka

750ml / 3 1/4 cups, 80-100 proof

15

dried apricot halves

finely chopped

20

green cardamom pods

crushed

1

cup

simple syrup
Instructions
Muddle the vodka, apricots, and cardamom with a wooden spoon in a half-gallon jar. Stir to moisten everything.

Seal the jar and put it in a cool, dark cabinet until the liquid smells and tastes strongly of apricot and cardamom, 3 to 5 days.

Strain the mixture with a mesh strainer into a clean quart jar. Do not push on the solids to extract more liquid.

Stir in the simple syrup.

Seal and store in cool, dark cabinet. Use within 1 year.
Recipe Notes
*Time does not include the 3 to 5 days for flavor infusion. Recipe ©copyright 2013 Andrew Schloss and used with permission by Storey Publishing.
Disclosures: I receive a copy of Homemade Liqueurs and Infused Spirits recipe book at no charge. I was under no obligation to post a review. All opinions are my own unless otherwise stated or contained within a guest post. This post contains affiliate links.