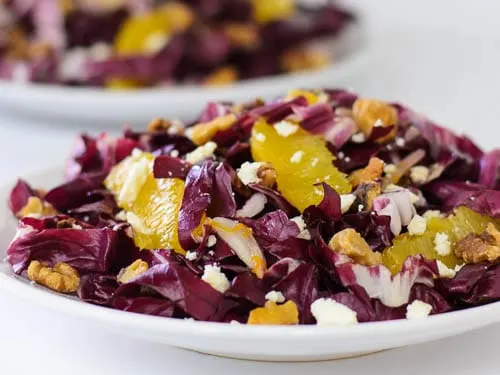 Mother Nature is a champion of incredible colors and textures. She is also a master of making imperfect patterns into visual perfection. The silhouette of a leafless tree is a timeless example. More examples are veining in marble, stripes on a tiger, and a spattering of clouds in a bright orange sunset sky. Certain foods truly showcase the beauty of nature. One of them is a stunner of color, flavor, pattern, and texture. It is packed with nutrition too. I made radicchio and orange salad to highlight each of those qualities.
What are the qualities of radicchio? First is the color. The deep red pops out and whets your appetite. You see it most often mixed in leafy green salads. Some will confuse it for red cabbage. However the texture is much more like butter lettuce. Radicchio has a slightly spicy and bitter taste. Combining it with certain foods mellows the bitterness. When you get the right combo it is a lovely balance you will want to enjoy time and time again. To top off its color, texture, and flavor; there is the gorgeous pattern when you slice into a head: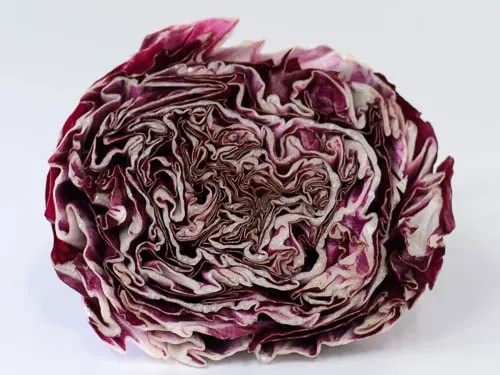 It is such fun to photograph and eat radicchio. The kind folks at Royal Rose sent me a generous supply and I spent days "playing" with it. The variety in the photo above is Radicchio de Chioggia and what you most often find in the grocery store and what I used in my salad. Be sure to get Radicchio di Treviso, which looks like a big red endive, if you see it in the market. Treviso is excellent for grilling; slice it in half, brush with olive oil, and grill for a few minutes.
Radicchio and orange salad will brighten any table. The color alone draws your attention. Sweetness from the orange, sour from vinegar, plus the salty bite of feta all combine to mellow the radicchio and create a delightful flavor balance. Crunch from walnuts is a texture bonus. It is a salad to enjoy throughout the year.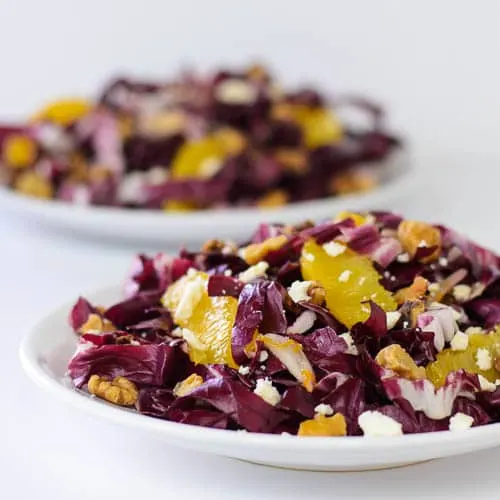 What is your favorite color or texture in nature? There are so many it is hard for me to pin down my absolute number one. Photography has given me a new perspective on details in nature. It is a journey of discovery and one that is only beginning. May your journey be filled with wonderful discoveries of color, texture, flavor, and more.
Do you like citrus salads? Check out seared cod with grapefruit fennel slaw or salmon spinach salad with orange miso dressing.
Radicchio and Orange Salad
A recipe for a radicchio and orange salad. The colorful salad is made with radicchio di chioggia, fresh orange, vinegar, shallots, feta cheese, and walnuts.
Ingredients
1

seedless orange

plus another if needed

3

tablespoons

red wine vinegar

1/4

cup

olive oil

1

teaspoon

honey

Pinch of salt and freshly ground pepper

1

small shallot

thinly sliced

1

medium head of radicchio

1/4

cup

chopped and toasted walnuts

1/4

cup

feta cheese crumbles
Instructions
Grate enough zest from the orange to get 1 teaspoon and place the zest in a small bowl.

Remove the skin and white pith of the orange. Use a pairing knife to slice between membranes to get segments. Place segments in a large bowl.

Squeeze the orange membranes to release juices into a small bowl. Measure 3 tablespoons and add to the bowl with the zest. Save or drink any remaining juice. Squeeze juice from another orange if needed to get 3 tablespoons.

Add vinegar, olive oil, honey, salt and pepper to the bowl with the juice and zest. Whisk to combine. Stir in the shallot slices and let sit for 10 minutes.

Cut the radicchio in half and slice leaves into strips. Add the strips to the bowl with the orange segments.

Pour the dressing over the radicchio and gently toss to combine. Be careful not to break apart the orange segments.

Divide salad among plates and top each with walnuts and feta cheese.
Recipe Notes
A recipe for a radicchio and orange salad. The colorful salad is made with radicchio di chioggia, fresh orange, vinegar, shallots, feta cheese, and walnuts.
Recipe adapted from Marinated Radicchio Salad with Orange and Walnuts by Bon Appétit.
Disclosure: I received a variety pack of radicchio from Royal Rose LLC at no charge. I was under no obligation to give a review. All opinions are my own unless otherwise stated or contained within a guest post.