I finally cooked Indian food! I'm so excited about my new cooking adventure. It's been on my to-do list for a while. Although it hasn't been a long while. Indian cuisine is something I discovered in very recent years. I find Indian food to be full of flavor whether it is spicy or not. I feel like it warms the soul.
I enjoyed Indian Moong Beans from the first bite. This restaurant by me has them almost daily as a side. They serve cafeteria style and have different selections throughout the week. I've been there numerous times for lunch and have discussed food and Indian cuisine with them often. They know I have a food blog so I asked them if they had a recipe to share. Sure enough, they did.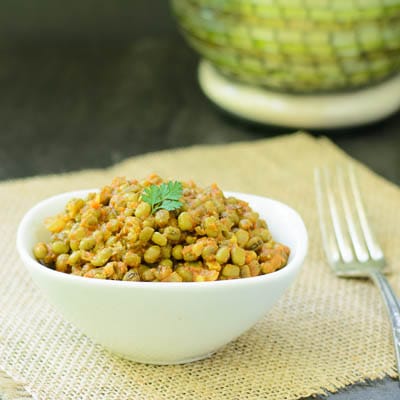 The recipe had to be adjusted. It was to make a large restaurant-size batch. The measurements were like "1 strainer full of chopped onions". There wasn't any instructions other than to soak and boil the beans. I used green moong beans (also called mung beans) and hoped it was the right one because there are several types. The result is a bit different than how it is in the restaurant. The good news is I'm thrilled with how it tastes. I ate it for lunch for three days straight. The beans are spicy and a flavor fest with warm spices and a bit of heat from the jalapeno.
I'm not the only one who had a new cooking adventure. The Sunday Supper bloggers were challenged by Connie of The Foodie Army Wife to get in the kitchen and try something new. Whether it is a different cuisine, a technique, or whatever. We had the best time and are excited to share our adventures:
New Expeditions (Sides, Starters & Staples)
Grand Quests (Main Dishes)
Escapades (Sweet Treats & Spirited Companions)
If we can do this, you can too! What has been on your cooking to-do list? I've got Indian Moong Beans checked off my list. Now I can say I've done it along with pork dumplings and spanakopita. It's time to take a chance and go for an adventure in the kitchen.
Join the #SundaySupper conversation on twitter each Sunday. We tweet throughout the day and share recipes from all over the world. Our weekly chat starts at 7:00 pm ET and you do not want to miss out on the fun. Follow the #SundaySupper hashtag and remember to include it in your tweets to join in the chat. Check out our #SundaySupper Pinterest board for more fabulous recipes and food photos.
Would you like to join the Sunday Supper Movement? It's easy. You can sign up by clicking here → Sunday Supper Movement
I'm excited about the Food & Wine Conference sponsored by Sunday Supper! It's being held July 19th – 21st in beautiful, sunny Orlando, FL. It's a must for food bloggers. Check it out by clicking here → Food & Wine Conference
Indian Moong Beans
Yield:
Makes 8 to 10 servings
Ingredients
14 ounces dried green moong/mung beans
2 teaspoons salt
2 tablespoons olive oil
1 onion, finely chopped
1 to 1½ jalapeno pepper, seeded and finely chopped
2 garlic cloves, finely minced
1½ teaspoons fresh grated ginger
2 cups tomato sauce
¼ teaspoon ground cumin
¾ teaspoon ground turmeric
¼ teaspoon chili powder
½ to 1 cup water
Additional salt to taste
Instructions
Place the beans in a large pot and cover with at least 2 inches of water. Soak beans overnight.
Drain and rinse beans. Place the beans back in the pot and cover with at least 2 inches of water. Add salt and bring to a boil over medium-high heat. Do not let get to a rolling boil. Reduce the heat to low and simmer loosely covered until beans are tender, about 45 to 60 minutes. Drain beans.
Place the pot over medium heat and add the oil. Add the onion and jalapeno and cook until soft and the onion is translucent, about 7 minutes. Add the garlic and ginger and cook until fragrant, about 1 to 2 minutes.
Add the beans, tomato sauce, cumin, turmeric, chili powder, and ½ cup water to the pot. Bring to a simmer and cover loosely. Cook 20 to 25 minutes, stirring occasionally. Add additional water if too thick. Season with additional salt to taste. Serve immediately.
Notes
Cooking time does not reflect overnight soaking time.
Recipe adapted from one given to me by the Spice Box Express restaurant.