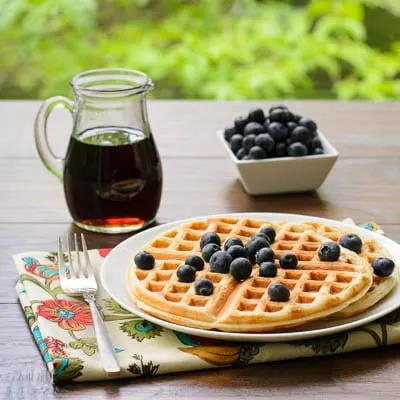 Waffles make weekend mornings special. It was one of my favorite breakfasts when I was a kid (and still is today). My parents would make waffles occasionally on Sunday morning. My mom would mix the batter and my dad did the cooking. I remember that old waffle iron like it was yesterday. Dad would have it in the middle of the table. He would pour in the batter and we would watch it bake as we got the butter and syrup ready. Those hot off the iron waffles were a sheer delight. I thought of all those wonderful mornings when I was making buttermilk sourdough waffles.
My recipe is different from the one my my parents used. One day I will post their recipe. I don't think it calls for buttermilk and I know it is not sourdough. We didn't have a starter in the fridge back then. I do now. I've had a starter going for many years, I think it's seven years old at this point. I named it "Bubbles". I haven't made bread with it in a while so I thought it was time. The good thing about this recipe is you use cold, unfed starter. I could put to use what I normally discard.
Buttermilk and sourdough sure do make tasty waffles. Separately they are wonderful. Together they have a flavor combo that is out of this world. The sourdough flavor will vary by region though. It would not taste the same in San Francisco as it does here in Atlanta. I could order some starter from out west but after a while the local yeast would take over. I figure I'll keep it local anyway. Good old Georgia natural wild yeast.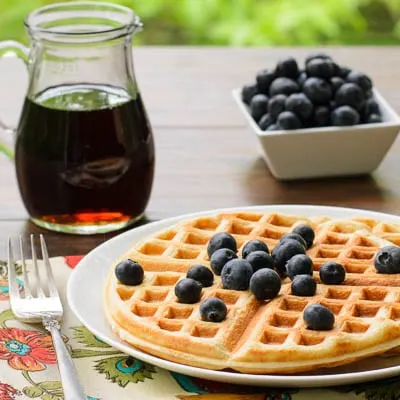 I made the waffles to celebrate a milestone. Which milestone? It's the one year anniversary of the TwelveLoaves challenge. My how time flies! I joined in the fun last year with my Rosemary Focaccia. It started as "Breaking Bread Society" and evolved to "Twelve Loaves". I've had a great time participating this past year and look forward to more fun to come.
May Twelve Loaves is an open theme. This month the Twelve Loaves challenge is to bake any bread – yeast or quick. Take a look at what the bakers have to share:
#TwelveLoaves May: Open. Bake a bread, yeast or quick bread, loaf or individual. May is all about celebrating bread and the one year anniversary of #TwelveLoaves. Do you have a favorite bread? We would love to see it. Let's get baking!
Want to join the #TwelveLoaves group? It's easy!
When you post your Twelve Loaves bread on your blog, make sure that you mention the Twelve Loaves challenge in your blog post; this helps us to get more members as well as share everyone's posts. Please make sure that your bread is inspired by the theme!
Please link your post to the linky tool at the bottom of my blog. It must be a bread baked to the Twelve Loaves theme.
Have your Twelve Loaves bread that you baked this May, 2013, and posted on your blog by May 31, 2013.
Happy Baking!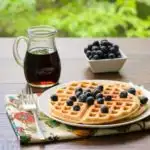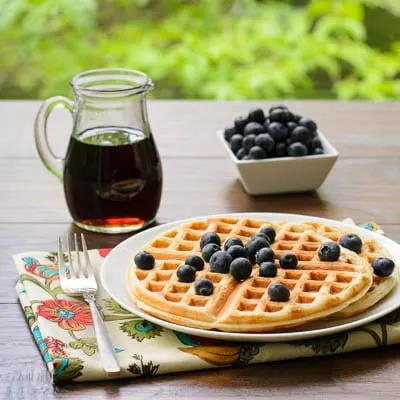 Buttermilk Sourdough Waffles
A recipe for buttermilk sourdough waffles. Buttermilk and sourdough starter are used to make these fluffy waffles with a special taste.
Ingredients
For the sponge:
2

cups

unbleached all-purpose flour

2

tablespoons

sugar

2

cups

buttermilk

1

cup

cold unfed sourdough starter
For the batter:
All of the sponge

2

large eggs

at room temperature

1/4

cup

vegetable or canola oil

3/4

teaspoon

salt

1

teaspoon

baking soda
Instructions
For the sponge:
Stir down your unfed starter and remove 1 cup. In a large bowl, add the 1 cup starter, flour, sugar, and buttermilk. Stir to combine. Cover loosely and set on the counter at room temperature overnight.
For the waffles:
Pre-heat your waffle iron before mixing the batter.

In a small bowl, add the eggs and oil and whisk to combine. Pour the mixture into the bowl with the sponge. Add the salt and baking soda and stir to combine. Batter will begin to bubble.

Spray or grease your waffle iron. Pour batter on the preheated waffle iron and bake according to the manufacturer's instructions.

Serve waffles immediately or keep warm on a rack in the oven on the lowest heat setting.

Serve with your favorite waffle toppings and sides.
Recipe Notes
Amount of waffles can vary depending on waffle iron size, shape, and style (traditional, Belgian, square, or round).
Recipe adapted from one on the King Arthur Flour website.