Cinco de Mayo will be here soon. It's a fun celebration and the best part is the food and beverages. Mexican cuisine is so popular. I have it in my dinner rotation often (usually burritos, nachos, or tacos). There are more Mexican restaurants near my home than any other ethnic cuisine. There was one that had this amazing shrimp and avocado ceviche. Sadly that restaurant closed. I've missed the ceviche very much and finally decided to make it.
Ceviche is basically seafood marinated in citrus juices. Lime juice is the the most commonly used. You can also use lemon and grapefruit. Some information I ran across on ceviche noted the seafood is not technically cooked by the juice. The protein structure is changed in the marinating process and that is why it looks cooked. It's why most shrimp ceviche recipes call for cooking the shrimp briefly before marinating for food safety purposes. I'm not a food scientist so I cannot verify. I only wanted to be safe so I went with a cooking then marinating method.
How does the shrimp and avocado ceviche taste? Totally hands down exactly what I wanted. I would say it is better than the one I had in the restaurant. The combination of shrimp, citrus juices, avocado, onions, peppers, tomatoes, and cilantro is a fresh burst from the first bite to the last. It is light, refreshing, and can be an appetizer or a main course. Substitute parsley if you are not a cilantro fan. Some folks think cilantro tastes like soap. Not me, I love the fresh herb.
Are you ready to celebrate Cinco de Mayo? I am and I'm celebrating it with some very talented and wonderful food bloggers. We are throwing another Holiday Food Party and our host is Jen of Jen's Favorite Cookies. There are 15 recipes and it is quite a Mexican fiesta: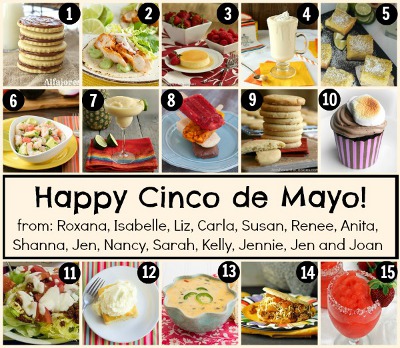 What a fabulous spread! I'm know I will enjoy these recipes even well past Cinco de Mayo. Any night can be a Mexican night. I need a change up from my usual too. How about you?
Shrimp and Avocado Ceviche
Total Time
1
hour
45
minutes
Ingredients
1

pound

medium shrimp

peeled and deveined

Salt for cooking water

1

cup

fresh lime juice

from about 8 limes

1/2

cup

fresh lemon juice

from about 3 lemons

1

cup

finely chopped red onion

1

serrano chile

ribs and seeds removed, minced

1/2

jalapeno pepper

ribs and seeds removed, minced

1/2

to 1 cup chopped cilantro

1

tomato

seeded and chopped

2

avocados

peeled and seed removed, cut into chunks
Instructions
Fill a large bowl with ice and water to make an ice water bath. Set aside.

Bring a large pot of water (at least 4 quarts or water) to a boil. Add salt (about 1 tablespoon), stir, and bring back to a boil. Add the shrimp and cook for 1 to 2 minutes (2 minutes maximum). Drain the shrimp and add them to the ice water bath and let set for a few minutes to stop the cooking process and cool.

Drain the shrimp and cut each one in half. Place the shrimp in a large non-reactive bowl (glass or ceramic). Add the lime and lemon juices to the bowl. Cover and refrigerate for 30 minutes.

Add the onions, serrano chile, and jalapeno pepper to the bowl. Stir to combine. Cover and refrigerate for 30 to 45 minutes.

Add the cilanto, tomato, and avocado to the bowl. Stir gently to combine. Serve immediately. Refrigerate leftovers.
Recipe adapted from one on the Simply Recipes website.