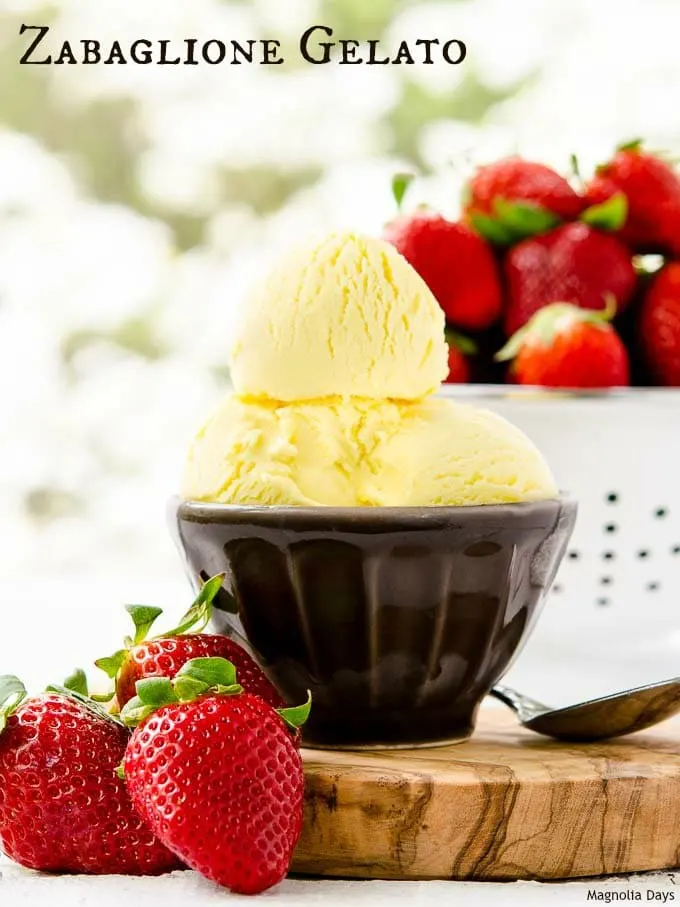 Outside is green lushness with a patch of white. The view from where I'm sitting is filled with trees. One of them is a dogwood in full bloom. Thunderstorms rolled through last night and washed away much of the pollen. It made all the green leaves so bright and vivid. There are warm days ahead and much landscape work to be done. I'll be cooling down on those days of yard work with a bowl of Zabaglione Gelato.
My frozen treat craving kicks in when spring arrives. It seems to go hand in hand with working up a sweat in the yard. Warmer temperatures have something to do with it too. Just recently I almost went to a frozen yogurt shop when I saw it while doing errands. I rarely, as in seriously rarely, ever have that notion. So this year I seem to have a larger than normal craving for frozen treats.
The craving wasn't there a couple of months ago. It was when Sunday Supper announced an Italian Fest event. I looked at it and drew a complete blank on what to make. Pasta popped in mind first. I even started scouting for unique pasta shapes or colors. My tri-color sage is doing well and I thought of the classic browned butter sage pasta. Obviously I wasn't that enthused about it.
Then last week I noticed a sticky note. On it I had written lemon thyme sorbet. I stuck the note on the front of the file stand in my kitchen. It was to remind me of an idea I had when making Lemony Couscous Lentil Salad. Yet lemon wasn't what my taste buds wanted. Then I remembered zabaglione, a lovely Italian custard dessert made with egg yolks and Marsala wine. Oh yea! Now I knew which frozen treat to make.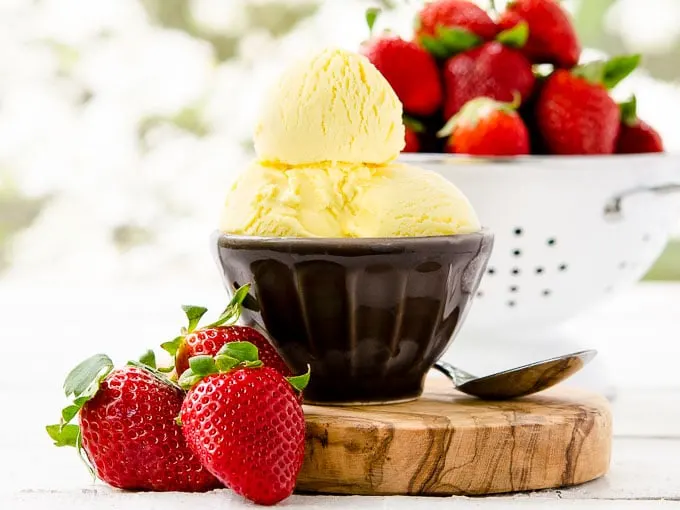 Zabaglione Gelato has the custard's wonderful flavor. It has the same egg yolk-y yellow color too. It is like a bowl of bright sunshine. It's even prettier with fresh berries. Luckily there were beautiful strawberries at the store. Strangely there were no blueberries or blackberries and the raspberries looked pitiful. Perhaps it is the time of year when berry season ends in one area and hasn't started in another.
Do you enjoy Italian cuisine? Scroll down to find what my fellow Sunday Supper tastemakers made for the fest. Check out my Baked Cavatini, Delicata Squash Risotto, and Pasta with Tomato Cream Sauce too. Special thanks to Manu of Manu's Menu for hosting this tasty event.
Zabaglione Gelato
Zabaglione Gelato is a delightful frozen treat with the flavor of a popular Italian custard dessert. Serve with berries or your favorite gelato toppings.
Total Time
1
hour
5
minutes
Ingredients
1/2

cup

granulated sugar

5

egg yolks

1 1/2

cups

whole milk

1

cup

heavy whipping cream

1/4

cup

Marsala wine

1

teaspoon

vanilla extract
Instructions
In a medium bowl, whisk together sugar and egg yolks until lighter in color, about 2 minutes.

In a saucepan over medium heat, bring milk and cream to just a simmer (it begins to bubble at the edges - do not boil).

Use a ladle to add a little of the cream to the egg yolks/sugar. Whisk constantly while adding. Continue adding cream until at least half has been mixed in. Add the mixture back to the pan and whisk to combine.

Over medium heat and stirring constantly, cook mixture until it reaches 175°F.

Pour mixture into a medium bowl. Stir in Marsala and vanilla.

Cover mixture directly on top with plastic wrap to prevent a skin from forming. Cool to room temperature then chill overnight.

Pour chilled mixture into an ice cream maker and freeze according to the manufacturer's instructions. Transfer gelato to a container, cover, and place it in the freezer for at least 4 hours or overnight.
Recipe Notes
Time stated is hands-on and does not include cooling and chilling base or freezing after churning.
It's another scrumptious virtual food fest! Take a look at these Italian recipes by Sunday Supper tastemakers:
Appetizers:
Mains:
Dessert:
Beverages:
Join the #SundaySupper family on twitter every Sunday! We tweet throughout the day and share recipes from all over the world. Our weekly chat starts at 7:00 pm ET. Follow the #SundaySupper hashtag and remember to include it in your tweets to join in the conversation. To get more great Sunday Supper recipes, visit the Sunday Supper Movement website or check out our Sunday Supper Pinterest board.
Would you like to join the Sunday Supper Movement? It's easy. You can sign up by clicking here: Sunday Supper Movement.