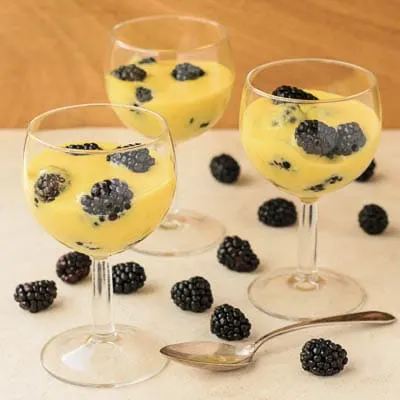 I had a lot of egg yolks. I made these wonderful coconut cupcakes which only used egg whites. How to use the yolks was the question. One thing I did was scramble a couple and make a sandwich using them, cheese, and prosciutto I had leftover from a pasta dish. It was a great sandwich but not one I should eat every day. Then it came to me to make zabaglione, an Italian custard.
I made Zabaglione for the first time several years ago. It was for a homemade tiramisu. We were celebrating my next door neighbor's birthday and I cooked an Italian feast. I followed the recipe I had back then and did it all by hand. As in hand-whisking the custard as it is cooking over the simmering water. My arms were so tired and I thought it would never get done. This time I went the easy route. I used a hand mixer and it is so much better. The only thing is I made a big mess splattering it everywhere. Next time I need to use a deeper bowl.
I served the custard with blackberries. There were some really pretty ones in the store and I could not resist buying them. You can serve it with any berries, cookies, biscotti, or whatever you like to go with custard. It is made with wine so be aware of that if you have children. There may be some residual alcohol left after the cooking process. I'm not a culinary scientist so I cannot verify it for sure.
How do you use extra egg yolks? I would like more ideas and inspiration of what to do with them. I do not like to waste food so any tips would be great. I'd like to know for the next time I cook or bake something that calls for only egg whites. Plus it will give me a new cooking adventure. I do love to try new things.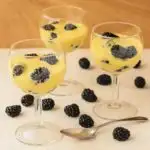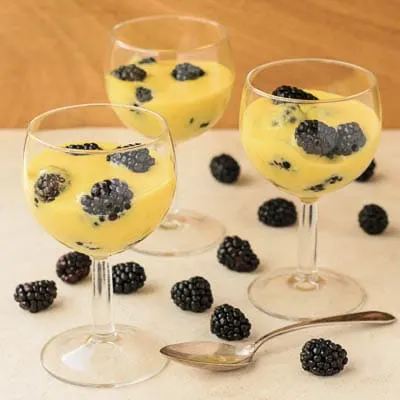 Zabaglione Italian Custard
A recipe for zabaglione, an Italian custard made of egg yolks, sugar, and Marsala wine. It is served warm or chilled with berries, biscotti, and more.
Ingredients
6

egg yolks

1/2

cup

sugar

2/3

cup

sweet Marsala wine

Pinch of salt

1/8

teaspoon

freshly grated nutmeg

1

teaspoon

vanilla
Instructions
Bring about 1 inch of water to a boil in a saucepan.

In a large heatproof bowl, add the egg yolks and sugar. Beat using an electric mixer on high speed until mixture is light and the sugar is dissolved, about 4 to 5 minutes. Scrape down the bowl during mixing to incorporate all the sugar.

Add the Marsala, salt and nutmeg to the bowl. Lower the heat to the saucepan to bring the water to a simmer. Place the bowl over the simmering water. Make sure water is not touching the bottom of the bowl. Beat mixture on medium speed for about 13 minutes, until it is thick, about triple in volume, and registers 165 degrees F on an instant-read thermometer. Remove bowl from pan. Add vanilla and beat to combine.

Serve immediately or chill completely before serving. Serve with fresh berries, biscotti, or your favorite custard topping or add-in.
Recipe Notes
A recipe for zabaglione, an Italian custard made of egg yolks, sugar, and Marsala wine. It is served warm or chilled with berries, biscotti, and more.
Recipe adapted from one in a Publix Grape magazine.