This is the result of leftovers. Or should I call it extras? Are leftovers from cooked food and extras being the partial bags or containers of things? However it is classified, I had extra chips and marshmallows leftover after baking a cake. Actually it was two cakes since the first was a total failure. Anyway, I didn't want to put more things into my already packed pantry. This is how Toffee Chip Rice Krispie Treats happened.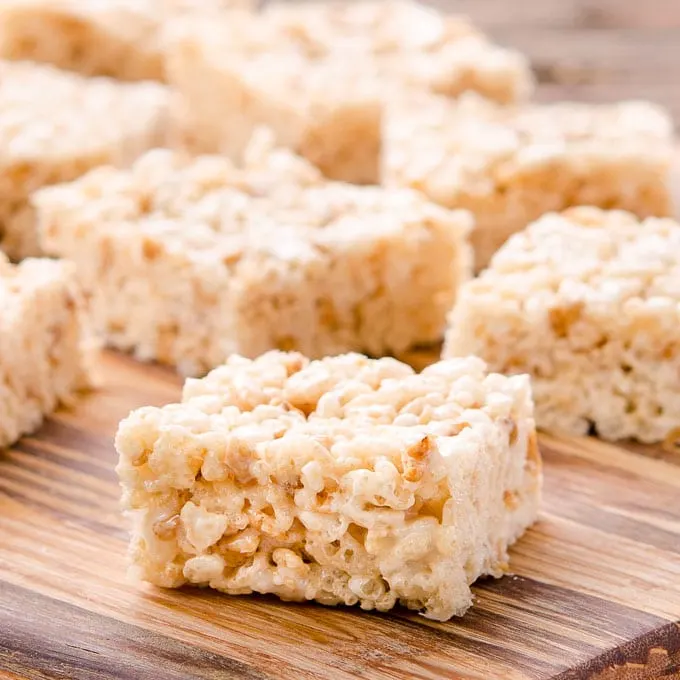 It's been ages since I've made rice krispie treats. Why? I have no idea. I think the last time was well over 20 years ago. Judging by the reaction of my husband, I need to make them more often. He saw them and asked if I was taking them to my meetup. I said yes, except the three in this container. I walked out of the kitchen and when I came back about an hour later, the three treats were gone.
Then came the reaction of my friends. The smiles those treats caused were highlight of my day. How is it that a simple treat can bring so much happiness? Whatever magic makes them that way is a good thing. Next time I'll know exactly what to make for someone who needs a little perking up.
I kept these treats simple. I first thought about drizzling or dipping them in chocolate. Then I thought about the extra mess and dishes. There is also the potential of the chocolate melting when transporting them on a warm day. It was nearly 80 degrees here on the day I went to the meetup. I had to make a couple of stops along the way. Chocolate in a hot car is a total mess waiting to happen.
How are the Toffee Chip Rice Krispie Treats? Well, I'm sure you don't need an explanation of the basic treat. Yet, here it is: It's sweet, crispy, light, gooey, and airy. Well, the gooey part depends on who made the treat and how long ago it was made. I've had packaged ones before that were like eating sweetened dry cereal clumps. Freshly made krispie treats have a soft and gooey factor.
Adding toffee chips only bumps up flavor. It is a subtle bump though. I had a couple of folks ask me what I put in them. When I said toffee chips, I got "oh yea" and they smiled even more. I call it a win.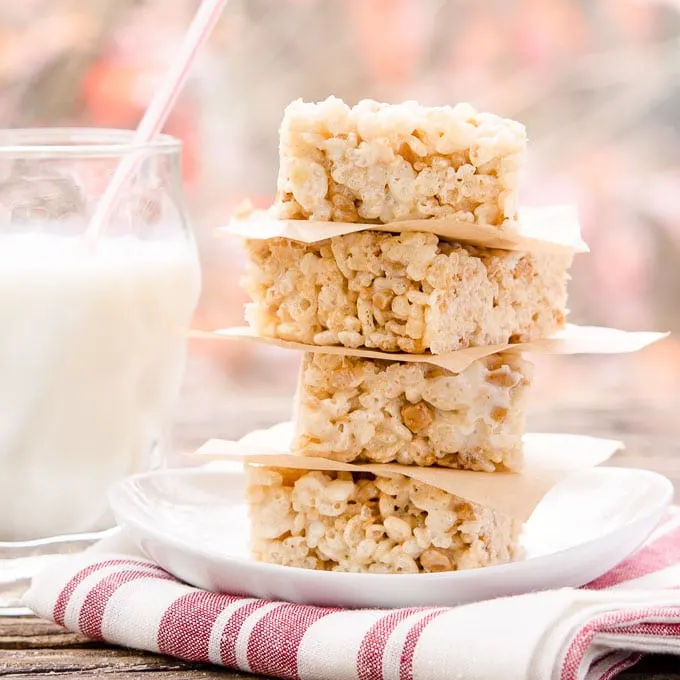 When was the last time you had a rice krispie treat? Well, it's time to make a batch and have some again. Go share them and watch those smiles being magically created. You know what else I've found to bring smiles? It is Rocky Road Candy. Could it be the marshmallows? Maybe they are the magic part.
Toffee Chip Rice Krispie Treats
Toffee Chip Rice Krispie Treats are a delightful twist to a classic treat. Only 4 ingredients and a few minutes are needed to make this easy recipe.
Ingredients
6

cups

rice krispies cereal

1

cup

toffee bits

1/4

cup

unsalted butter

1

package mini marshmallows

10 ounces
Instructions
Line a 13- X 9-inch baking pan with non-stick aluminum foil (for easier removal) or simply butter the pan.

Combine cereal and toffee bits in a large bowl.

Melt butter in a medium saucepan over medium-low heat. Add marshmallows and cook, stirring constantly, until marshmallows have completely melted and mixture is thoroughly combined.

Pour melted marshmallows over cereal and stir to coat completely.

Press mixture into prepared pan. I used another piece of non-stick foil to easily press it down without sticking.

Cool to room temperature. Cut into 24 squares.
Recipe Notes
Toffee Chip Rice Krispie Treats are a delightful twist to a classic treat. Only 4 ingredients and a few minutes are needed to make this easy recipe.