Interesting how things can pile up. There are piles of various things around my house that have built up over the past few years. It has happened slowly and steadily since starting this blog. The number of dish towels, napkins, fabrics, plates, bowls, and a multitude of other photo props keeps growing as I spot new ones to use. Food piles up too. My pantry is overflowing with assorted dry goods. It was time to be creative with what I had on hand. That is how I came about creating Spinach Tahini Farro.
Farro is something I will eat as a snack. I'll make a big batch of it keep it in the fridge to have on hand when hunger strikes. A small amount is very filling and keeps me satisfied for hours. I truly enjoy the taste of it plain. Sometimes I do want a little extra flavor so I stir in a few things. This time it was sautéed spinach and meyer lemon tahini dressing.
Spinach Tahini Farro has a double nutty flavor. There are not any nuts involved though. The nuttiness comes from whole grains and seeds. Lemon juice balances the heaviness and gives a much needed citrus kick. Spinach brings in a freshness aspect too. The dressing makes it creamy and ties it all together.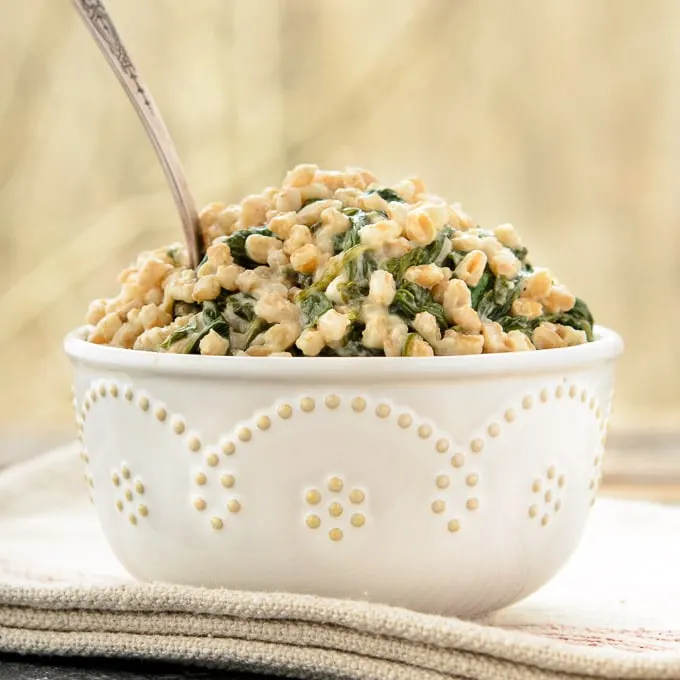 What do you have piles of at your home? Is there any food you seem to accumulate more than others? For me it is in the rice, grains, pasta, and beans category. Many times it is because I am storing partial packages. The bag of farro is a perfect example. It had been on the bottom of the pile for far too long. I'm glad I finally used it and had fun creating a new recipe too.
Spinach Tahini Farro
Spinach Tahini Farro is a hearty and filling side dish. It has a nutty flavor with a creamy citrus dressing plus the freshness of spinach.
Ingredients
For the dressing:
1/4

cup

meyer lemon juice*

2

tablespoons

well-stirred tahini

2

teaspoons

honey

1/2

teaspoon

ginger paste or grated fresh ginger

1/2

teaspoon

crushed garlic
For the spinach farro:
1

cup

uncooked farro

2

cups

water

10

ounces

fresh baby spinach

2

tablespoons

olive oil

1

garlic clove

finely minced

Salt and pepper
Instructions
For the dressing:
Whisk together all ingredients in a small bowl until well combined.
For the spinach farro:
Bring farro and water to a boil in a medium saucepan. Reduce heat to low, cover and simmer until farro is tender, about 35 to 40 minutes.

In a deep saute pan or skillet over medium heat, add olive oil and minced garlic. Cook for a couple of minutes until the garlic is fragrant and the oil has warmed. Do not brown the garlic or it will become bitter.

Add spinach and toss frequently while cooking. Add salt and pepper to taste. Cook until the spinach is completely wilted, it only takes a few minutes.

Add farro and dressing to the pan. Stir to combine.
Recipe Notes
*If meyer lemons are not available, substitute 3 tablespoons regular fresh lemon juice and 1 tablespoon water.