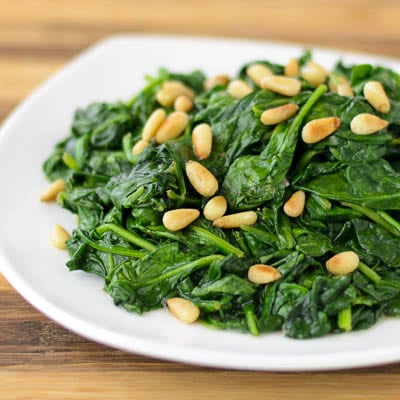 Did you ring in the New Year with greens? I did although it wasn't the typical turnip or collard greens. My husband does not care for either one of those. Instead I made sauteed spinach to go with a pork roast and black-eyed peas. It was funny when I was cooking it because my husband said the house smells but not in a cake way. He didn't mean in a bad way either. Just different. I certainly did bake a few cakes over the holidays and a couple since then (citrus mini bundts and walnut olive oil cake).
Sauteed spinach is something I discovered in my 20's or later. Until then cooked spinach was terrible. All I ever had was the canned stuff. Blech. I remember when I was little and my dad would open a can and heat it up. I would not eat it for anything. There is no need to when you can saute up some fresh spinach. It's so simple and quick to do. It's also kinda fun to watch a big pile of spinach wilt down so small. It does take a lot of fresh spinach to get two servings. I use a couple of bags of baby spinach from the salad section. The convenience of it being pre-washed is nice. Otherwise, be sure to rinse it and dry it well.
How do you prefer spinach – raw or cooked? I like it both ways. I make spinach salad frequently and also use it in other dishes like a frittata. I want to try adding it in to pesto too. Do you have any other suggestions?
Sauteed Spinach
A recipe for sauteed spinach using fresh baby spinach, olive oil, garlic, and garnished with toasted pine nuts.
Ingredients
10

to 16 ounces fresh baby spinach

1

to 3 tablespoons olive oil

1

garlic clove

minced

Salt and pepper

Toasted pine nuts for garnish
Instructions
In a deep saute pan or skillet over medium heat, add the olive oil and minced garlic. Cook for a couple of minutes until the garlic is fragrant and the oil has warmed. Do not brown the garlic or it will become bitter. Add the spinach and toss frequently while cooking. Add salt and pepper to taste. Cook until the spinach is completely wilted, it only takes a few minutes. Transfer spinach to a serving dish. Garnish with toasted pine nuts if desired. Serve immediately.
Recipe Notes
A recipe for sauteed spinach using fresh baby spinach, olive oil, garlic, and garnished with toasted pine nuts.
Get the best Southern food, wine, and gardening tips!
Subscribe to get our latest content by email.