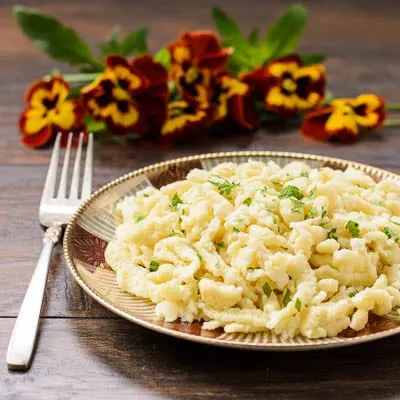 Mothers are special for many reasons. To celebrate the special women in our lives, the Sunday Supper bloggers are sharing recipes for moms. How great to showcase what we would make for, with, or in honor of our moms. I chose spaetzle (spätzle) which are German egg noodles because of a few reasons. One is because it is something my mom has made for years and it is a family favorite. Two is because my mom gave me a spaetzle press
for Christmas and I wanted to use it. Third, and above all, was having my mom to teach me how to make it.
It is important to document family recipes. Cooking or baking with the one who makes it is the best thing to do. Trying to re-create a recipe after that person is gone can be quite difficult. There are little nuances and pieces of advice that get lost. Such as with this recipe. My mom gave it to me a long time ago. One of the instructions was "until the dough makes bubbles". What it really should say is to stir it to incorporate air and give the appearance of bubbles. The dough does not bubble on its own. I would never have figured that out if she wasn't there explaining it along the way.
My mom and dad would make spaetzle together. It was a team effort and I can see why. It would be difficult to press, cut, and stir all by yourself. It can be done however having one person press and the other person cut and stir is much easier. My dad is the one who thought of stirring in a little butter to the finished noodles to keep them from sticking together. The extra flavor it adds is nice too. It was a fun time cooking with my mom. Now I'm glad I know how to make the German egg noodles I have enjoyed all my life.
Have you made and documented a family recipe lately? I hope you will take the time to cook with a relative and write down all the details. Besides, it makes cooking even more fun. Pass those cherished recipes on and keep that history alive with future generations.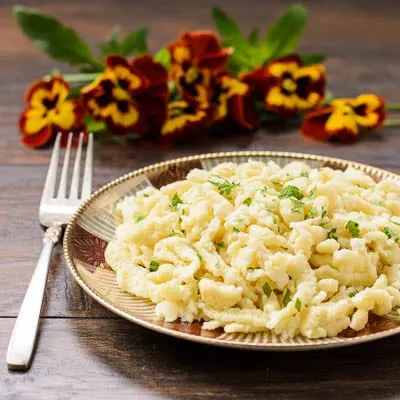 Spaetzle (Spätzle) German Egg Noodles
A recipe for spaetzle (spätzle), homemade German egg noodles made with eggs, flour, salt, and water. It is a great side dish and an easy pasta to make using a spaetzle press.
Ingredients
7

large eggs

500

grams

bleached all-purpose flour

by weight, about 4 cups

2

teaspoons

salt

6

tablespoons

water

Butter

at room temperature
Instructions
Get a large pot of water with a strainer insert to a boil. Rub a thin coat of oil to the inside of a spaetzle press to prevent dough from sticking.

Crack the eggs into a medium bowl and whisk thoroughly. Add the flour, salt, and water. Use a wooden spoon to mix together the ingredients.

Continue to mix the ingredients from bottom up in a circular pattern to incorporate air into the mixture for about 4 minutes.

Fill the spaetzle press about two-thirds full of dough.

Press it over the boiling water, stopping when the dough is about an inch long. Use a knife to cut the dough from the press. Stir after each cutting.

Cook the spaetzle for two minutes. It will be floating on the top. Lift the strainer insert out of the water and drain the spaetzle.

Pour the cooked spaetzle into a dish. Add a little butter, about a teaspoon or two, and stir to melt the butter to keep the spaetzle from sticking.

Repeat cooking process in batches with remaining dough.

Serve immediately or store in a sealed container in the refrigerator or freeze. Spaetzle can be re-heated in the microwave (defrost first).

To re-heat: Microwave on high at 30 second intervals until warm.
The Mother's Day fun continues. The Sunday Supper bloggers have special posts to share. I can't wait to read all the wonderful mom stories and recipes. Join me in taking a look at them:
Mother's Day Brunch:
Mother's Day Entrees:
Mother's Day Sides:
Mother's Day Desserts:
Mother's Day Beverages:
Join the #SundaySupper conversation on twitter each Sunday. We tweet throughout the day and share recipes from all over the world. Our weekly chat starts at 7:00 pm ET and you do not want to miss out on the fun. Follow the #SundaySupper hashtag and remember to include it in your tweets to join in the chat. Check out our #SundaySupper Pinterest board for more fabulous recipes and food photos.
Would you like to join the Sunday Supper Movement? It's easy. You can sign up by clicking here → Sunday Supper Movement
Be inspired, empowered and grow your business to the next level at this year's Food and Wine Conference in Orlando.