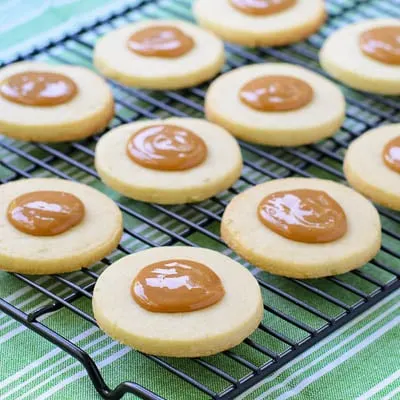 Birthday parties are so much fun. Surprise parties are even better. All the secret planning and preparation builds such excitement. The moment the guest of honor gets the big "SURPRISE!" it is worth it all. And guess what? It's someone's birthday and some bloggers got together to throw a virtual party. The guest of honor is Carla of Chocolate Moosey!
SURPRISE! Happy Birthday Carla!
We have lots of treats to share. I brought Cuban Sugar Cookies (Torticas de Moron) with a dulce de leche topping. As soon as our host Jen of Juanita's Cocina invited me to the party I knew I had to make something caramel-y. Carla is the one who gave me great advice the first time I made caramel sauce. I had a big failure then and tweeted about it. Carla came to the rescue and replied with helpful tips and advice. The second batch was a major success and I have her to thank.
This time I wanted to try dulce de leche. It is a type of caramel. I was inspired by Carla's Dulce De Leche Milkshake. In her post she wrote how you can make your own with sweetened condensed milk. I followed the link to the Bakers Royale guide and decided to try the cooking it on the stove method. I wanted it to be smooth for topping the cookies. I thought I had another big caramel fail going.
I cooked the sweetened condensed milk for six hours. The guide said four but what was coming out of the holes on the top of the can was not the right color. It was still as light as it started. At six hours I turned off the heat and set it aside. I tweeted about the fail and guess who responded? Yep, it was Carla once again.It was not a failure at all. When I opened the can and poured it into a dish, the bottom was the right color. I stirred it and put it in the fridge. A little while later it was the right thickness too. Success!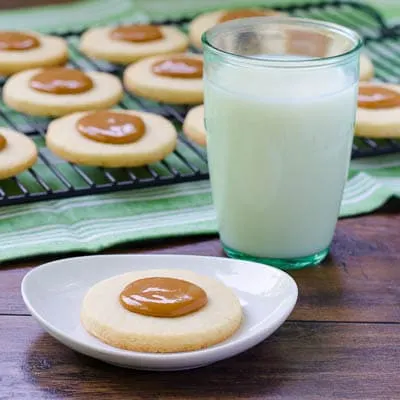 A little about the Cuban sugar cookies. They are called Torticas de Moron and I have wanted to make them for the longest time. The first time I had one was at this local Cuban restaurant about 15 or so years ago. I've seen them at Publix too. Those are a little thicker than my cookies. I wanted to be really authentic although it was difficult to narrow down which recipe was truly from the city of Moron where they originated. Several recipes called for shortening or lard. It is probably more the authentic way however I went with one using butter. The cookies have a touch of citrus from lime zest. They are rich, buttery, and similar to shortbread.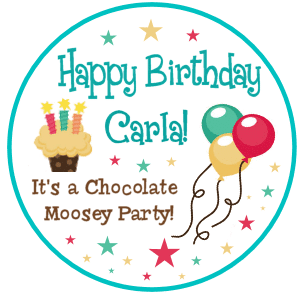 Carla is a talented and giving person. She is one of those kind people who will help you in any way she can. Her food photography tutorials have greatly helped to improve my photos. I am setting my white balance and using different backgrounds, setups, lighting, and much more because of her tips. She is also a great friend. She has wonderful recipes too. You have to check them out on her blog -> Chocolate Moosey
There are lots of tasty treats for this virtual party! Check out what everyone is bringing:
Happy Birthday Carla! My very best wishes to you today and in all the days to come. May your life be filled with success, love, health, and happiness!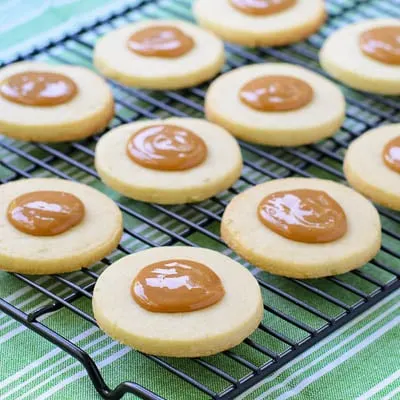 Cuban Sugar Cookies (Torticas de Moron) with Dulce de Leche
A recipe for Cuban sugar cookies also called Torticas de Moron. These buttery and shortbread-like cookies have a hint of citrus from lime zest plus a dulce de leche topping.
Ingredients
2 1/2

cups

all-purpose flour

unbleached recommended

1

teaspoon

salt

1/2

teaspoon

baking powder

1

cup

unsalted butter

2 sticks, at room temperature

1

cup

granulated sugar

1

large egg

at room temperature

1 1/2

teaspoons

light rum

1/2

teaspoon

vanilla

2

teaspoons

grated lime zest

1

can of dulce de leche
Instructions
In a medium bowl, add the flour, salt, and baking powder. Whisk to combine. Set aside.

In the bowl of a stand mixer fitted with the paddle attachment, beat the butter on high speed for 1 minute. Add the sugar and continue to beat for 4 minutes, until it is light and fluffy. Scrape down sides of bowl as needed.

Add the egg and beat 1 more minute to combine. Scrape down bowl as needed.

Add the rum, vanilla, and lime zest, and beat to combine.

Add the flour and beat on low speed until just combined. Do not over-mix.

Divide the dough in half and shape each half into a round disc. Wrap each one with plastic wrap and refrigerate until firm, at least 2 hours or overnight.

Preheat the oven to 350 degrees F. Line 2 large baking sheets with parchment paper or non-stick liners.

On a lightly floured surface, roll out a disc to about 3/8-inch thickness. Cut out the cookies with a round 2 1/2-inch cookie cutter. Place the cookies on a baking sheet. Gather up excess dough after cutting the cookies, shape into another disk, and roll out for more cookies. Use your thumb, small teaspoon, or the end of a pestle to make a small indention in the center of each cookie.

Place the baking sheet in the refrigerator and chill for 10 to 20 minutes to firm up the dough. Repeat rolling and cutting process with second dough disc.

Bake the cookies until the edges are lightly golden, 15 to 18 minutes. Transfer cookies to a cooling rack and cool completely. Top each cookie with a dollop of dulce de leche.

Store cookies in a sealed container at room temperature.
Recipe Notes
A recipe for Cuban sugar cookies also called Torticas de Moron. These buttery and shortbread-like cookies have a hint of citrus from lime zest plus a dulce de leche topping.
Recipe adapted from one on the Cooking Channel website.