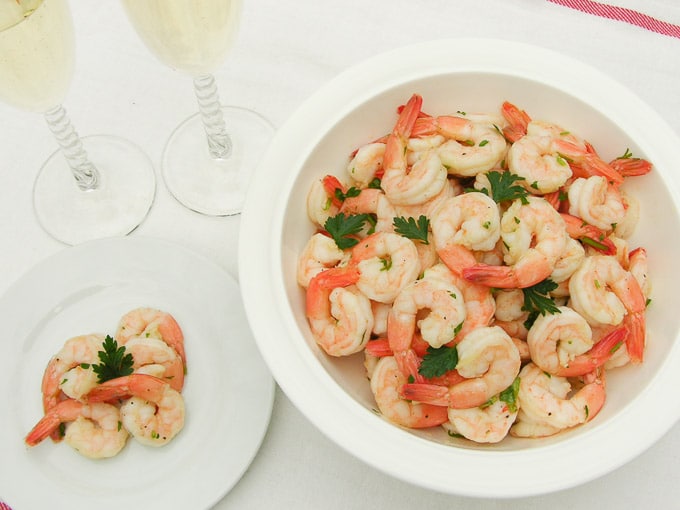 Are you looking for a special dish to make for your loved one? Or one to use when entertaining friends and family? Then you are at the right place. Shrimp Arnean is a delicious, Mediterranean inspired appetizer sure to please. I have made it for many years and always get requests for the recipe. There is something wonderful about the way the flavors infuse into the shrimp. It all comes together and makes the shrimp simply scrumptious. (Say that 3 times).
The recipe calls for 1½ to 2 pounds of shrimp. You may think that is a lot to make for two people. At least until you taste it. Then you will be happy to know there is extra to nibble on later. This is one of those midnight raid the refrigerator foods. The recipe is a good amount for a party and easy to double or triple for larger events. The majority of the preparation is done the day before so it is quick and easy on the day of your event.
Valentine's Day is approaching. The Around The Family Table group came together to help you plan a romantic dinner for your special someone. We are featuring recipes for all the courses, including cocktails. I immediately thought of Shrimp Arnean as soon as the event was mentioned. Shrimp is romantic not only for the color but also the shape. Do you see how they form a heart when a couple of them are "cuddling" together?
Do you want to know more about the Romance Dinner? The team has done a fantastic job of putting together a delectable menu. Please take a few minutes to visit each one to find the luscious details and recipes:
Do you have a special occasion section in your recipe file? When do you use those recipes? Be sure to add Shrimp Arnean and the other recipes to that collection. You will be glad you did.
Shrimp Arnean
Shrimp Arnean is an easy to make and elegant appetizer. Your guests will be delighted with the fresh Mediterranean flavors infused in the shrimp.
Servings
12
to 16 servings
Ingredients
1 1/2

to 2 pounds cooked

peeled, and deveined shrimp, at room temperature or cooler

6

green onions

chopped

1

bunch of celery

chopped

1

bunch of Italian parsley

chopped

1

cup

olive oil

3/4

cup

cider vinegar

A few drops Tabasco® sauce

Salt and pepper to taste
Instructions
Put all ingredients together in a large bowl. Stir to combine. Cover bowl or put the mixture in a large plastic zip-top bag.

Refrigerate overnight, stirring occasionally. Take mixture out of the refrigerator about an hour before serving (olive oil may have solidified in the refrigerator and this will get it back to a liquid state at room temperature).

Pour the mixture into a large colander to drain. Pull out the shrimp and place them into a serving bowl. Discard remaining ingredients.

Refrigerate leftovers. Cooked shellfish should be eaten within 2 to 3 days.
Recipe Notes
Shrimp Arnean is an easy to make and elegant appetizer. Your guests will be delighted with the fresh Mediterranean flavors infused in the shrimp.
Get the best Southern food, wine, and gardening tips!
Subscribe to get our latest content by email.