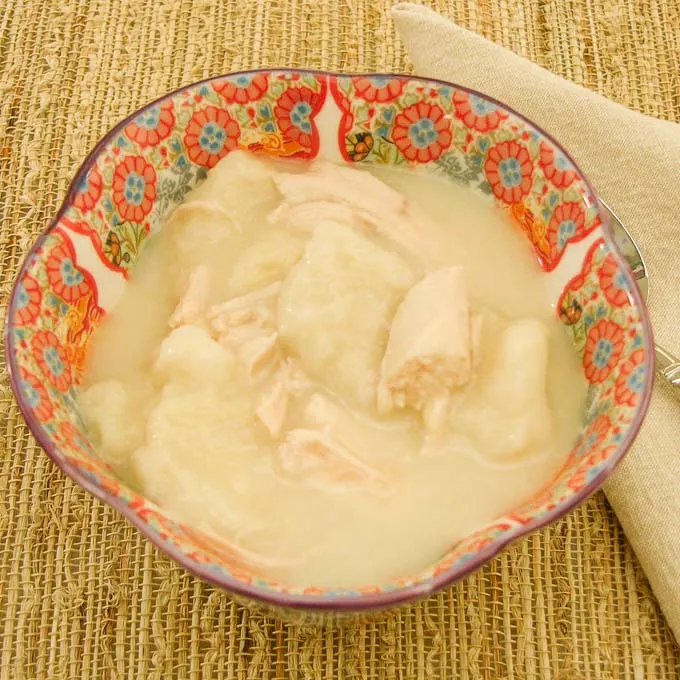 Chicken & Dumplings for Valentine's Day? Why yes! The basic thing about the day is showing your love – right? Which is exactly what came to my mind when I was making this for my husband. He was sick and had a very sore and swollen throat. The soft dumplings, tender chicken, and all the goodness of a homemade chicken stock would be right thing for him. I showed my love by making a homemade meal he really enjoys and made him feel better at the same time.
This Valentine's Day will be the 29th one for us. We do not usually do much to celebrate it except by giving each other a card. Why? We prefer to do things for each other when we want to and not because of it being a certain day. Simple. If a bowl of chicken & dumplings makes him happy then so be it. I know he likes it better than any fancy heart shaped desserts or extravagant meal.
The Holiday Recipe Club Valentine's Edition required the use of one or more of three ingredients: strawberries, heavy cream, or beef. Just so happens the chicken and dumplings has heavy cream in it. What a great coincidence for me! The dish I made for my Valentine fits right in the requirements. It was meant for me to do this post.
Making homemade chicken stock is an essential part of this dish. It will give it a richer and deeper flavor than using store-bought broth or stock. I use a whole chicken (minus the "parts") plus 5 or so chicken legs. The legs give the stock more flavor because of the bones, dark meat, and skin. The chicken plus onion, carrot, celery, garlic, fresh thyme, salt, pepper, and water is put in a big pot to simmer:
Once the homemade stock is done, the rest is simple. Bring the stock to a boil, drop in the dumplings, top it with chicken, and add some heavy cream. Cook for about 10 minutes and you have a true Southern comfort food to enjoy.
Chicken and Dumplings
chicken and Dumplings is a traditional Southern dish with homemade stock, chicken, and buttermilk dumplings.
Total Time
2
hours
20
minutes
Ingredients
1

whole chicken

do not use organs; liver, gizzard, etc.

5

chicken legs

3

celery stalks

cut into 2-inch pieces

3

carrots

cut into 2-inch pieces

1

onion

sliced into thick rings

1

whole garlic bulb

top sliced off

5

sprigs fresh thyme

2

bay leaves

1

tablespoon

salt

10

whole peppercorns

3

quarts

water

2

cups

all-purpose flour

1/2

teaspoon

baking soda

1/2

teaspoon

salt

3

tablespoons

shortening

3/4

cup

buttermilk

1/4

to 1/2 cup heavy cream
Instructions
Place chicken, celery, carrots, onion, garlic, thyme, bay leaves, salt, peppercorns, and water in a large soup pot or dutch oven. Make sure water covers all the ingredients. Bring just to a boil but do not let it get to a rolling boil.

Turn the heat to low and simmer loosely covered for 1 to 1 1/2 hours (until chicken is done and tender). Skim off any foam that forms on the surface.

Remove whole chicken and set aside to cool. Set a strainer in a very large bowl and pour remaining contents into the strainer.

Discard cooked vegetables and chicken legs. Wipe out and clean the cooking pot.

Skim off the clear fat on top of the stock by using a large spoon or with a gravy separator. Discard fat.

Return stock to the pot. Pull the chicken meat off the bone and cut it into bite sized pieces. You will only need to use about half of the meat. The rest can be saved or frozen for other use. Discard chicken bone and skin.

Bring the stock back to a boil. Make the dumplings while stock is heating.

In a large bowl, whisk together flour, soda, and salt. Add shortening and cut it in to the flour using a fork until it resembles a coarse meal.

Add buttermilk and stir with a fork until the dry ingredients are moistened. Turn dough out onto a well floured surface. Knead dough 4 or 5 times.

Roll out dough to 1/4-inch thickness. Slice dough into 1/2- X 3-inch pieces. Drop dough pieces into the boiling stock, about 10 at a time (do not add all at once).

Once all the dough pieces have been added, top with chicken pieces. Add 1/4 to 1/2 cup heavy cream and stir. Cook for at least 10 minutes on medium heat (low boil).

Taste and add salt and/or pepper if needed.
Recipe Notes
chicken and Dumplings is a traditional Southern dish with homemade stock, chicken, and buttermilk dumplings.