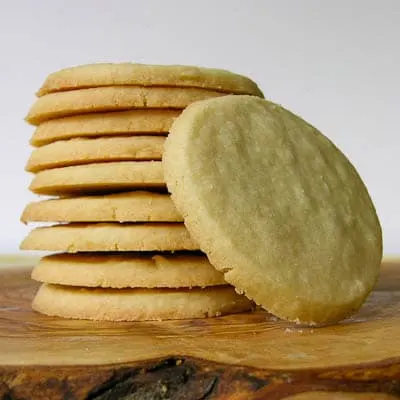 Sometimes you just want a simple cookie. At least I know I do. A change of pace from all chips, nuts, oats, and fruit is nice. A basic cookie with a buttery flavor is good for any occasion. I had the craving for a simple cookie recently. I wanted something like shortbread but not as dense. I looked around and decided I would try adding cornstarch to a recipe and make my own version of shortbread cookies.
What was the result? Exactly what I wanted. These cookies are lighter in texture than your typical shortbread one. They are also a little thinner which gives them a certain crispiness without being crunchy. I used European-style butter which gave them the most incredible butter flavor. It also helped with the texture too. There is something to be said for the extra butter fat when it comes to baking.
Shortbread is an easy recipe. It only has a few ingredients and the most basic is butter, flour, and sugar. My recipe has the addition of vanilla for flavor, salt because it helps bring out the flavors, and cornstarch for texture. It is adapted from an Ina Garten recipe on the Food Network website. Ina has many great recipes and she always makes it look so simple to cook. Plus I love the scenes of her garden in her TV show. It is filled with incredibly beautiful flowers, herbs, and plants.
What kind of cookie do you enjoy the most? Do you bake your own or buy them in the store? I admit I do both. The homemade ones are the best though.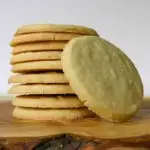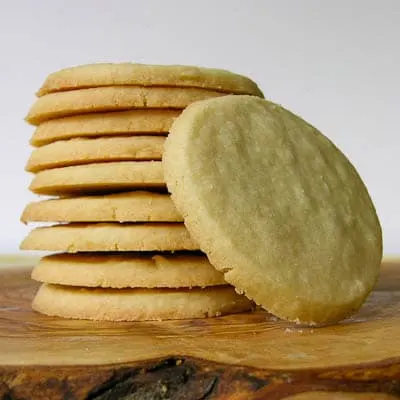 Shortbread Cookies
A recipe for homemade shortbread cookies with simple ingredients of butter, flour, sugar, cornstarch, vanilla, and a pinch of salt.
Ingredients
3/4

pound

European-style unsalted butter

at room temperature

1

cup

sugar

1

teaspoon

vanilla extract

3

cups

all-purpose flour

1/2

cup

cornstarch

1/4

teaspoon

salt
Instructions
In the bowl of an electric mixer fitted with a paddle attachment, mix together the butter and sugar until combined. Add the vanilla and mix to combine.

In a separate bowl, add the flour, cornstarch, and salt and whisk to combine. Add the flour mixture to the butter mixture and mix on low until flour is incorporated. Do not over-mix. Transfer the dough to a work surface dusted with flour. Shape the dough into two round disks about 1/2-inch thick. Wrap the disks in plastic and refrigerate for at least 1 hour or overnight.

Pre-heat the oven to 350 degrees f. Line a baking sheet with parchment paper or a silpat.

Using 1 dough disk at a time, roll the dough out on a lightly floured surface about 1/4 to 1/3-inch thick. Cut cookies using a cookie cutter or biscuit cutter. Transfer cut cookies to the baking sheet. Bake for 15 to 20 minutes, or until the edges are slightly brown. Remove the cookies from the oven and wait 1 minute before transferring cookies to a cooling rack. Allow the baking sheet to cool completely between batches. Store cookies in a sealed container.
Recipe Notes
You can gather up excess dough after cutting the cookies, shape into another disk, and roll out for more cookies. Refrigerate dough if it becomes too soft.