We stayed at the Renaissance Charleston Historic District in Charleston, South Carolina. Get an inside look at this beautiful hotel.
Thank you to Marriott for providing complimentary accommodations. All opinions are my own.
A Night at the Renaissance Charleston Historic District
I'd never been to Charleston before, and I didn't know what to expect. Would the historic area be grand and ornate? Intimate and charming? Small town or cosmopolitan?
The answer, as it turns out, is all of the above.
We rolled into Charleston around 7:00 pm, after passing through the Ace Basin (a story in its own right, because—apparently—it's one of the Last Great Places).
It was raining lightly as we crossed the bridge spanning the Ashley River and arrived in the maze-like grid of streets that comprises the historic area of Charleston.
Our on-again, off-again relationship with Google Maps had deteriorated to the point where we were no longer speaking to it. No matter—we were too busy looking out the windows of our car at the historic houses that surrounded us on all sides.
Just off of King Street (the "main drag,"you might say) we found our hotel, the Renaissance Charleston Historic District.
There was a parking garage across the street, but we decided to valet park in order to avoid getting soaked. So we pulled up alongside a tiled fountain situated directly across from the lobby.
The lobby felt less like a hotel, and more like the welcoming home of a friend with whimsical yet impeccable taste. If I could afford to hire the interior designer who styled this setting, I would do so in a heartbeat.
Birdcage swings and modern furniture were interspersed with eye-catching objets d'art, like this metal rabbit.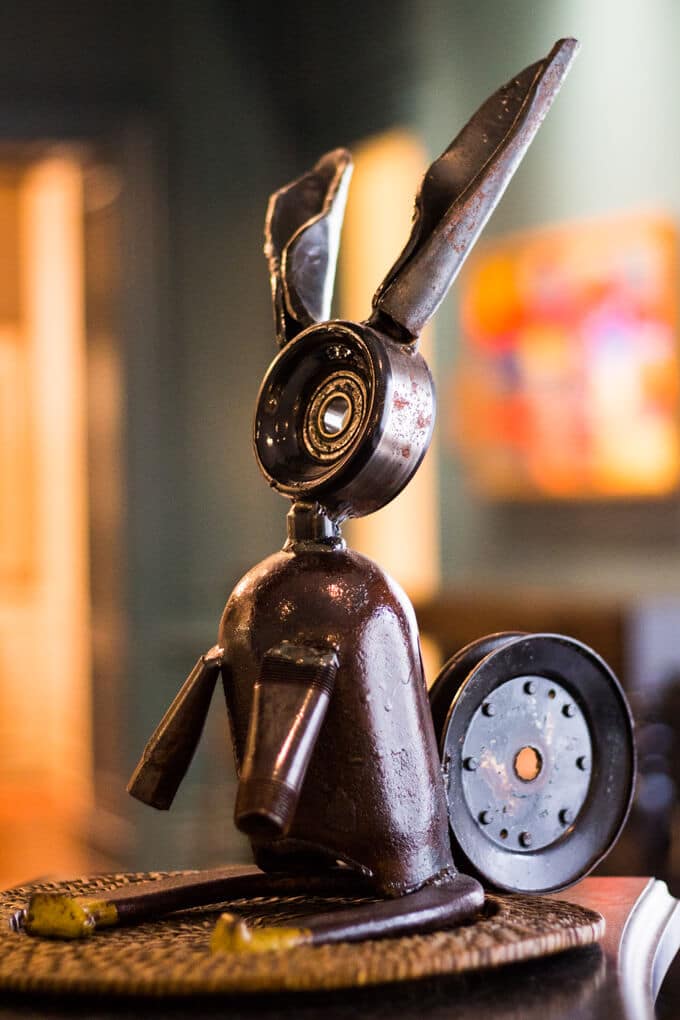 A peek into the on-site restaurant, 1KEPT, revealed a comfortable dining room with a stunning mosaic tile floor.
I spotted several elegant flower displays, including this purple dendrobium orchid near the library.
There were works of art in every direction.
I fell in love with the geometric design of the library, including its mesmerizing electric fireplace. Can you name the celebrity whose photo graces the wall?
Once we were luxuriously ensconced in our room, the clouds parted to reveal the light of the setting sun over Charleston.
The beds were plump with crisp, snow white bedding, from which we could lie back and watch the sun set.
The hotel had kindly supplied an assortment of treats for us, including a bottle of Chalone Vineyard Pinot Noir, chocolates from Charleston chocolatier Christophe Artisan, and two bags of truffle popcorn from 1KEPT.
A peek into the sleek, modern bathroom revealed charming black & white rabbit wallpaper, plus a lovely selection of Aveda toiletries.
Since we had been on the road all day, we decided to treat ourselves to room service with a made-to-order dinner from 1KEPT.
I had the Joyce Farms chicken with smoked apple, broccoli rabe, and lemon-thyme jus. My husband had the grilled skirt steak sandwich with chimichurri and horseradish aioli. Our girls (5 and 9) split a burger topped with pimento cheese and served with fries.
I can safely say that there were no leftovers. Everything was skillfully prepared and incredibly fresh.
The cloak of clouds returned the next morning, muting the rising sun but providing a welcome break from the intense summer heat. The humidity, on the other hand, was undeterred.
Although we would have loved to stay in Charleston for a few more days to explore, alas! We had to press on to our destination. We'd driven the first half of the journey (Orlando to Charleston), and would continue on through the Great Smoky Mountains to see my family in Tennessee.
Before we left, we had breakfast delivered to the room from the restaurant. If you have breakfast here, be sure to look for the doughnut, muffin, and pastry of the day, all made fresh in-house. And grab a cup of King Bean coffee while you're at it. Or tea that's grown in Charleston.
---
Our stay at the Renaissance Charleston Historic District was practically picture perfect. I look forward to returning to Charleston to explore all of the history, culture, and architecture of this most elegant Southern city.
Have you visited Charleston, South Carolina?
Further Reading: