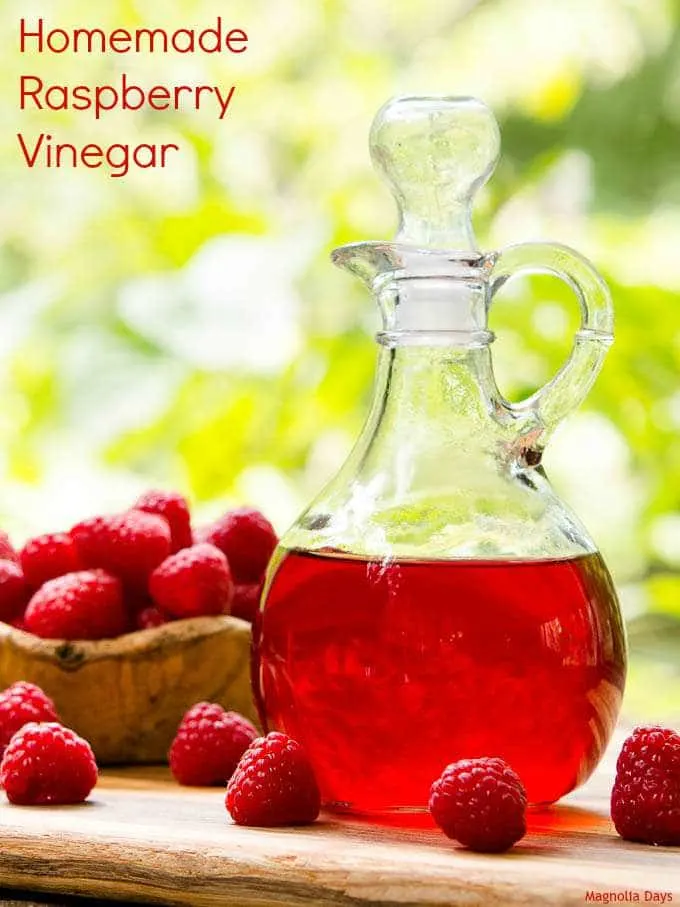 A few leaves are scattered across the yard. It's more to do with the crazy weather this year. First it rained, and rained, and rained some more. Then the rain stopped. As in, stopped so much the swamp behind my house dried up. It's so strange not to see water out there. Anyway, the leaves make me think of fall being near. It's time to preserve as much of summer as possible. Making raspberry vinegar is a way to have the flavor of summer berries all throughout a cold, grey winter. It will brighten it too.
The color of the vinegar is incredible. It's stunning and almost glows. I knew it would be red yet, wow, I had no idea of exactly how red. I need to make a whole lot more and give bottles of it away as gifts. Look out friends and family, you may be getting homemade raspberry vinegar for Christmas. So when you see me at the store buying a bunch of bottles, this is why.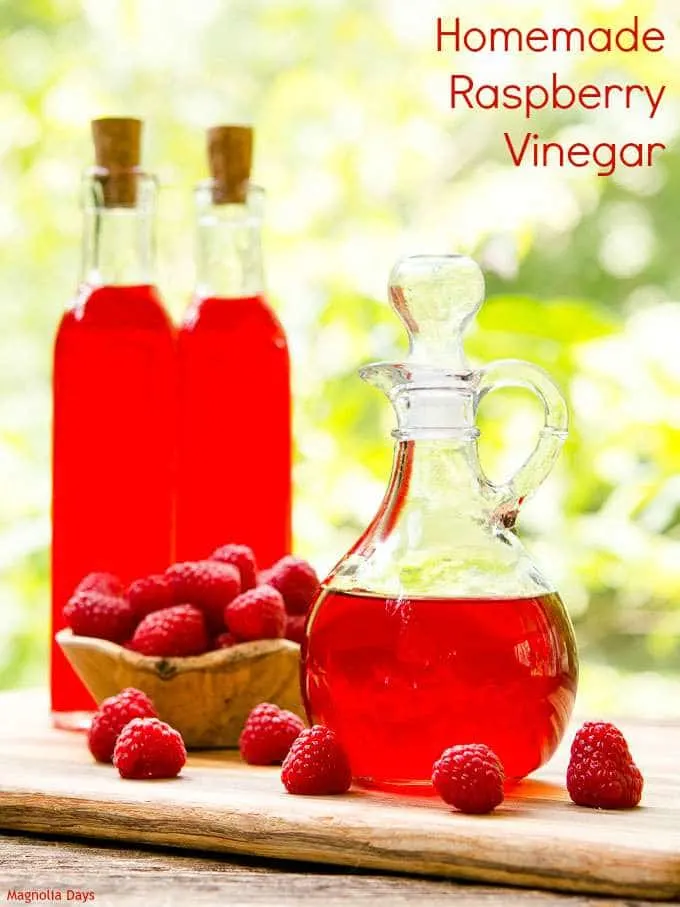 Saving berries can be easy or difficult. There is always the option to make jelly, jam, or preserves. However I haven't had the urge to do that yet. I've had mixed results with freezing berries. I've tried both air drying then simply putting them in a bag and also spreading them out on a sheet to freeze individually. Sometimes the frozen berries were great and other times not so much. So I went for infusing them.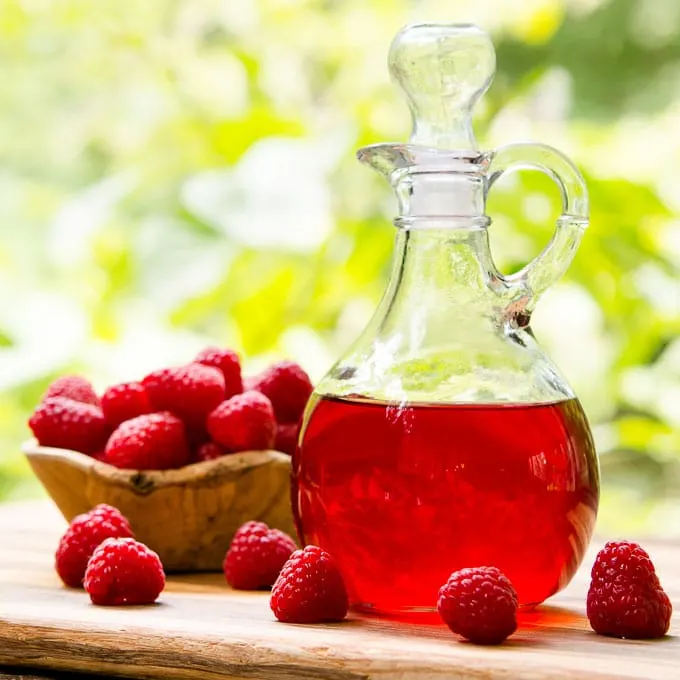 How is the raspberry vinegar? The flavor is as bright as the color. It has glorious essence of berries infused into white wine vinegar. There's a hint of lemon plus a tiny touch of sweetness. A salad with it and olive oil would be fabulous. Using it to make a dressing has so many possibilities. I'm already dreaming about different herbs to blend with it. Thyme, tarragon, and rosemary are a good start.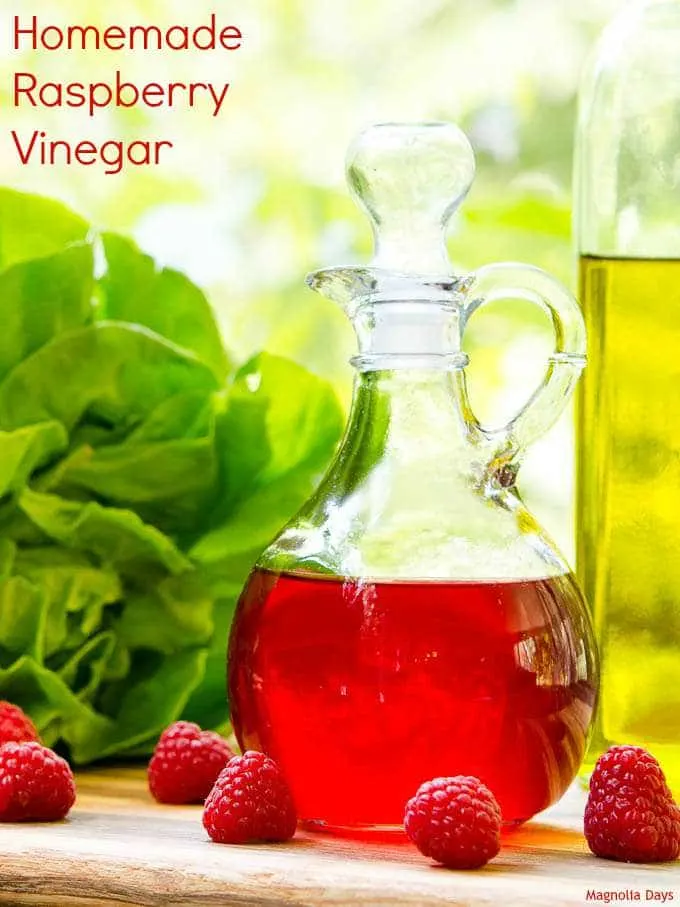 Do you save summer produce? If so, what method? Is it canning, freezing, dehydrating, pickling, or some other way? Scroll down to find a list of various methods and recipes for preserving fruit and vegetables by Sunday Supper tastemakers. Also look at my Refrigerator Pickled Jalapeños with Herbs and Zucchini Relish. Big thanks to Stacy at Food Lust People Love and Heather at Hezzi-D's Books and Cooks for hosting this event.
Raspberry Vinegar
How to make homemade raspberry vinegar by infusing fresh raspberries into vinegar. It has a hint of lemon and is great for salads and dressings.
Ingredients
3

cups

fresh raspberries

1

lemon

3

cups

white wine vinegar

5% acidity

1/3

cup

granulated sugar
Instructions
Rinse raspberries and spread out on paper towels to air dry. Place raspberries in a 6-cup non-reactive container (glass or ceramic recommended - do not use a plastic container).

Use a vegetable peeler to remove lemon rind. Place rind in the container with raspberries. Save lemon for a separate use.

Combine vinegar and sugar in a saucepan over medium heat. Stir constantly until sugar has dissolved (do not let boil). Pour vinegar over berries.

Cover and let stand at room temperature for 3 days.

Line a fine mesh strainer with several layers of cheesecloth. Strain vinegar through cheesecloth to remove berries. Use a large spoon or spatula to press liquid from berries. Discard strained berries.

Pour vinegar into jars with airtight lids. Store vinegar in a cool, dark place up to 6 months.
Recipe Notes
Time stated does not include time for vinegar to infuse for 3 days.
Do you want to enjoy summer's bounty all year long? Take a look at these saving summer harvest recipes by Sunday Supper tastemakers:
Canning
Dehydrating
Fermentation
Freezing
Infusing
Pickling
Preserving in Oil or Butter
And for even more help and support
Join the #SundaySupper family on twitter every Sunday! We tweet throughout the day and share recipes from all over the world. Our weekly chat starts at 7:00 pm ET. Follow the #SundaySupper hashtag and remember to include it in your tweets to join in the conversation. To get more great Sunday Supper recipes, visit the Sunday Supper Movement website or check out our Sunday Supper Pinterest board.
Would you like to join the Sunday Supper Movement? It's easy. You can sign up by clicking here: Sunday Supper Movement.