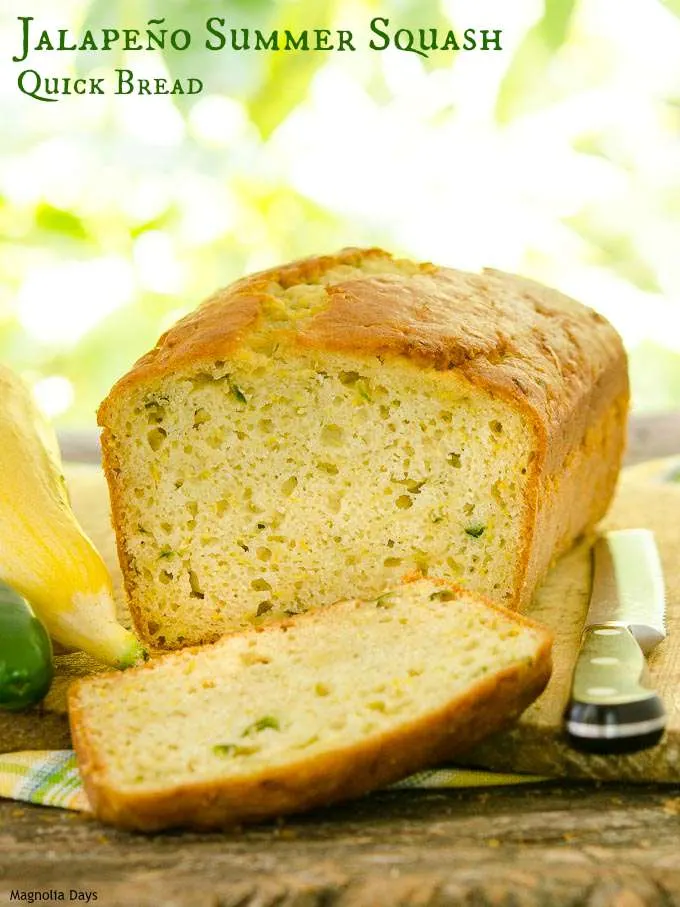 August is peak time for summer produce. Gardens and markets are overflowing with herbs, fruits, and vegetables. Well, not all gardens and I'll get to that later. Meanwhile, going to a market or farmstand this time of year is sheer delight. What to do with the haul is a fun challenge. Is it time to make favorites or try new things? I'd say both. One of the new things I baked this year is Jalapeño Summer Squash Quick Bread.
Summer squash is rather general in description. I used yellow squash for this bread. You could easily substitute other ones including pattypan and zucchini. The only things getting in the way of me using either of those is I couldn't find any pattypan and I'm partial to yellow over zucchini. Plus I thought green pieces of jalapeños would contrast and stand out in a yellow bread. They sure did.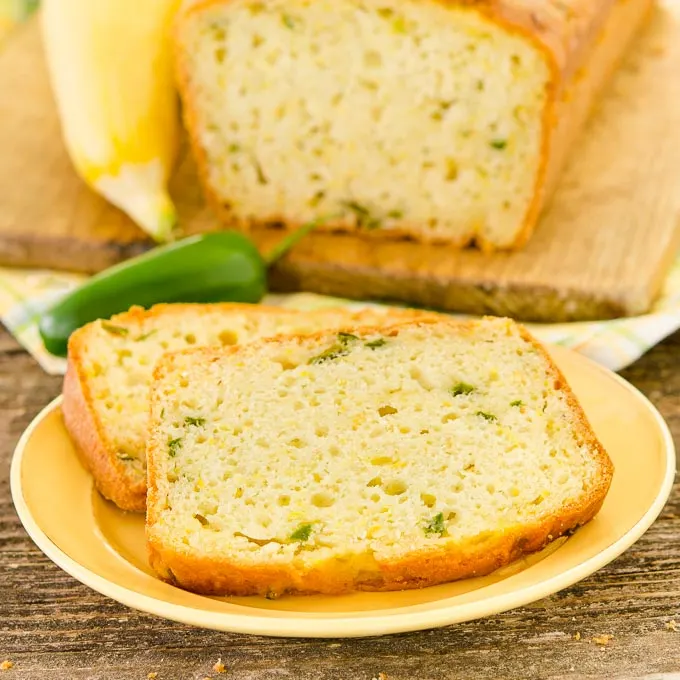 Sweet/hot seems to be my latest trend. It started with Thai Sweet Chili Sauce and hasn't stopped. I've been experimenting with the combo for months. When I ran across the original recipe for this bread it was without any peppers. I thought it was quite sweet and needed a kick of something in there for a balance. It's still rather sweet yet the jalapeños shine through and linger after the last bite.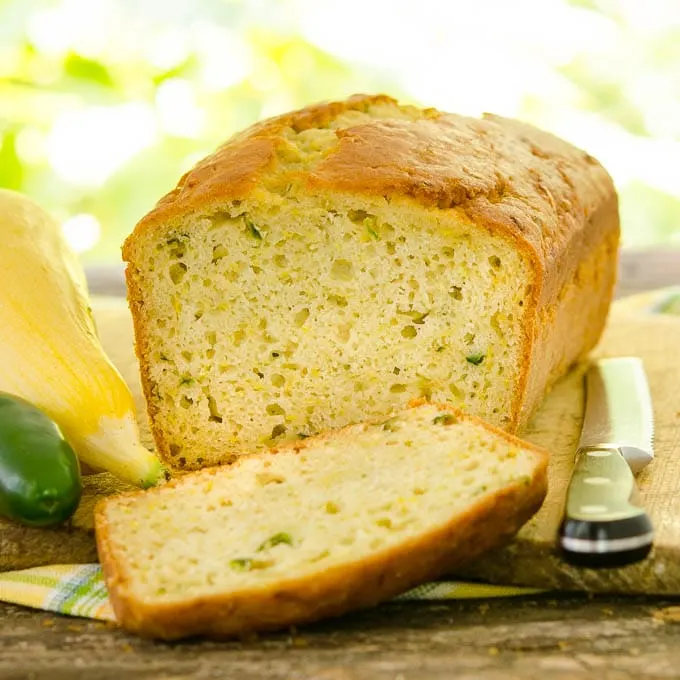 This year I've had a major garden failure. Every plant has done exceedingly well except jalapeños. Several plants I've had to re-pot because they have become so large. One of my succulents bloomed for the first time in three years. Yet my pepper plant is a complete loss. Here is a visual just so you know I'm not exaggerating: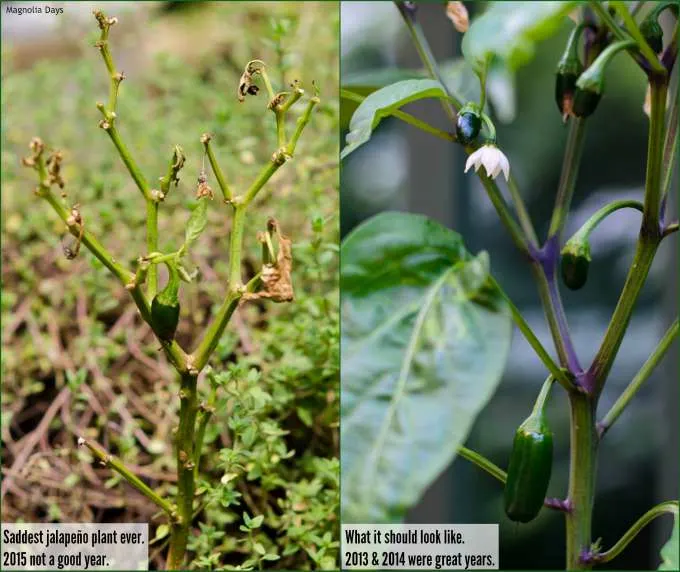 Thank goodness for friends. My husband has brought home bags of assorted peppers from a co-worker. It was perfect timing for baking this bread. It's once again time for Bread Bakers and of course I had to participate. Our host is Pavani of Cook's Hideout and I'm so glad she chose the Summer Bounty theme. Scroll down to see the list of breads baked with the season's produce.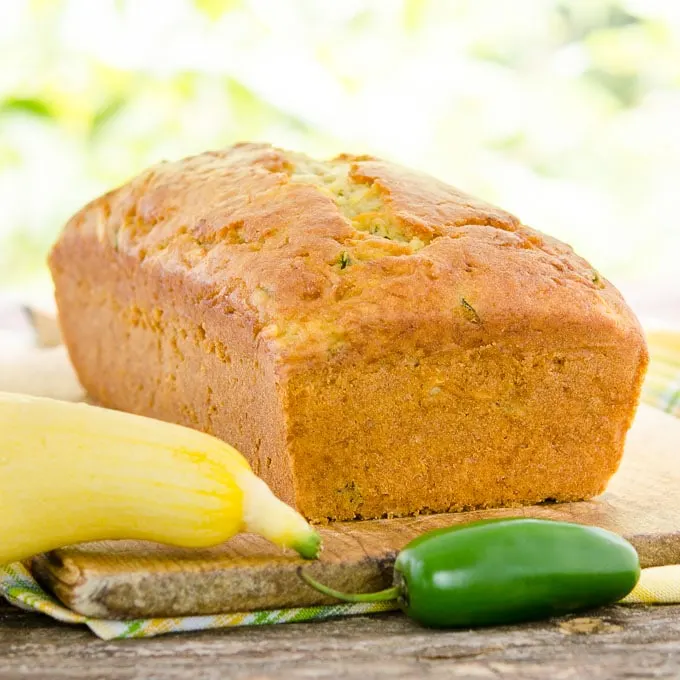 What bread do you relate to summer? Is it a light, airy loaf or something hearty? For me it is a denser bread packed with seasonal flavor. Last year I highlighted fresh herbs in Herbed Skillet Cornbread. Next time I'm considering featuring herbs again in rolls. They would be swirly like cinnamon rolls except with a savory filling. I'm still working on it though. Who knows, it could be another sweet/hot creation. Oh the possibilities…
Jalapeño Summer Squash Quick Bread
Bring on the sweet heat with this Jalapeño Summer Squash Quick Bread. It's filled with garden-fresh flavors of vegetables and peppers.
Total Time
1
hour
20
minutes
Ingredients
1 1/3

cups

all-purpose flour

1 1/4

teaspoons

baking powder

1/2

teaspoon

baking soda

1/2

teaspoon

salt

1/4

teaspoon

ground cumin

2

eggs

3/4

cup

granulated sugar

1/3

cup

vegetable oil

1/3

cup

sour cream

1 3/4

cups

shredded summer squash

aka yellow squash

2

or 3 jalapeño peppers

about 1/4 cup, seeded and chopped
Instructions
Preheat oven to 350°F. Lightly grease and flour an 8 1/2- X 4 1/2- X 3-inch loaf pan.

Whisk together flour, baking powder, baking soda, salt, and cumin in a large bowl.

Whisk together eggs, sugar, oil, and sour cream in a medium bowl. Stir in shredded squash and jalapeño peppers.

Add wet ingredients to dry ingredients and stir to combine until just moistened.

Spread batter evenly in prepared pan. Bake for 1 hour or until a toothpick or cake tester inserted in the center comes out clean.

Cool bread in the pan for 10 minutes. Remove bread from pan and cool completely on a wire rack.
Recipe Notes
Bring on the sweet heat with this Jalapeño Summer Squash Quick Bread. It's filled with garden-fresh flavors of vegetables and peppers.
Recipe adapted from Southern Living 1983 Annual Recipes cookbook (no longer in print).
Do you have an abundance of produce? Take a look at these bread recipes to find what to make with your summer bounty:
What is Bread Bakers? It's a group of bread loving bakers who get together once a month to bake bread with a common ingredient or theme. You can see all our of lovely bread by following our Bread Bakers Pinterest Board. Links are also updated after each event on the Bread Bakers home page.
How is the monthly theme determined? We take turns hosting each month and choosing the theme/ingredient.
Would you like to join in the fun? If you are a food blogger, send an email with your blog name and url to Stacy at [email protected].