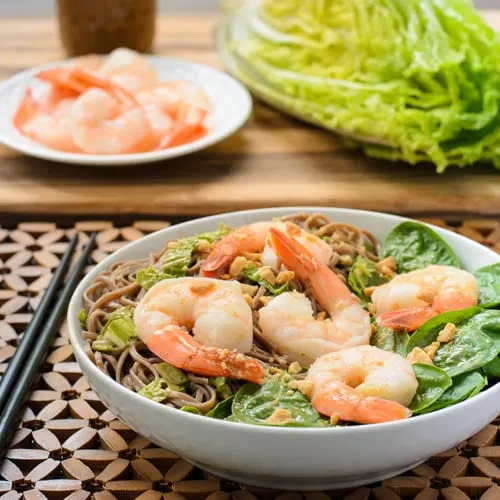 The mall directory offered the same dining choices. Hopes of finding a new restaurant vanished. I stood there gazing up and down the list wondering if one would call out to me. The fast food court was quickly eliminated from the options. Full restaurants would take too much time. I opted for the least previously disappointing place to grab a quick lunch. As I looked at their menu, one of the specials caught my attention. I ordered the special and found it to exceed my expectations. I knew I had to re-create a shrimp soba noodle salad at home.
The salad has two dressings. The completed dish is a big bowl half filled with soba noodles tossed with Napa cabbage and Asian peanut dressing. The other half is filled with spinach tossed with orange miso dressing. It is topped with shrimp and chopped peanuts. The blend of dressings, flavors, and textures is something I never would have come up with on my own. It's hard to pick which side of the bowl to dig in first. Going back and forth between the sides gives the ultimate combination and balance of it all.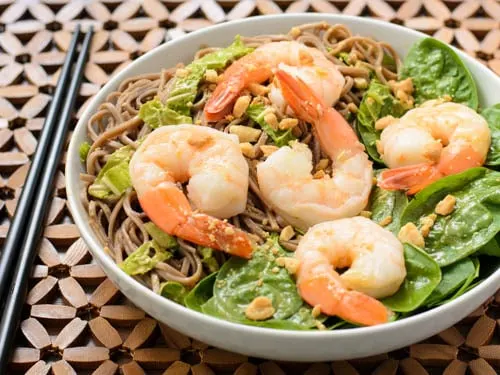 What restaurant meal has inspired you to make it at home? Was it so good that you had to try to make it yourself? Or was it so mediocre you knew you could do better? I've had both situations lately. This shrimp soba noodle salad recipe is because of a good experience. An over-cooked sea bass dish I had this past weekend is another story. Stay tuned to see what comes of it…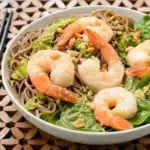 Shrimp Soba Noodle Salad
A recipe for shrimp soba noodle salad made with shrimp, soba noodles, napa cabbage, spinach, chopped peanuts and two dressings; Asian peanut and orange miso.
Ingredients
4

ounces

buckwheat soba noodles

1

cup

sliced Napa cabbage

cut into ribbons

Asian peanut dressing

4

to 5 ounces fresh baby spinach

Orange miso dressing

1/2

pound

cooked shrimp

peeled and deveined

Chopped peanuts for garnish
Instructions
Cook the soba noodles according to the package instructions. Rinse and drain.

Toss the noodles and cabbage with Asian peanut dressing in a bowl.

Toss the spinach with orange miso dressing.

Divide the noodles between two bowls, placing on one side of the bowls.

Divide the spinach between the bowls, placing on the other side of the bowls.

Divide the shrimp and place on top of each bowl.

Garnish with chopped peanuts.

Serve with dressings on the side to drizzle over additional if desired.
Recipe Notes
Click on the salad dressing names in the ingredients list to find the recipes for the dressings.
Recipe inspired by a seasonal special salad at the Panera Bread Cafe.