Once upon a time I cooked a perfect roast. It was a magnificent standing rib roast. I made it for Christmas dinner. I stood there and gazed upon its beauty. I sliced it to find it was exactly medium-rare. Then my dad took over slicing. He said he liked his cooked more so I handed him the grill pan. I walked out of the kitchen and came back to find my dad had cooked all the slices to medium or more. I look back and laugh. It's a treasured memory. I had him in mind when I made this Lemon Pepper Sirloin Tip Roast. Why? Because it combines several memories of him and beef.
The holidays would not be the same without a roast. A whole tenderloin on New Year's Eve is a real treat (along with king crab legs). Standing rib roast calls out for Christmas. Yet the budget may not allow for those cuts. The good news is lesser expensive roasts can be just as flavorful thanks to Certified Angus Beef® brand beef and their app.
Sirloin tip is one of my family's favorites. It is the one cut my parents would most often use. It is why I selected it to be a roast to make during the holidays. My dad enjoyed lemon pepper on his steaks. This past summer I created Grilled Lemon Pepper Steak Salad in memory of him. I thought the same flavor on a roast would be quite nice. It actually is mighty nice.
How to make sure your roast will be perfect? The very first thing to start with is premium beef. You want the best for your family. Where to find it? All you have to do is use the Certified Angus Beef® brand locator to find both retail stores and restaurants. I'm glad to know I can get it at two of my favorite places to shop; Dekalb Farmers Market and Buford Highway Farmers Market.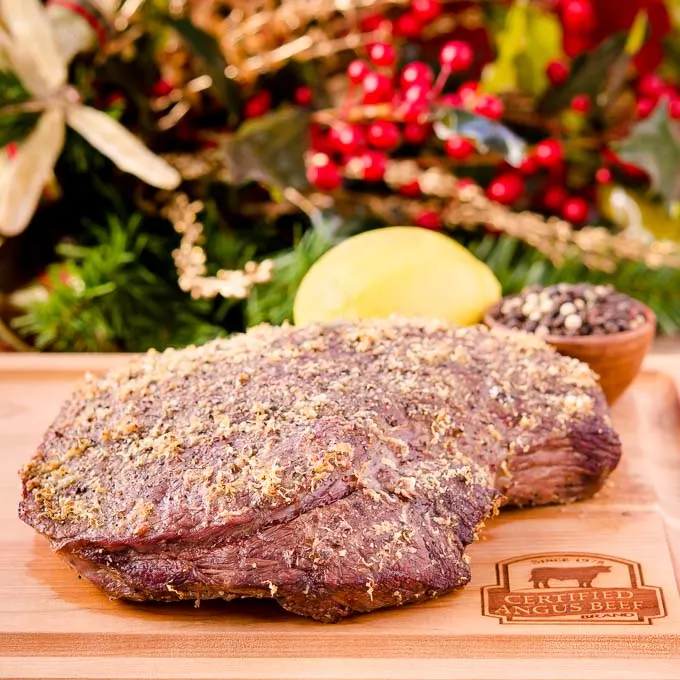 The next step is flavoring. A rub is one of the easiest ways to add flavor to a roast. The chefs at Certified Angus Beef® brand's headquarters truly inspired me to create my own. After learning more about rubs from them, I mixed up a batch to make Sriracha Herb Roast. Then came lemon pepper and who knows what will be next. It's only a matter of what flavors I'm craving.
After flavoring comes roasting. This is where you may have questions. How long to roast? What temperature? Getting answers is super easy. All you have to do is refer to Certified Angus Beef® brand's Roast Perfect app. Use it to help select your roast, find a recipe for it, and then let the timer tell you how long to sear, roast, and rest it.
Do you want to cook a roast for the holidays? Sunday Supper is proud to partner with Certified Angus Beef® brand to share recipes and cooking tips. Scroll down to find the list and each recipe is only a click away. Also check out the Roast Perfect Pinterest board for more inspiration.

More on Certified Angus Beef® brand: You can follow them on Facebook, Pinterest, Twitter, Instagram, YouTube, Periscope, and their website.
Lemon Pepper Sirloin Tip Roast
Lemon Pepper Sirloin Tip Roast is an easy to make recipe with only 4 ingredients. Delight your family with this peppery citrus-y beef roast.
Ingredients
Grated zest from 2 lemons

2

teaspoons

kosher salt

2

teaspoons

fresh ground pepper

3

pound

sirloin tip roast

Certified Angus Beef® brand recommended
Instructions
Preheat oven to 450°F. Position a rack in a roasting pan or wire rack in rimmed baking sheet.

Combine lemon zest, salt, and pepper. Rub mixture evenly on roast.

Place roast on rack and roast for 15 minutes.

Reduce oven temperature to 325°F.

Roast until desired doneness is reached. Use an instant-read thermometer to check internal temperature.

Take roast out of oven when it reaches 10 degrees below finished doneness temperature. For medium-rare it will take approximately 30 minutes.

Tent loosely with foil and allow to rest for 10 to 15 minutes before slicing.
Recipe Notes
Lemon Pepper Sirloin Tip Roast is an easy to make recipe with only 4 ingredients. Delight your family with this peppery citrus-y beef roast.
Beef roasts are wonderful for holiday meals. Remember to get Certified Angus Beef® brand beef and use their Roast Perfect app when you are preparing your roast. Take a look at these recipes by Sunday Supper tastemakers to make for your family and friends:
Plus Roast Perfect Tips by Sunday Supper Movement Tastemakers
Join the #SundaySupper family on twitter every Sunday! We tweet throughout the day and share recipes from all over the world. Our weekly chat starts at 7:00 pm ET. Follow the #SundaySupper hashtag and remember to include it in your tweets to join in the conversation. To get more great Sunday Supper recipes, visit the Sunday Supper Movement website or check out our Sunday Supper Pinterest board.
Would you like to join the Sunday Supper Movement? It's easy. You can sign up by clicking here: Sunday Supper Movement.
Disclosure: This post is sponsored by Certified Angus Beef® brand in conjunction with a social media campaign through Sunday Supper LLC. All opinions are my own.