It happened again. The same urge came about when Easter was near. It cannot go by without certain foods being involved. It started with a ham we enjoyed in a pre-celebration. Being a food blogger does make one celebrate holidays in advance. The leftovers became Ham, Turkey and Cheddar Turnovers. Moving on to the next food meant one thing, it was time to make lemon coconut bars.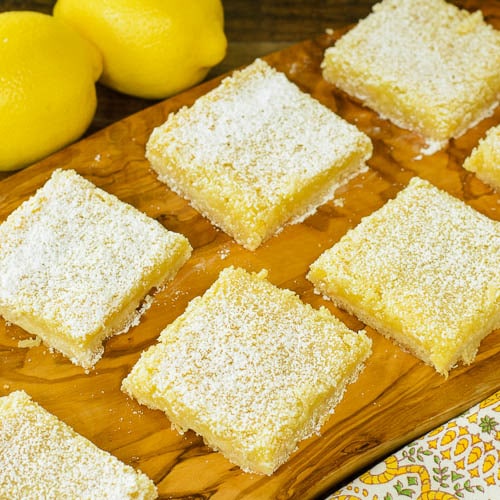 Easter would not be the same without coconut. I've already eaten my way through a bag of chocolate coconut eggs. I thought about incorporating them into a recipe however they didn't last long enough. Plus it was another excuse to buy coconut flakes and get baking. As usual, what to bake was the question. My friend Terry gave me inspiration for lemon bars and that was all it took.
How are the lemon coconut bars? They are lemon chess pie meets coconut over a buttery crust. There is the expected sweet/tart combination. Coconut gives an added chewy texture. Slivered almonds provide a crunch. The bars are baked in a 10×15 jelly roll pan. The ones from the middle of the pan are softer than those from the outside. It's the same as with brownies – are you an inside or outside person? I'll take the ones from the inside.
What food is always a part of your Easter celebration? The holiday won't pass by without ham and coconut for me. There are lots of other favorites from Sunday Supper contributors below. Scroll down to see the list of recipes and links to each one. Big thanks to our host Alaiyo of Pescetarian Journal for hosting our Easter/Passover Feast event.
For the crust

2 cups all-purpose flour
1 cup confectioners sugar
2 teaspoons grated lemon zest
1/4 teaspoon salt
1 cup unsalted butter, at room temperature
1/2 cup lightly toasted slivered almonds
For the filling:

2 cups sugar
1 cup sweetened coconut flakes
4 large eggs, at room temperature
1/4 cup unsalted butter, melted and cooled
1/4 cup milk, at room temperature
1/4 cup fresh lemon juice
1 tablespoon grated lemon zest
1 tablespoon all-purpose flour
1 tablespoon cornmeal
1/4 teaspoon salt
For the topping:

Confectioners sugar
For the crust:
Preheat oven to 350 degrees F. Lightly grease a 10- X 15-inch jelly roll pan. Line bottom with parchment paper for easier removal of bars from the pan.
Whisk together flour, confectioners sugar, lemon zest, and salt in a large bowl.
Cut in butter with a pastry blender until crumbly. Stir in almonds.
Firmly press mixture into prepared pan.
Bake for 20 minutes or until light golden brown on the edges.
For the filling:
Whisk together all filling ingredients in a large bowl until well combined.
Pour filling over baked crust.
Bake for 30 to 35 minutes or until set.
Cool completely in pan on a wire rack.
For the topping:
Dust confectioners sugar on top.
Cut into bars or squares.
https://magnoliadays.com/lemon-coconut-bars/
Copyright Magnolia Days - http://magnoliadays.com/
Recipe adapted from Southern Living Our Best Recipes 2007 Volume 4
The Easter/Passover celebration continues. Check out these holiday recipes by Sunday Supper contributors:
Breakfast/Brunch
Appetizers:
Savory and Sweet Breads:
Sides and Salads:
Main Dishes:
Desserts:
Wine Pairing:
Join the #SundaySupper conversation on twitter each Sunday. We tweet throughout the day and share recipes from all over the world. Our weekly chat starts at 7:00 pm ET and you do not want to miss out on the fun. Follow the #SundaySupper hashtag and remember to include it in your tweets to join in the chat. Check out our #SundaySupper Pinterest board for more fabulous recipes and food photos.

Would you like to join the Sunday Supper Movement? Click here: Sunday Supper Movement