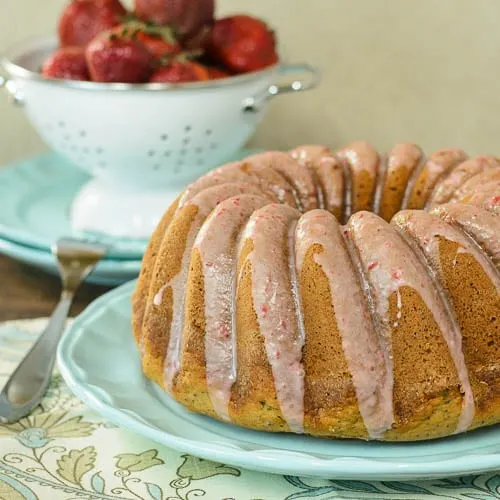 What do Easter, spring, lemons, flowers, seeds, a book, strawberries, and a salad have in common? They are all parts to the story behind this Strawberry Poppy Seed cake. It begins with a simple theme for the Bundt Bakers group; bake a cake for Easter or spring. Plowing through my cookbooks and cake recipes gave the first impulse of one to make. It would be lemon. Yep, that was it. Well, until I went out and saw the first signs of growth on my poppy plant. It would not be long before those lovely flowers would be blooming. It inspired me to add poppy seeds to the cake. Lemon poppy seed cake became the plan.
A little voice in the back of my head questioned using lemon. While it is a common pairing for poppy seeds, something else might be more adventurous. Once again I checked in the ultimate recipe development resource book, The Flavor Bible
, and saw strawberries listed under poppy seeds. Immediately my thoughts went back to the early 90's when a friend brought a strawberry poppy seed salad to a potluck. Oh how I enjoyed that salad. The flavors went so well together. The cake plan changed again, this time for good.
How is the strawberry poppy seed cake? The strawberry part is very subtle. There is a hint of it in the background against a nutty seed flavor. The color of the cake is not the expected pink or red. Only the glaze gives a clue as to what is inside.
It is a moist cake with an airy texture. Poppy seeds give a touch of crunchiness to each bite. There should be enough glaze to save for serving or you can make extra. A drizzle over a slice adds a pop of color. Plus it is a bonus to those who love glaze and frosting.
What cakes do you enjoy for Easter or spring? The bundt bakers have some mighty tasty recipes to share for this month's theme. Getting to them is only a click away. Scroll down to find details on how you can join in the monthly Bundt Bakers fun. And big thanks to Tara of Noshing with the Nolands for hosting this month. For more spring or Easter recipes look at Lemon Parsley Cocktail and Coconut Cupcakes.
Strawberry Poppy Seed Cake
A recipe for a Strawberry Poppy Seed Cake. It is made with strawberries, poppy seeds, baked in a bundt pan and topped with a strawberry glaze.
Total Time
1
hour
15
minutes
Ingredients
For the cake:
16

ounce

container frozen sliced strawberries with sugar

thawed*

3

cups

all-purpose flour

3

tablespoons

poppy seeds

1

teaspoon

baking powder

1

teaspoon

baking soda

1/2

teaspoon

salt

3/4

cup

unsalted butter

at room temperature

3/4

cup

granulated sugar

2

large eggs

at room temperature

1

teaspoon

vanilla extract

1

cup

buttermilk

at room temperature
For the glaze:
1 1/2

cups

sifted powdered sugar

3

tablespoons

strawberry purée

1/2

teaspoon

vanilla extract

Pinch of salt

Milk as needed
Instructions
For the cake:
Preheat oven to 350 degrees F. Grease and flour a 10- or 12-cup bundt pan.

Put the strawberries and juice into a blender. Blend until puréed.

Whisk together flour, poppy seeds, baking powder, baking soda, and salt in a medium bowl.

Cream butter and sugar in a large bowl until light and fluffy.

Add eggs, one at a time, beating well after each addition.

Add vanilla and beat to combine.

Combine buttermilk and 3/4 cup strawberry purée.

Add flour mixture in three additions, alternatively with buttermilk/strawberry in two additions, mixing on low speed until just combined. Do not over mix.

Pour batter into prepared pan and spread batter evenly in the pan.

Bake for 45 minutes or until a cake tester or toothpick when inserted into the center comes out clean.

Cool cake in the pan for 10 minutes. Turn out cake on to a wire rack. Cool completely.

Drizzle glaze over top of cake. Transfer cake to serving plate.

Keep cake refrigerated when not serving.
For the glaze:
Stir together confectioners sugar, strawberry puree, vanilla, and salt in a small bowl. Add milk, about a teaspoon at a time, until desired consistency is reached (should be pour-able but not too thin).

Extra or leftover glaze can be used for serving.
Recipe Notes
*You can also use fresh hulled and chopped strawberries that have been macerated with sugar. Leftover strawberry puree should be refrigerated and used within 1 week.
What is Bundt Bakers? It's a group of Bundt loving bakers who get together once a month to bake bundts with a common ingredient or theme. Follow our Bundt Bakers Pinterest board for incredible bundt cake recipes and inspiration. Stacy of Food Lust People Love heads up our group and has a #BundtBakers page where you can find information and links to the recipes for each month.
How is the monthly theme determined? We take turns hosting each month and choosing the theme/ingredient.
Would you like to join in the fun? If you are a food blogger, send an email to Stacy at [email protected] or ask to join our private Facebook group.