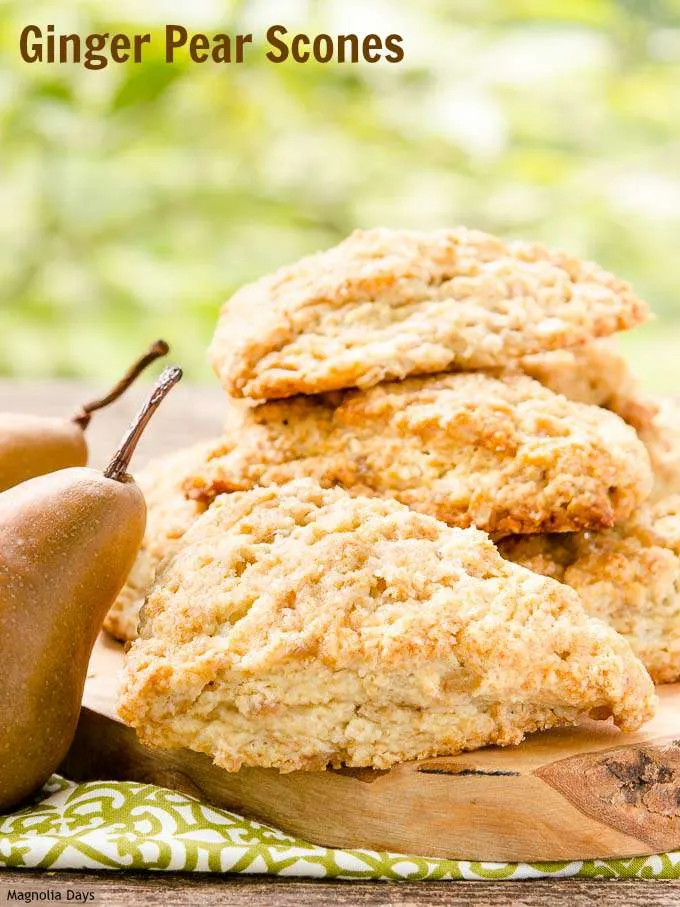 It felt like there was almost a chill in the morning air. Almost. That day and the next were so pleasant. The temperature stayed in the 80's with a light breeze as a bonus. I was delighted by the weather and at the same time I knew it was a hint of fall arriving in a few weeks. Another sign was a big bin of pears at the store. I had to get some. Then I had to bake Ginger Pear Scones.
"Had to" is a relevant term. I suppose I didn't really have to. It was more like an internal drive or craving. I blame a lot of memories causing those cravings. First it was last year's Honey Ginger Pear Butter and the subsequent Sparkling Pear Cocktail. Then it went to thinking about an upcoming vacation to Napa. It was there many years ago when I fell in love with pears because of a Pear and Stilton Salad.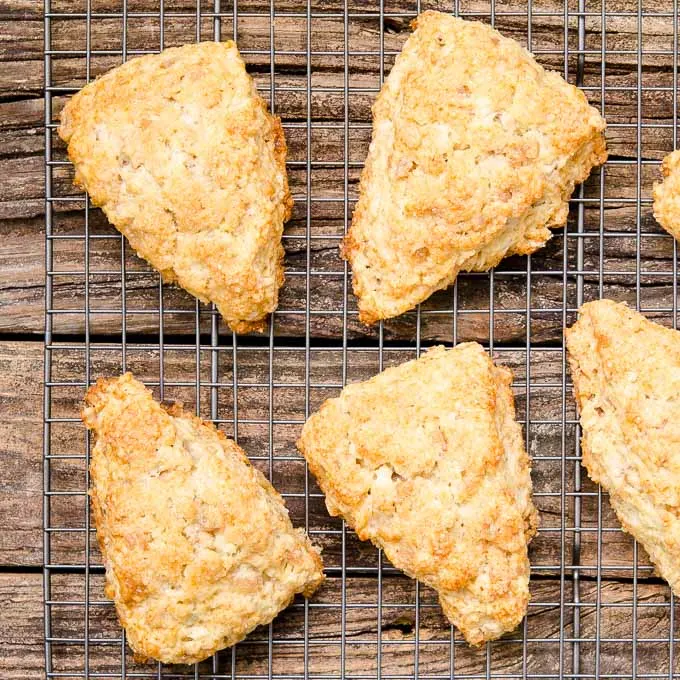 Temperatures have stayed on the mild side. It's quite unusual for this time of year. I have the urge to plant violas and pansies. It's too early though. All I would need is a few blistering hot days to burn those lovely flowers. So I am waiting patiently for fall to officially begin before changing up my garden. Meanwhile I can go ahead and do a little fall baking and cooking since the weather is so nice.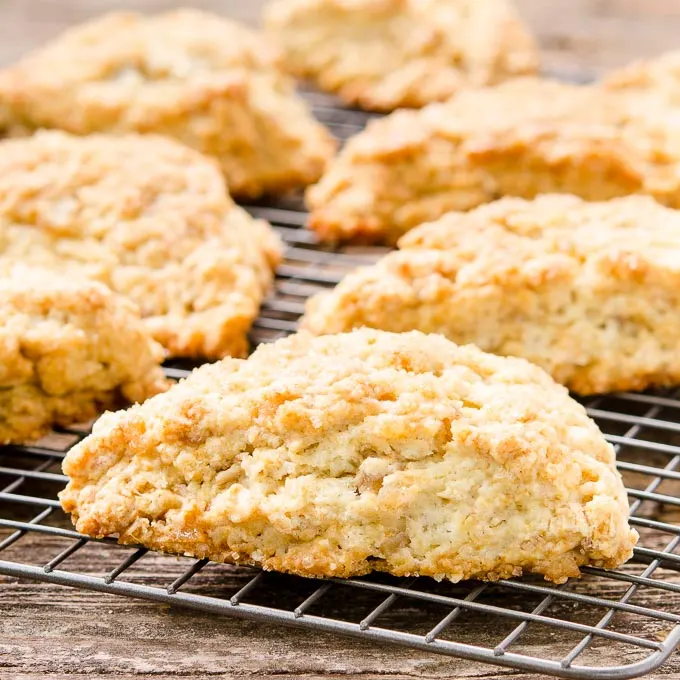 How are the ginger pear scones? They are the moistest scones I've ever made. It has to do with the moisture from fresh pears. I'm glad I only used one pear (about a cup of diced) or else they would not have turned out right. Most of the moisture is cooked out in the caramelizing process. However there is more than the usual dried fruit or chips I use in scones. Inside the scones, along with caramelized pear pieces, there are also bits of candied ginger and and a hint of cinnamon. The tops have a slight crunch and sparkle from turbinado sugar.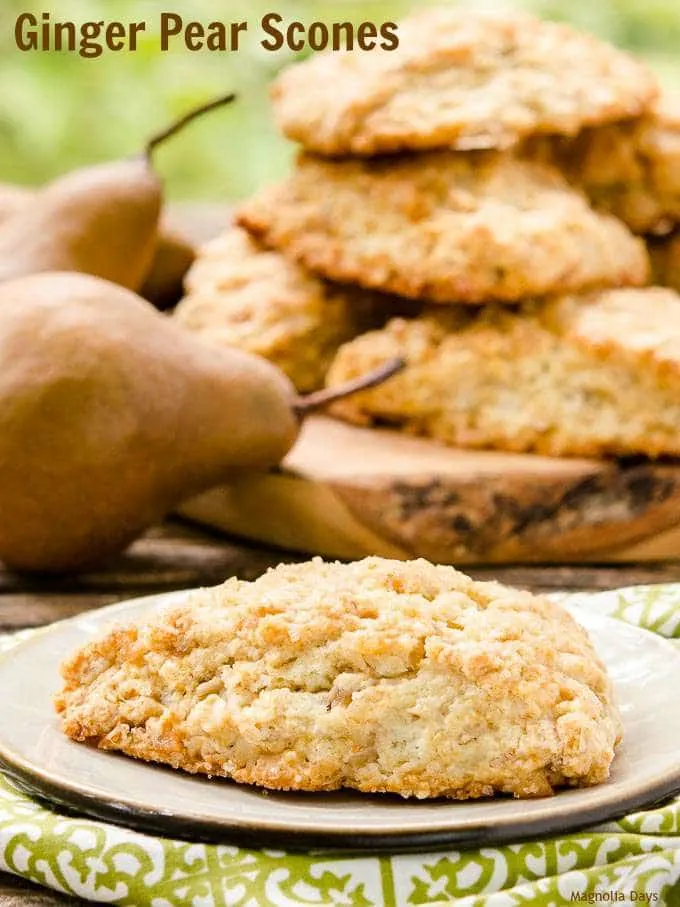 A funny thing happened when cooking the pear. I had ginger root in my pantry and ginger paste in my fridge. I decided to use the paste because of, well, being lazy and not wanting to grate fresh ginger. I squeezed a teaspoon into the pan, stirred and noticed a wad of fibers. This has never happened to me before with the paste. Normally it is smooth yet this one squirt was not. I didn't want to start over so I took my tweezers and pulled out every one of those hairy-looking fibers out of the pan. Yes, that's extra work for being lazy. Next time I'll do the grating and know it will be smooth.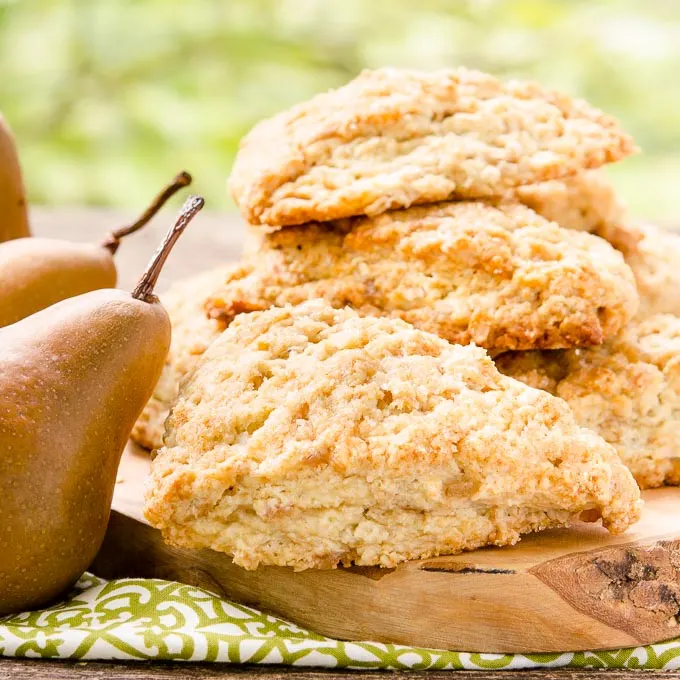 What food do you crave when the weather turns cool? I want pears, winter squash, and greens. I've already started with pears and next up is winter squash. I even have a new kitchen toy to play with. I hope it goes well. Stay tuned…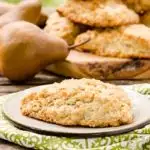 Ginger Pear Scones
Ginger Pear Scones are a wonderful breakfast or afternoon treat. They are full of flavor with caramelized pear and candied ginger pieces throughout.
Ingredients
For the caramelized pear:
1

tablespoon

butter

1

medium to large Bosc pear; peeled

seeded, and finely diced

1

tablespoon

granulated sugar

1

teaspoon

fresh grated ginger

1/4

teaspoon

ground cinnamon

Pinch of salt
For the scones:
2

cups

all-purpose flour

1/2

cup

old-fashioned oats

not instant or quick-cooking

5

tablespoons

granulated sugar

3/4

teaspoon

baking powder

3/4

teaspoon

baking soda

1/4

teaspoon

salt

1/2

cup

cold unsalted butter

diced

1

tablespoon

candied ginger

finely diced

3/4

cup

buttermilk

plus 1 tablespoon if needed

2

tablespoons

cream

1

tablespoon

turbinado sugar
Instructions
For the pears:
Melt butter in a large skillet over medium-high heat. Add pears, sugar, ginger, cinnamon, and salt. Stir to combine.

Cook, stirring occasionally, until most of the liquid has evaporated and the pears are starting to brown, about 6 minutes.

Transfer pears to a plate and cool to room temperature.
For the scones:
Preheat oven to 375°F. Line a baking sheet with parchment paper or non-stick liner.

Whisk together flour, oats, granulated sugar, baking powder, baking soda, and salt in a large bowl.

Use a pastry blender to cut butter into dry ingredients until the dough is crumbly.

Fold in candied ginger and caramelized pear pieces.

Add buttermilk and stir a wooden spoon until dough mostly comes together. You may need to add 1 more tablespoon of buttermilk if dough seems overly dry. Use caution as you do not want it to be too wet. It will come together when kneading.

Turn out dough on a work surface and knead gently until dough comes together. Shape dough into a circle about 2 inches thick. Cut dough into 8 wedges and transfer wedges to prepared baking sheet.

Brush wedges with cream. Sprinkle turbinado sugar on top.

Bake for 22 minutes or until scones are lightly browned. Cool on a wire rack. Best served warm and on the day they are made.
Recipe Notes
Ginger Pear Scones are a wonderful breakfast or afternoon treat. They are full of flavor with caramelized pear and candied ginger pieces throughout.