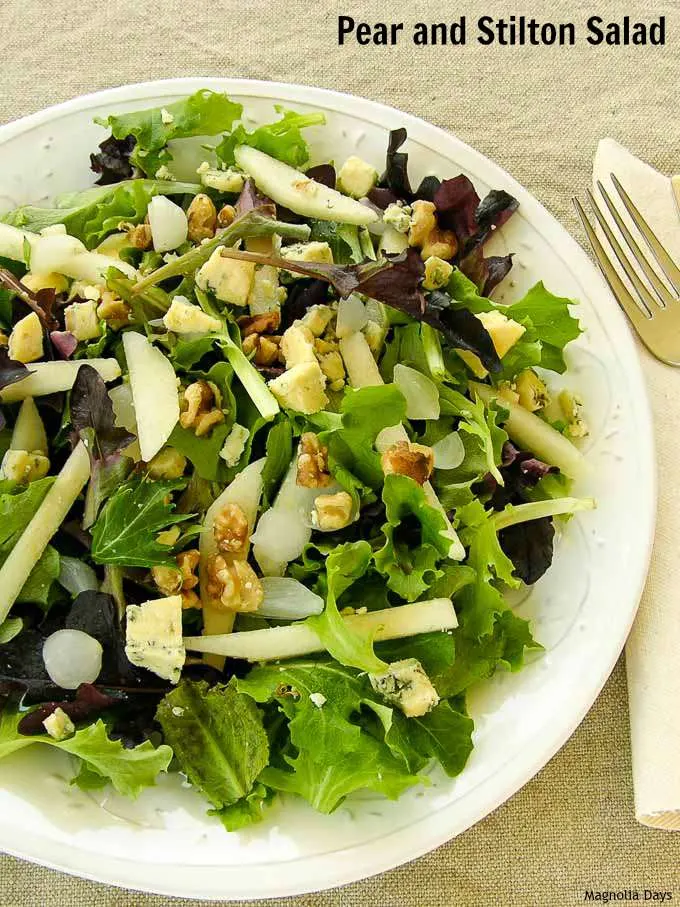 Have you ever participated in a progressive dinner? It is so much fun and can really make for a entertaining evening. All you need to do is get a group of people to host a course at their house. It is great for a neighborhood event because you can walk from one home to another. A traveling potluck. It is interesting also because each part of the meal has a different setting.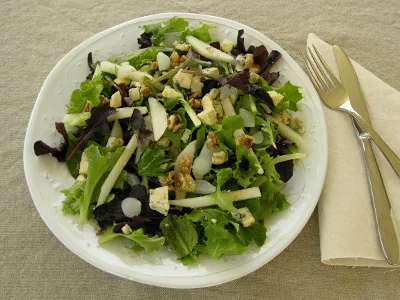 This progressive dinner is a virtual one. My friend Isabel, @familyfoodie on twitter, is a true believer in the joys of a family Sunday Supper. She has been generating quite the conversation each Sunday on twitter using the #SundaySupper hashtag. So many people are joining in and tweeting what they are having along with recipes and photos. It is a wonderful resource for inspiration and conversation about food and family meals.
My Pear and Stilton Salad is for the salad course of this virtual progressive #SundaySupper. Fresh pear, stilton cheese, toasted walnuts, onions, all tossed together with a homemade sherry vinaigrette. The surprise part is the onions – I use cocktail onions. Sounds strange right? Trust me, they are great in this salad. The tangy flavor balances with the sweetness of the pears. Give it a try and you might find yourself putting cocktail onions in other salads too.
Don't forget the wine! Eileen, @WineEveryday on twitter, has recommended a nice Cotes du Rhone Blanc to pair with the salad. You can find a full review and details of the wine on her blog by clicking here -> Wine Everyday or by clicking on the link to her post below.
Thank you Isabel for inviting me to participate in this event. I am honored to be contributing to a special Sunday Supper with you and my fellow bloggers in our "Around the Family Table" virtual neighborhood.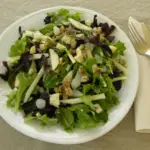 Pear and Stilton Salad
Pear and stilton salad is a delicious salad with fresh pear, stilton cheese, toasted walnuts, and a homemade sherry vinaigrette.
Ingredients
For the salad:
Mixed baby greens

Fresh pear

peeled and sliced

Stilton cheese

cut into chunks

Toasted walnuts

coarsely chopped

Cocktail onions

quartered
For the vinaigrette:
1

teaspoon

dijon mustard

1

teaspoon

honey

1/3

cup

sherry vinegar

Pinch of sea salt

Pinch of fresh ground pepper

1/2

clove

garlic

chopped

1/2

small shallot

chopped

1/2

to 2/3 cup good olive oil
Instructions
For the salad:
Quantities vary depending on number of servings. Use your own judgement and preferences. I generally use equal quantities of the pear, stilton, and walnuts with a little less portion of the onions.

Put the mixed baby greens, pear slices, stilton chunks, walnut pieces, and cocktail onions in a large bowl. Add some of the vinaigrette and toss to combine. You can always add more vinaigrette to your preference.
For the vinaigrette:
Put mustard, honey, vinegar, salt, pepper, garlic, and shallot in a blender. Put the lid on and blend on high speed until ingredients are combined. Turn the blender on low speed, remove the lid (or the middle of the lid), and slowly pour 1/2 cup of olive oil in to the mixture. Turn blender off. Taste. If too vinegar-y add more oil with blender on low speed. Add in increments, stopping to taste, until it has the right oil/vinegar balance to you.

Pour into salad dressing shaker/container. Use immediately. Store leftover in the refrigerator.

If chilled, take it out of the refrigerator about an hour before using again to get to room temperature. Shake to re-combine as it will separate.
Recipe Notes
Pear and stilton salad is a delicious salad with fresh pear, stilton cheese, toasted walnuts, and a homemade sherry vinaigrette.