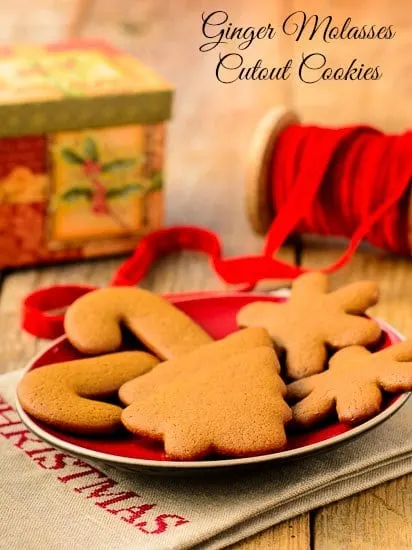 What happened to this year? It seems like a minute ago it was February. Anticipation of spring kicked in and then all of a sudden the holiday season is here. Summer flashed by like lightning. Even my birthday month, November, is passing by too quickly. Christmas is my favorite holiday though. I have to admit I had a bucket of fun with taking the photos of these Ginger Molasses Cutout Cookies. Digging into my holiday decorations got me excited and thinking about all the festivities to come.
Ginger has a big association with holiday time. Candied ginger, gingerbread houses and cookies, plus it being in so many winter squash recipes. My Gingered Butternut Squash Tart has ginger snaps, ground ginger and candied ginger in it. It's warming for the soul and so nice to enjoy on a cold winter day. I adore the flavor and was very excited when ginger was announced as the theme for November's Creative Cookie Exchange.
I then had to decide which ginger cookie to bake. I first thought about something with candied ginger. I even bought some to get inspiration. Low and behold it was a jar of molasses in the panty that put me in the direction of these cookies. I wanted to do cutout cookies because I think they are so fun and festive looking.
The dough is a very soft one for cutout cookies. It is important to keep it cold or it will be too soft to cutout properly. Also be sure to flour your work surface and the rolling pin generously. The dough is somewhat sticky too. I wondered how these cookies would turn out only to be very pleasantly surprised.
Ginger Molasses Cutout Cookies are thin and crunchy. The flavor is like a less spiced gingerbread cookie. Ginger and cinnamon are the main spices with a hint of mace or nutmeg. I thought all the molasses and dark brown sugar in the dough would make them quite sweet. It was yet another surprise to find the cookies are only mildly sweet.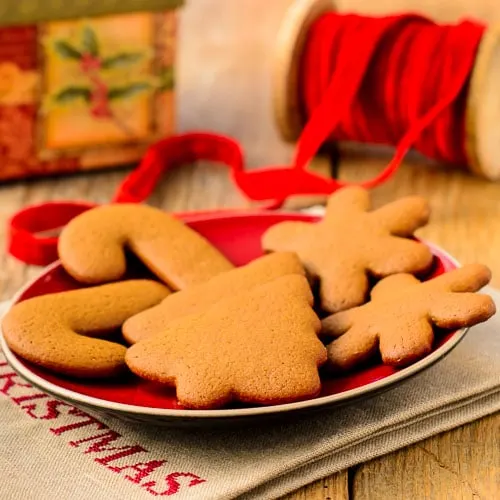 Do you enjoy ginger? Scroll down to find more ginger cookie recipes by talented bakers for the Creative Cookie Exchange. Cherish every moment to come with the holiday season ahead. Treasured memories are waiting to be made so savor those good times with family and friends.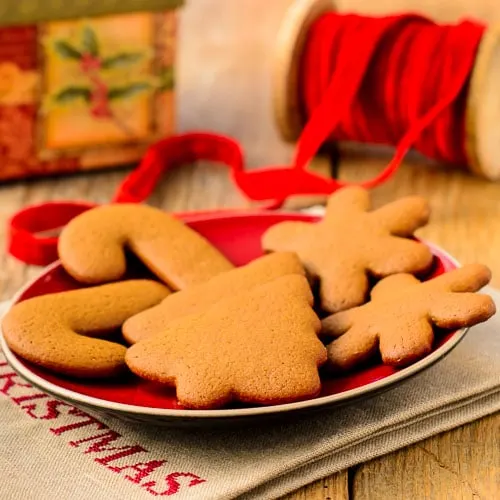 Ginger Molasses Cutout Cookies
These Ginger Molasses Cutout Cookies are thin, crunchy, and a wonderful treat reminiscent of gingerbread cookies. Make them for homemade holiday gifts.
Prep Time
1
hour
16
minutes
Total Time
1
hour
30
minutes
Ingredients
1/2

cup

unsalted butter

at room temperature

1/2

cup

firmly packed dark brown sugar

3/4

cup

dark molasses

1

large egg

2 3/4

cups

all-purpose flour

1

teaspoon

ground ginger

1/2

teaspoon

baking soda

1/2

teaspoon

salt

1/2

teaspoon

ground cinnamon

1/4

teaspoon

ground mace or nutmeg

1

teaspoon

hot water

1

teaspoon

white vinegar
Instructions
Cream butter and brown sugar in a large bowl until light and fluffy. Add molasses and egg and beat to combine.

Whisk together flour, ginger, baking soda, salt, cinnamon, and mace in a medium bowl. Add to creamed mixture and beat until just combined.

Add water and vinegar and mix to combine. Place plastic wrap on directly on top of the dough in the bowl and chill overnight.

Pre-heat oven to 350°F. Line cookie sheets with non-stick liner or parchment paper.

Divide dough in half. Roll one half of the dough to 1/4-inch thickness or a lightly floured work surface. Keep the other half of the dough chilled until rolling.

Note the dough with be soft and somewhat sticky. Move it around on the work surface and sprinkle with flour while rolling to keep it from sticking. Chill dough if it becomes too warm or work in smaller batches.

Cut dough with cookie cutters and place cutouts 2-inches apart on cookie sheets. Place baking sheet in refrigerator until ready to go in the oven.

You can gather up dough after cutting for more cookies. Chill thoroughly before re-rolling.

Bake until the edges have slightly browned, about 14 minutes. Transfer cookies to wire rack to cool completely.
Recipe Notes
Time stated does not include chilling dough overnight. The amount of cookies depends on size and shape of cookie cutters used.
Recipe adapted from one in the Southern Living Christmas Cookies cookbook published in 1986 (no longer in print).
The Creative Cookie Exchange theme this month is Ginger Cookies. It's such a warm and wonderful spice for baking. If you are a blogger and want to join in the fun, contact Laura via email (thespicedlife AT gmail DOT com) and she will get you added to our Facebook group where discuss our cookies and share links.
You can also use us as a great resource for cookie recipes. Be sure to check out our Pinterest Board and our monthly posts (you can find all of them here at The Spiced Life). You will be able to find them the first Tuesday after the 15th of each month! Also, if you are looking for inspiration to get in the kitchen and start baking, check out what all of the hosting bloggers have made: