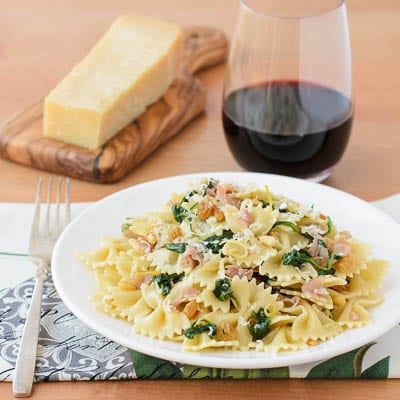 I was in the mood for pasta. It was a kind of vague hankering. I could not pin down exactly what I wanted. It had to be something out of the ordinary. Spaghetti, lasagna, or fettuccine alfredo didn't quite fit. I did some internet searches and flipped through a few cookbooks and nothing struck my fancy. Then I pulled out my recipe notebook. As I went through it there was one that caught my attention – farfalle pasta with prosciutto, spinach, and pine nuts.
All the ingredients sounded just right. Prosciutto, well, oh yea! A great big thank you goes to whoever made it. Then add in sautéed spinach, golden raisins, pine nuts, and a touch of lemon for a mighty tasty pasta. It all goes together so well. The sweetness of the raisins balances with the prosciutto. The pine nuts add crunch and spinach gives it a color and flavor pop.
How good is this pasta? I'll be totally honest. I made it in the late morning so I could have it for lunch. I had it done in time to take photos for this post. I scooped out some on a plate and set up my photo shoot. I ate a spoonful for tasting purposes. I went out to my sun room to take a test shot and found myself back in the kitchen. Another spoonful had to be "taste tested". A few photos later and it was time to setup the plate for the final shot. That meant going back in the kitchen.
I had trouble getting the pasta to the plate. It kept getting diverted into my mouth. I can't believe I stood there and ate a big portion of it right then and there. I rarely, if ever, eat in the kitchen. It was so good I could not finish the photos until I had my fill. Thanks goodness it serves more than one. I still had plenty for the photo and some to save for later.
Has something like this happened to you? When you take one bite and then you can't stop eating it? It doesn't happen with me often. This farfalle pasta with prosciutto, spinach, and pine nuts got me. I know I will make it again. I only hope next time I can show some restraint. It's a good thing no one was here to take photos of me eating from that big bowl.
Farfalle with Prosciutto, Spinach, and Pine Nuts
Ingredients
1/3

cup

pine nuts

1/3

cup

golden raisins

1/4

cup

boiling water

Sauteed spinach

2-3

ounces

prosciutto

thinly sliced and cut into small pieces

Zest of 1/2 lemon

Juice from 1/2 to 1 lemon

1/2

pound

farfalle pasta

8 ounces, bow ties

1/4

cup

olive oil

Salt and fresh ground pepper

Grated Parmesan cheese
Instructions
In a small fry pan, toast the pine nuts over medium heat until light brown. Remove pine nuts from the pan and set aside to cool.

In a small bowl, add the raisins and boiling water. Set aside for raisins to plump and absorb water.

Cook the farfalle according to package instructions. While waiting for the water to boil and the pasta to cook, prepare the

sauteed spinach

(<-click for recipe). When the spinach is done transfer it to a large bowl. Add the prosciutto, lemon zest, and lemon juice to the bowl. Drain the raisins and add them to the bowl.

Drain the cooked pasta and add it to the bowl. Add the toasted pine nuts and olive oil. Stir to combine. Season with salt and pepper. Transfer pasta to serving platter or pasta dishes. Top with grated Parmesan cheese. Serve immediately.
Recipe adapted from one by Vita Greco on the Food Network website.