Quiet has taken on a whole new level. I'm still adjusting to life without dogs. It's interesting as to how one can get so used to certain noises. And then how strange it is when those noises are gone. It doesn't help that I'm a creature of habit too. Yet change can be a good thing. Only thing to do is embrace it and see what happens. Meanwhile I can make familiar noises in the kitchen. Baking Currant Walnut Biscotti helped add a little comfort in more ways than one.
Baking is quite therapeutic. At least it is for me. The simple tasks of stirring and mixing are centering. Baking also demands attention and keeps my mind occupied. I know what happens when an ingredient is left out. I've caught my oven on fire because of not paying attention (forgot eggs and batter boiled out of pan and flamed up while burning on the bottom of the oven).
Biscotti was the mission at hand. It was announced as the theme for this month's Creative Cookie Exchange. Of course, the big decision was flavors. Then minor one of finishing with dipping, drizzling, or leaving them plain. Obviously I went with plain. I figured it would make it easier for packaging or transporting in case they were used as homemade gifts.
Family is why I chose currants and walnuts. I thought of my aunt and uncle in Germany. It was a little over a year ago since my mom and I went to see them. I remembered my aunt giving my uncle a bag of walnuts from a tree in her yard. Then I thought of the currants my uncle has in his garden. So I put those flavors together and made Currant Walnut Biscotti.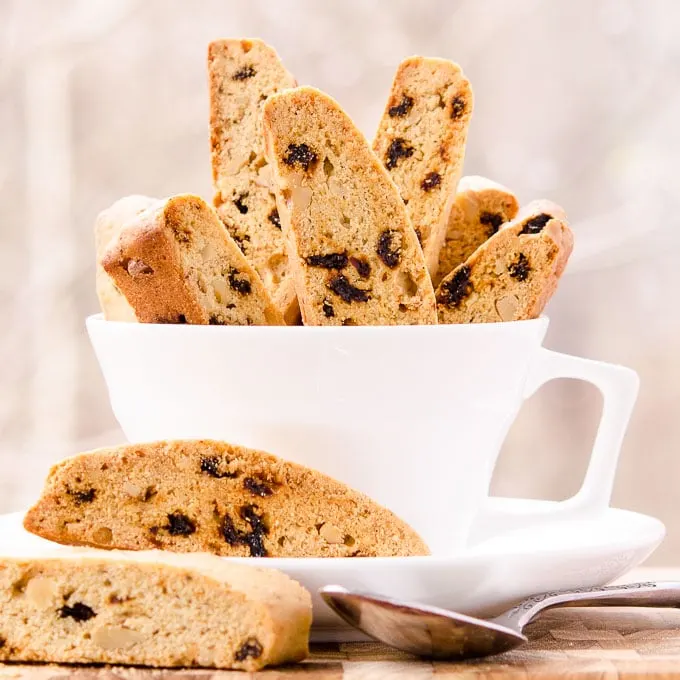 The recipe is an adaption to one I've used before. I took the base from the Blueberry Pecan Biscotti I baked earlier this year. A simple change of fruit, nut, and spice is all it took. As long as you have a good foundation, there are many add-in possibilities.
Do you enjoy biscotti? Do you dunk it in coffee or tea or prefer it as-is? Scroll down to find a list of what the talented bakers of the Creative Cookie Exchange baked for the biscotti theme. I spy a lot of festive ones for the holiday season. They sure would make wonderful treats to bake and share with family and friends.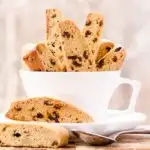 Currant Walnut Biscotti
Currant Walnut Biscotti is a crunchy, slightly sweet treat loaded with dried currants and walnuts. It is fantastic with coffee or tea.
Cook Time
1
hour
5
minutes
Total Time
1
hour
35
minutes
Ingredients
3

cups

unbleached all-purpose flour

1

teaspoon

baking powder

1/2

teaspoon

ground cinnamon

1/8

teaspoon

ground cardamom

3/4

teaspoon

salt

1/4

cup

unsalted butter

at room temperature

1/4

cup

vegetable shortening

3/4

cup

granulated sugar

3

large eggs

1 1/2

teaspoons

vanilla extract

1

cup

chopped walnuts

1/2

cup

dried currants
Instructions
Preheat oven to 375°F. Line a baking sheet (12- X 17-inches) with parchment or non-stick liner.

Whisk together flour, baking powder, cinnamon, cardamom and salt in a medium bowl.

Cream butter, shortening, and sugar in a large bowl. Add eggs and vanilla, one at a time, mixing well after each addition.

Add flour mixture and mix until just combined. Add walnuts and currants and mix until distributed throughout the dough.

Divide dough into 3 equal pieces. Shape each piece into a log 11 1/2 inches long.

Transfer logs to baking sheet with 3 inches between them. Pat the logs into rectangles, 12 inches long, 2 1/2-inches wide and 7/8-inch thick.

Bake logs for 20 to 25 minutes, until the edges are just beginning to brown.

Remove logs from the oven and let rest for 20 minutes.

Reduce oven temperature to 300°F. Line another baking sheet (12- X 17-inches) with parchment or non-stick liner.

Gently transfer a log to a cutting surface. Use a serrated knife in a slow, gentle sawing motion to cut the log into about 1/2-inch slices on the diagonal (my slices were slighty wider than 1/2-inch).

Carefully tranfer the slices, cut side up, to the baking sheet. Place slices 1/4-inch apart. Repeat with remaining 2 logs.

Bake for 20 minutes. Remove from the oven and quickly turn slices over.

Return biscotti to the oven and bake for 20 minutes, or until they are very dry and lightly brown.

Remove biscotti from the oven and cool completely. Store in a sealed container.
Recipe Notes
Currant Walnut Biscotti is a crunchy, slightly sweet treat loaded with dried currants and walnuts. It is fantastic with coffee or tea.
The Creative Cookie Exchange theme this month is Biscotti (or mandelbrot or any other twice baked cookie by any other name). They are the perfect holiday tin cookies! They last forever, and there are so many ways to make them festive. So we've got you covered–sweet, savory, low fat, loaded with decadence, you name it, we've got it! Happy Holidays!
You can also use us as a great resource for cookie recipes. Be sure to check out our Pinterest Board and our monthly posts (you can find all of them here at The Spiced Life). You will be able to find them the first Tuesday after the 15th of each month! Also, if you are looking for inspiration to get in the kitchen and start baking, check out what all of the hosting bloggers have made: