Tropical delights brighten a dreary winter day. Coconut is quite popular during the holiday season. Perhaps it could be because the white flakes adorn the tops of confections like snow covering a landscape. It may possibly be because of tasting a something from the tropics brings warm memories to cold days. Or it could simply be that it tastes so good. Combine it with warm spices and you get a double flavor bonus. It's the reason I crave Coconut Spice Cake during the holidays.
Many moons ago I was a young baker. A friend of mine passed along a tip which lead me to finding a few favorite cake recipes. She said to look for buttermilk as an ingredient. I went on a quest and searched through my cookbooks. It was for an office holiday celebration that I first baked a coconut spice cake. I could not have found a more perfect recipe for me. Coconut, spices, cream cheese, pecans, oh my! I didn't want to share it however it was the holidays which is a time of giving and sharing.
A note about baking this cake. The original recipe called for two 9-inch round pans. I chose to bake it in a 9- X 13-inch pan. The single layer cake seems to go further for larger gatherings. It also seems more fitting for a spice cake. Be sure to adjust the baking time if you use two round pans. It will be less time than in one big pan (about 25 to 30 minutes).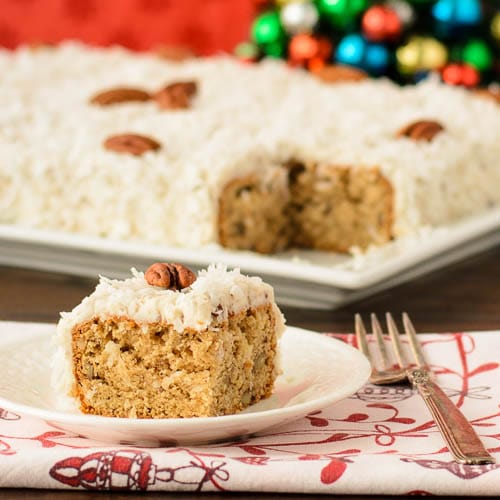 Do you make special treats for the holidays? If so, then I have something to share with you. Scroll down to find more recipes for the season. It's a Holiday Food Party not to miss! You can also check out another one of my favorites: spiced pecans.
For the cake:

2 1/2 cups unbleached all-purpose flour
1 teaspoon baking soda
1/2 teaspoon salt
1 teaspoon ground cinnamon
1/2 teaspoon ground ginger
1/4 teaspoon ground nutmeg
1/4 teaspoon ground cardamom
1 cup unsalted butter, at room temperature
1 cup granulated sugar
1 cup firmly packed light brown sugar
2 eggs, at room temperature
1 cup buttermilk, at room temperature
1 teaspoon vanilla extract
1 cup sweetened coconut flakes
1 cup chopped pecans
For the frosting:

8 ounces cream cheese, at room temperature
1/4 cup unsalted butter, at room temperature
Pinch of salt
1 box (16 ounces) confectioners sugar, sifted
1 teaspoon vanilla extract
1 to 2 tablespoons milk or half-and-half
1 cup chopped toasted pecans
1 cup sweetened coconut flakes
Toasted pecan halves
For the cake:
Preheat the oven to 350 degrees F. Grease and flour a 9- X 13- X 2-inch baking pan.
Whisk together the flour, baking soda, salt, cinnamon, ginger, nutmeg, and cardamom in a bowl.
Cream butter, sugar, and brown sugar in a large bowl using an electric mixer on high speed. (I used a hand mixer).
Add the eggs one at a time, mixing well after each addition.
Add the vanilla and beat to combine.
Add the flour mixture in three additions, alternatively with the buttermilk in two additions, mixing on low speed until just combined. Do not over mix.
Stir in the coconut and pecans.
Pour batter into prepared pan and spread batter evenly in the pan.
Bake for 45 to 50 minutes or until a cake tester or toothpick when inserted into the center comes out clean.
Cool cake in the pan for 10 minutes. Turn out cake on to a wire rack. Cool completely.
For the frosting:
Beat cream cheese, butter, and salt until smooth.
Add confectioners sugar and vanilla. Beat until smooth. Add enough milk or half-and-half until it reaches spreading consistency.
Stir in chopped toasted pecans.
Spread frosting on top and sides of cake.
Sprinkle top and sides with coconut flakes and gently press into frosting.
Garnish with toasted pecan halves. Refrigerate cake.
https://magnoliadays.com/coconut-spice-cake/
Copyright Magnolia Days - http://magnoliadays.com/
Recipe adapted from one in the Southern Living 1984 Annual Recipes cookbook (out of print).
The holiday season has begun. Some wonderful blogger friends and myself are sharing recipes to make your celebrations filled with tasty delights. Take a look and check out each one because they are all so good:
Special thanks to Jen at Jen's Favorite Cookies our host and the one who does so much to make these Holiday Food Parties happen.