Did someone say cinnamon? Oh yea, that was me last week. I shared a recipe for cinnamon chip scones and went on about the spice. Nothing has changed since then, obviously. It seems my craving kicked into high gear and I had to do more baking. I blame the grocery store on why I chose cinnamon pecan sticky buns.
Why do I blame the grocery store? Well, I went to do my usual shopping. I was in the bakery section getting some 12 grain sandwich bread. (Note to self to find a recipe for it). Anyway, I had to wait for them to slice the bread. I looked up and this lady in the back was turning out just-baked sticky buns. I thought about how it had been ages since I had a good one. That's all it took to solidify my next cinnamon baking adventure.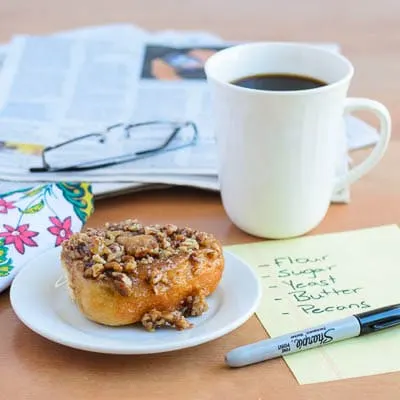 The #TwelveLoaves challenge gave me a reason to bake the sticky buns. It isn't as though I really needed a reason. Perhaps excuse is a better word? It doesn't matter really. Playing with bread dough is fun enough for me. The sheer enjoyment of splurging on one of these hot, sticky, caramel and pecan topped buns is a big bonus. It is a sugar splurge indeed. Be warned they are super sweet.
How do you deal with your cravings? Do you give in or hang tight until they pass? I suppose it is both for me. It all depends on the situation. Stay tuned to see what my next craving brings…
Happy Bread Baking!
Cinnamon Pecan Sticky Buns
A recipe for cinnamon pecan sticky buns - cinnamon rolls with a sticky caramel and pecan topping. A real treat for breakfast or a snack.
Ingredients
For the dough:
1

cup

water

plus more if needed

2 1/2

teaspoons

active dry yeast

3

cups

unbleached all-purpose flour

3

tablespoons

granulated sugar

plus 1/2 teaspoon

1 1/4

teaspoons

salt

1/4

cup

nonfat dry milk

1/2

cup

instant mashed potato flakes

6

tablespoons

unsalted butter

at room temperature
For the glaze:
1/2

cup

light corn syrup

3

tablespoons

butter

melted

1

cup

brown sugar

light or dark, firmly packed

1

cup

chopped pecans
For the filling:
1/2

cup

granulated sugar

2

teaspoons

ground cinnamon

1

tablespoon

all-purpose flour
Instructions
For the dough:
Heat the water to 100 to 110 degrees F (or whatever temperature is recommended on the package for activating yeast). In a small bowl, add the yeast, 1/4 cup of the water, and 1/2 teaspoon sugar. Let the yeast sit at room temperature for 15 minutes until it is bubbly and has expanded.

In the bowl of a stand mixer, add the flour, 3 tablespoons sugar, salt, dry milk, and potato flakes. Whisk to combine. Add the butter, yeast mixture, and remaining water. Place bowl on the stand mixer with a dough hook. Turn the mixer to the second speed and knead for 5 to 7 minutes. If dough looks a little dry add more warm water, 1 tablespoon at a time. The dough should barely clean the sides of the bowl and possibly stick at the bottom.

Lightly grease a large bowl. Place the dough in the bowl, roll the dough around, and turn the dough over (to give a light coating of the grease all over the dough ball). Loosely cover the dough and let rise at room temperature until it has nearly doubled in bulk, about 1 to 1 1/2 hours.

While the dough is rising lightly grease two 9-inch round cake pans, prepare the glaze and filling.
For the glaze:
In a small pan or bowl, whisk together the melted butter and corn syrup. Pour the glaze equally into the pans. Sprinkle the brown sugar and pecans evenly and equally into the pans. Set pans aside.
For the filling:
In a small bowl, whisk together the sugar, cinnamon, and flour. Set aside.
For the sticky buns:
Transfer the dough to a lightly greased surface or silicone rolling mat. Roll out the dough to a 16- X 12-inch rectangle. Sprinkle filling evenly over the dough except for 1-inch on one of the long edges. Starting with a sugar covered 16-inch long edge, roll the dough into a log (so it will be a 16-inch log). Pinch to seal the edge but not the ends.

Use a serrated knife to cut the log into 16 slices that are 1-inch wide. Place 8 slices into each pan. Cover the pans and let buns rise until they spread out and are touching, about 1 to 1 1/2 hours.

Preheat the oven to 350 degrees F while the buns are rising.

Bake the sticky buns for 15 minutes. Loosely cover (tent) them with aluminum foil and bake until they are a light golden color, about 10 to 15 minutes.

Remove the buns from the oven and immediately loosen the edges with a knife and turn them out on a rack over parchment paper. Scrape any glaze from the pans to the top of the buns. The glaze is very hot and sticky so be careful. Do not let buns sit in the pan to cool or the glaze will stick to the pan. Serve warm or at room temperature. Store leftovers in a sealed container at room temperature.
Recipe Notes
A recipe for cinnamon pecan sticky buns - cinnamon rolls with a sticky caramel and pecan topping. A real treat for breakfast or a snack.
Recipe adapted from one on the King Arthur Flour website.