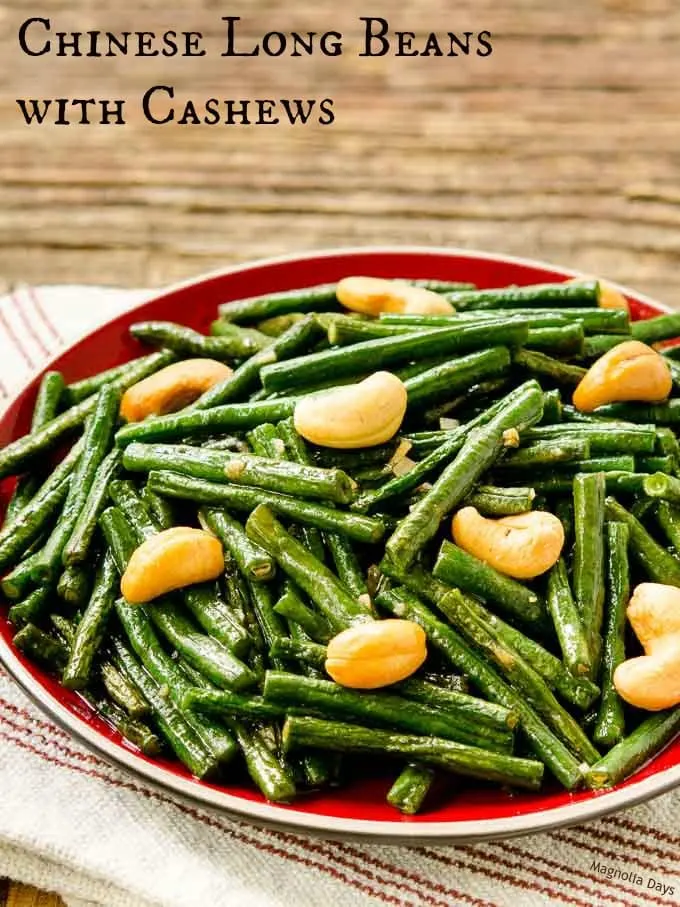 There they are as always in the bean section. I've looked at them countless times. More than looked, I've debated on whether to get a bunch to try or not. I've picked them up, almost put them in my cart, yet they wind up back in the bin. Well, until recently. I finally got a bunch and made Chinese Long Beans with Cashews. Now I could kick myself for not getting them before.
Long beans are rather interesting looking. They measure about a foot long and are a little wrinkly on the outside. How do they taste? Honestly, like a green bean. I know think of them as super stretched haricot verts (skinny green beans). What made me finally cook them? It was because of the arrival of a package at my door. Inside the box was Katie Chin's Everyday Chinese Cookbook (Amazon affiliate link).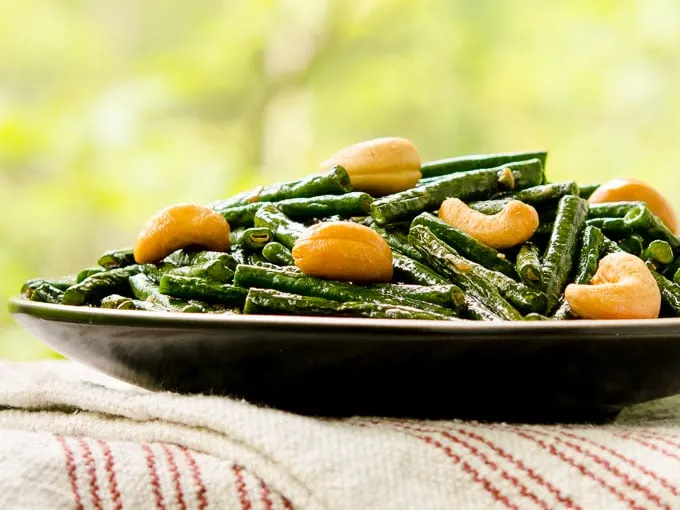 Chinese food has a special place in my heart. I can't think of it without thinking of my dad. He totally enjoyed the cuisine. He would go to eat Chinese as often as he could. He never really cooked it though. My mom often told me of this green beans with almonds she would get at their favorite Chinese restaurant. It was thinking of both of them in choosing to cook Katie's Chinese Long Beans with Cashews recipe.
My thoughts on the cookbook: It is beautifully done from cover to cover. I really like the size of it. It lays out nicely to make it easy to read when cooking. A lot of cookbooks need a stand or something to hold the pages down and it gets annoying. This one lays almost completely flat. Kudos for that.
The cookbook is filled with information in addition to recipes. The sections on understanding Chinese ingredients, cooking techniques, and tools are quite helpful. Photos are superbly done. It's yet another book I'll reference for inspiration when taking my own photos. The recipes range from super easy to complex. There is something for both novices and pros.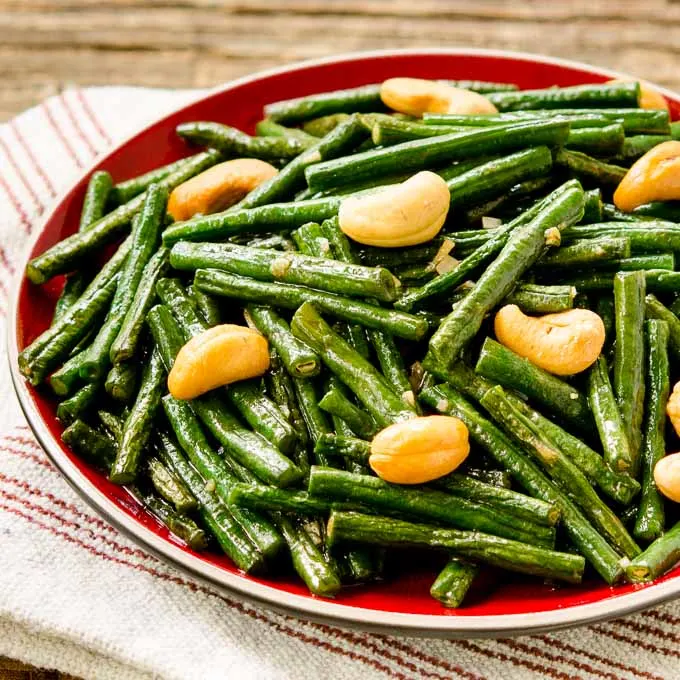 How are the Chinese Long Beans with Cashews? Mighty tasty and super fast to make. It seems like it takes more time to get water boiling to blanch the beans than it does to make the dish. Once the beans are blanched, you have under 10 minutes of cook time. This is a recipe I need to make for my mom. She may like them as much or more as the almond green beans.
Do you enjoy Chinese cuisine? If you do, I recommend the cookbook so you can make it at home. It would be a wonderful gift for a bride, Mother's Day, Father's Day, or any reason. Click on the photo of the book to order it (the photo has an Amazon affiliate link). Also look at Sesame Lime Edamame and Thai Sweet Chili Sauce for more Asian recipes.
Chinese Long Beans with Cashews
Chinese Long Beans with Cashews is a healthy stir-fry side dish with classic Chinese flavors. It's quick, easy, and a family favorite.
Ingredients
1

pound

Chinese long beans

trimmed and cut into 2-inch pieces

2

tablespoons

oil

2

cloves

garlic

minced

2

tablespoons

hoisin sauce

homemade or store-bought

2

tablespoons

oyster sauce

2

ounces

roasted cashews
Instructions
Blanch the long beans in boiling water until tender-crisp, about 2 minutes. Transfer the beans to an ice water bath with a slotted spoon to cool, then drain and set aside.

Heat the oil in a wok or skillet over medium-high heat. Add the long beans and stir-fry for 2 minutes. Add the garlic, hoisin sauce and oyster sauce and stir-fry for another 30 seconds.

Dish out and garnish with roasted cashews. Serve immediately with steaming-hot rice.
Recipe Notes
You may substitute green beans for the long beans, but blanch them for 5 minutes instead of 2 minutes.
Recipe © copyright 2016 Katie Chin. Used with permission by Tuttle Publishing.
Disclosure: I received a copy of Katie Chin's Everyday Chinese Cookbook at no charge. I was under no obligation to post a review. All opinions are my own unless otherwise stated or within a guest post.