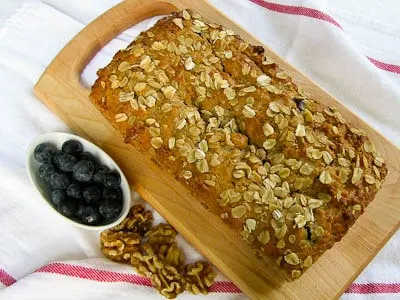 Happy Independence Day! The Holiday Recipe Club is celebrating by sharing recipes containing one of more of three ingredients: blueberries, barbecue sauce, and whipped cream. I chose blueberries because I found some fresh ones recently at my local farmer's market. I decided on Walnut Blueberry Bread because I was in the mood to bake.
Quick breads are great for afternoon treats. I also eat them for breakfast occasionally. I take a slice and warm it up with butter on top. A little honey drizzled over it is quite nice too. This bread is so good with coffee. I am sure it would go well with tea also. The walnuts, oats, and blueberries along with a hint of cinnamon is a wonderful combination. My recipe is adapted from one by Betty Crocker. I added walnuts, incorporated whole wheat flour into it for extra goodness, and changed the method slightly.
The batter comes together fast. A quick stir, a little whisking, another stir, a fold, and it goes into the oven. I think it takes more time to measure out the ingredients than it does to make the batter. The hardest part is waiting for it to cool before you slice it. The aroma when it is baking and after it is done is wonderful. There is nothing like the house smelling like a bakery. You cannot get that when you buy baked goods from the store.
How are you celebrating the holiday? Is there a tradition you follow? Or do you keep the day open for resting and relaxing? I like to keep it open and see what is going on each year. No matter what I decide to do, it always involves good food and wine. I hope you have a fantastic celebration too. Cheers!
Are you a food blogger? If you would like to participate in the next Holiday Recipe Club blog hop, go to the HRC website for more information.
Please take the time to visit the other posts with wonderful recipes by Holiday Recipe Club bloggers. Just click on the links below. (If you are reading this in an email or RSS reader you will need to go to the post on my site to see the links to the other blogs).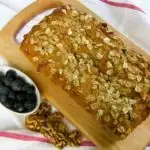 Walnut Blueberry Bread
A recipe for a quick bread made with walnuts, blueberries, and oats.
Total Time
1
hour
5
minutes
Ingredients
2/3

cup

packed brown sugar

3/4

cup

whole milk

at room temperature

1/2

cup

vegetable or canola oil

2

eggs

at room temperature

1/2

cup

whole wheat flour

1 3/4

cups

all-purpose flour

1

cup

old-fashioned oats

3

teaspoons

baking powder

1

teaspoon

cinnamon

1/4

teaspoon

salt

1

cup

fresh blueberries

1

cup

walnuts

roughly chopped
Instructions
Preheat oven to 350 degrees F. Grease bottom only of a 8 or 9-inch loaf pan.

In a large bowl, mix brown sugar, milk, oil, and eggs with a spoon until combined.

In a medium bowl, add whole wheat flour, all-purpose flour, oats, baking powder, cinnamon, and salt. Whisk until combined.

Add the flour mixture to the wet ingredients. Stir or beat until combined. (Beat about 30 seconds). Fold in the blueberries and walnuts. Pour batter into prepared loaf pan. Sprinkle with additional oats if desired.

Bake 45 to 55 minutes or until a toothpick or cake tester inserted in the center comes out clean. Remove from the oven and cool on a rack for 10 minutes. Loosen sides of the bread from the pan and remove it from the pan. Cool bread completely on a wire rack. Slice and enjoy.

Wrap leftovers in plastic wrap and store at room temperature up to 4 days or in the refrigerator up to 10 days.
Recipe Notes
A recipe for a quick bread made with walnuts, blueberries, and oats.